John Williams' 'Star Wars: A New Hope' Score Gets Vinyl Box Set Release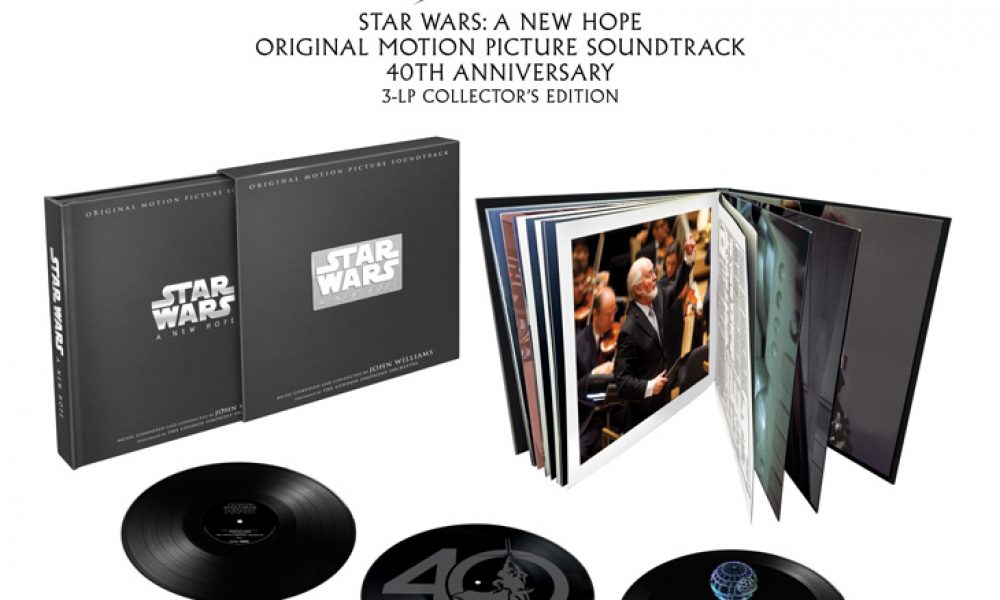 To celebrate the 40th anniversary of one of the most significant soundtracks in film history, Walt Disney Records is set to release a special collector's edition of the remastered original motion picture soundtrack for Lucasfilm's Star Wars: A New Hope on 1 December.
With the score conducted and composed by five-time Academy Award-winning composer John Williams, the 3-LP set features a 48-page hard cover book with 180-gram vinyl. This one-of-a-kind vinyl set, hand etched by Tristan Duke (Jack White's Lazaretto) of Infinity Light Science, offers a 3D hologram experience featuring the Death Star on Disc 3, Side A. For optimal viewing, fans are advised to use a direct light source or simply hold a mobile phone flashlight above the vinyl to view the hologram. Side B features the film's 40th Anniversary logo etched into the vinyl.
The Star Wars: A New Hope box set is the first release from Disney Music Group since acquiring the Star Wars music catalogue earlier this year. Subsequent releases are planned for 2018.
The new box set includes rare photos of the film's production and scoring sessions. Additionally, two essays are featured in the hardcover book. Tuning Up a Galaxy' written by author Jeff Bond (Danse Macabre: 25 years of Danny Elfman and Tim Burton, The Music of Star Trek) focuses on the phenomenon of the movies and how John Williams' score changed film music forever. "John Williams' Journey to Star Wars" by Jeff Eldridge discusses John Williams' early career – from his musical heritage to his continuing legacy.
Star Wars Episode IV A New Hope (1977) Soundtrack 02 Main Title / Rebel Blockade /Runner Medley
John Williams is well known for scoring all eight of the Star Wars saga films, beginning with 1977's Star Wars (A New Hope) for which he earned an Academy Award for Best Original Score. His score for Star Wars: The Force Awakens was nominated for an Oscar.
Williams returns to score Lucasfilm's Star Wars: The Last Jedi. The Skywalker saga continues as the heroes of The Force Awakens join the galactic legends in an epic adventure that unlocks age-old mysteries of the Force and shocking revelations of the past. Star Wars: The Last Jedi opens in U.S. theaters on 15 December 2017.
The 3-LP hologram vinyl box set of Star Wars: A New Hope is out now. Order it here.
Format:
UK English