Stevie Van Zandt Reflects On Springsteen, Sopranos And Solo Career In Memoir 'Unrequited Infatuations'
Van Zandt's new memoir 'Unrequited Infatuations' reads like a long and intimate conversation, sometimes emotional and often hilarious.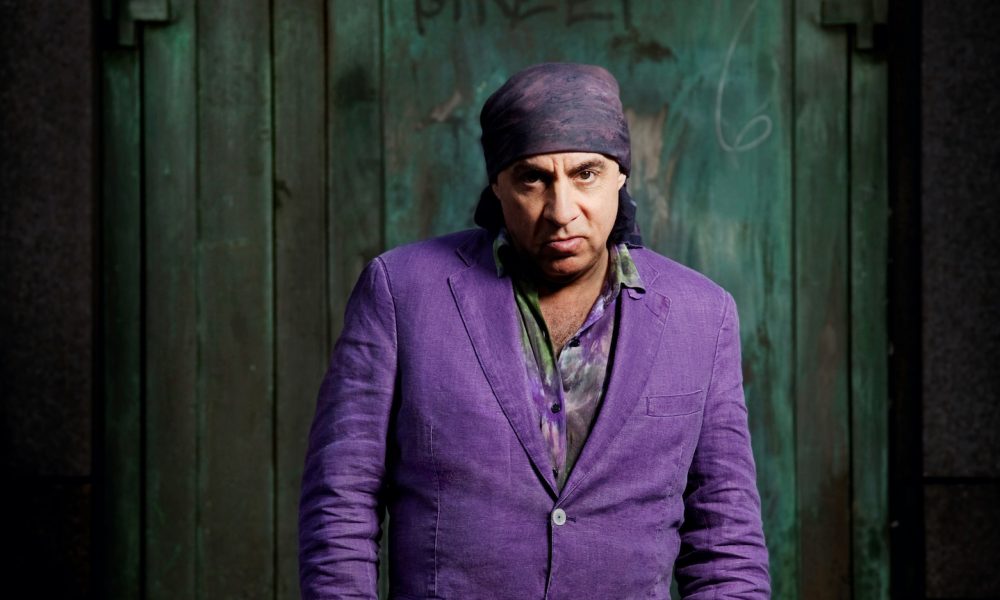 If you've ever had occasion to talk with Stevie Van Zandt, you know that the man is a well of stories and a natural raconteur. And if you've never sat down with him, his new memoir Unrequited Infatuations is the next best thing.
It reads like a long and intimate conversation, sometimes emotional and often hilarious – and never without a great album playing in the background. He opens up at various points about personal relationships (he and his wife Maureen have been married since 1982), the political involvement that blossomed with the anti-apartheid "Sun City" single, and his recent advocacy for arts education. But through it all, there's rock'n'roll, which has a place in all of the revelations here.
His vast musical knowledge has shaped his career
If Unrequited Infatuations makes one thing abundantly clear, it's that Van Zandt lives and breathes music, and that informs nearly every moment – from the impact of Curtis Lee's "Pretty Little Angel Eyes" when he was 10, to his final admission that he learned everything from The Beatles. Likewise, many of his biggest career moves stemmed from the love of a certain record or band.
An inspirational reunion gig by the lesser-known garage band Richard & the Young Lions prompted him to dream up the Underground Garage channel, which is going strong to this day. And we can only imagine how history would have changed if the Sopranos finale had gone forward as he'd envisioned it, with the jukebox playing Procol Harum's "The Devil Came From Kansas" instead of Journey's "Don't Stop Believin.'"
The early days of the E Street Band were as heady as you'd imagine
The E Street Band's Born to Run era particularly comes off like a series of lightning strikes – both in the studio (where the classic horn chart on "Tenth Avenue Freeze-Out" takes shape after Van Zandt calmly informs the players that the existing chart sucks) and onstage, where they take Hollywood by storm. Stevie is honest about the occasional dust-up between him and Bruce Springsteen (one happens over the Tunnel of Love track "Ain't Got You," whose lyrical references to Springsteen's wealth irked Van Zandt in a big way), but their love and friendship appear to be very much intact more than 50 years on.
He put the brakes on Bob Dylan's weirdest album
One of Unrequited Infatuations' more priceless stories will be new to Bob Dylan aficionados. Around 1988, Van Zandt was approached to produce a Dylan album. So he went to Los Angeles, where Dylan set up with a studio band and ran through the songs he planned to record. But instead of new Dylan masterpieces, what Stevie heard was "A Whiter Shade of Pale," "Light My Fire," and Jefferson Airplane's "Somebody to Love," in other words, "a bar band setlist from 1967," as Van Zandt puts it. Seems that Dylan's writing dry spell was worse than anybody realized, and Stevie was able to say the four words nobody dares say to Dylan, "You cannot do this," and proposed instead that Dylan go back to roots and do folk songs. That ended that conversation, along with the production gig, but Dylan wound up doing exactly that on his next two albums.
He's had his share of major disappointments
After leaving the E Street Band in the 80s, Van Zandt poured his heart into a stack of albums that never found their full audience, not least being his own with the Disciples of Soul. But there were quite a few others that got away including a 90s reunion with Southside Johnny, a Texas blues-rock gem with the Arc Angels, and Darlene Love's comeback album. But the biggest heartbreaker was Once Upon a Dream, the 2013 reunion Broadway show he wrote and directed for 60s rock heroes the Rascals. Though things were going great for a while, the show imploded when personal animosities in the group welled up. Van Zandt's resulting opinion of three of the four Rascals is very much uncensored.
He was originally supposed to play Tony Soprano
As Van Zandt tells it, his even being on The Sopranos was because of a series of coincidences: He lobbied endlessly to get The Rascals into the Rock & Roll Hall of Fame, and show creator David Chase spotted something in his induction speech. Chase originally pitched the show with him in the lead role, but the HBO brass were antsy about starring a first-time actor. Then Stevie spotted James Gandolfini in an HBO lobby, remembered him from a couple of obscure movies, and his A&R instincts kicked right in. His own character, Silvio Dante was largely self-created, adapted by Chase from a script Van Zandt had been writing about a tough guy who runs a nightclub, which later became a strip club in the series.
Van Zandt also gives his take on exactly what happened at the end of The Sopranos, but are we going to repeat that, and give away one of the best jokes in the book? Fuhgeddaboutit.
Unrequited Infatuations is out on September 28 can be bought here.