Stream Satchmo With Louis Armstrong's The Complete Decca Singles 1935-1946 Collection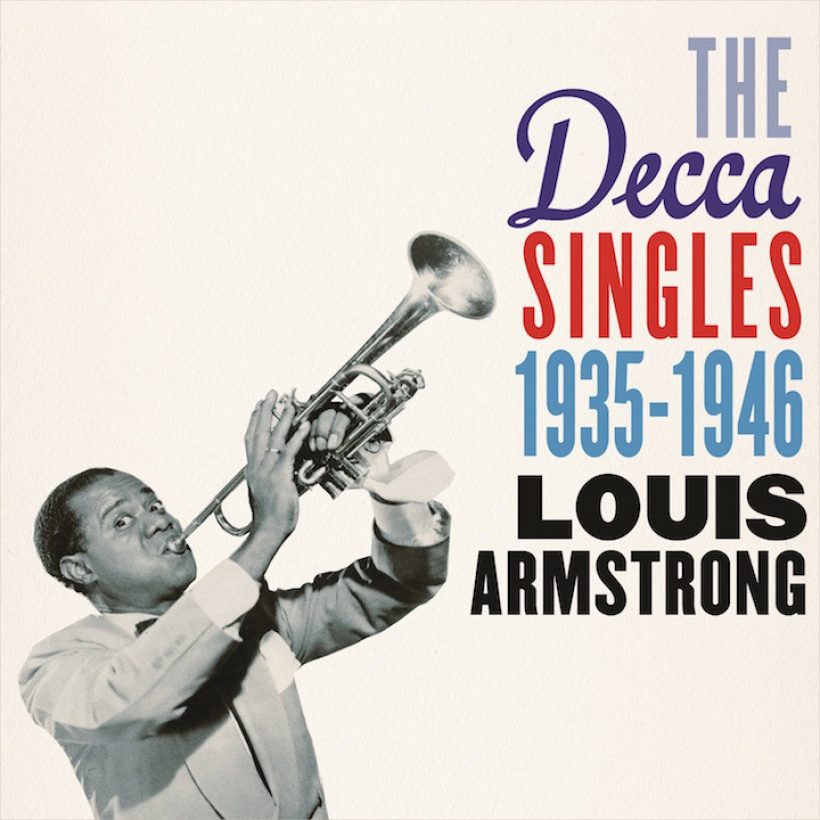 To celebrate what would have been the late great Louis Armstrong's 116th birthday today, Verve Records/UMe have released the digital collection, The Complete Decca Singles 1935-1946.
A prequel of sorts to The Complete Decca Singles 1949-1958 issued at the end of 2016, this new comprehensive collection not only spans many of Pop's singles and B-sides during that fruitful decade with Decca, but brings with it many of Armstrong's tracks to the digital format for the very first time.
This 136-track digital compilation arrives just in time for the annual music extravaganza Satchmo SummerFest that takes place in New Orleans' historic French Quarter and honours the legacy of one of the most iconic singers and trumpet players in jazz history.
The ambitious collection entails six digital volumes with the tracks (A-side/B-side) in chronological order by original release date and will be available on all digital retailers and streaming services.
Since leaving Brunswick Records and helping to establish Decca's American operation, producer and label head Jack Knapp laid out a clear course for Armstrong that started in the label's New York studios on 3 October 1935. Beginning with Armstrong's hit. 'I'm in the Mood for Love'.
This set the tone for the next six year's worth of Decca sessions and over a hundred 78 sides. Kapp encouraged him to try every type of genre to attract a mainstream audience and not just the "ever-growing Armstrong cult". From pop songs to Tin Pan Alley, novelty hits, Broadway standards, abolitionist ballads like 'Darling Nelly Gray' and updates on big-band songs like 'Dipper Mouth', he did them all.
During this time, Armstrong was also paired with other Decca artists such as Jimmy Dorsey, Casa Loma Orchestra, and the Mills Brothers, but no matter the genre or collaborator, Satchmo stole the show and made every song completely his own. Like his trumpet, he used his voice as an instrument, injecting personality and flair into even the most straightforward pop songs.
While many of his hits are included in the collection including, 'When The Saints Go Marching In', 'Public Melody Number One', 'Swing That Music' and 'Struttin' With Some Barbecue', it also includes some of his early duets with Ella Fitzgerald including 'You Won't Be Satisfied (Until You Break My Heart)' and 'The Frim Fram Sauce'.
Louis Armstrong – The Complete Decca Singles 1935-1946 is available here. Explore our dedicated Louis Armstrong artist page and view the full tracklist below.
Volume 1
I'm In The Mood For Love
Got A Bran' New Suit
You Are My Lucky Star
La Cucaracha
Old Man Mose
Was I To Blame For Falling In Love With You
I'm Shooting High
I've Got My Fingers Crossed
On Treasure Island
Red Sails In The Sunset
Thanks A Million
Solitude
I Hope Gabriel Likes My Music
Shoe Shine Boy
The Music Goes 'Round And Around
Rhythm Saved The World
I'm Puttin' All My Eggs In One Basket
Yes-Yes! My-My! (She's Mine)
Somebody Stole My Break
I Come From A Musical Family
Mahogany Hall Stomp
Lyin' To Myself
Ev'ntide
 Volume 2
Swing That Music
Thankful
If We Never Meet Again
Dipper Mouth
On A Cocoanut Island
To You, Sweetheart Aloha
The Skeleton In The Closet
Hurdy Gurdy Man
When Ruben Swings The Cuban
Red Nose
Pennies From Heaven Medley: Let's Call A Heart A Heart/So Do I/The Skeleton In The Closet
Pennies From Heaven
Hawaiian Hospitality
On A Little Bamboo Bridge
Darling Nelly Gray
Carry Me Back To Old Virginny
The Old Folks At Home
In The Shade Of The Old Apple Tree
Public Melody Number One
Red Cap
Cuban Pete
She's The Daughter Of A Planter From Havana
Yours And Mine
Sun Showers
Volume 3
I've Got A Heart Full Of Rhythm
Alexander's Ragtime Band
Once In A While
On The Sunny Side Of The Street
True Confession
Jubilee
I Double Dare You
Satchel Mouth Swing
Sweet As A Song
The Trumpet Player's Lament
Let That Be A Lesson To You
Struttin' With Some Barbecue
So Little Time (So Much To Do)
Mexican Swing
On The Sentimental Side
It's Wonderful
Love Walked In
Something Tells Me
The Flat Foot Floogee
My Walking Stick
The Song Is Ended
Shadrack
Jonah And The Whale
I've Got A Pocketful Of Dreams
Naturally
Volume 4
I Can't Give You Anything But Love
Ain't Misbehavin'
Going To Shout All Over God's Heaven
Nobody Knows De Trouble I've Seen
As Long As You Live You'll Be Dead If You Die
When The Saints Go Marching In
Elder Eatmore's Sermon On Throwing Stones
Elder Eatmore's Sermon On Generosity
Jeepers Creepers
What Is This Thing Called Swing?
Rockin' Chair
Lazybones
Hear Me Talkin' To Ya
Save It Pretty Mama
If It's Good (Than I Want It)
West End Blues
Savoy Blues
Me And Brother Bill
Confessin' That I Love You
Our Monday Date
Baby Won't You Please Come Home
Shanty Boat On The Mississippi
Volume 5
You're A Lucky Guy
You're Just A No Account
Bye And Bye
Poor Old Joe
You've Got Me Voodoo'd
Harlem Stomp
Wolverine Blues
Swing That Music
P.A.
Marie
Boog-It
Cherry
Hep Cats' Ball
Lazy 'Sippi Steamer
You Run Your Mouth, I'll Run My Business
Cain And Abel
Sweethearts On Parade
Cut Off My Legs And Call Me Shorty
Perdido Street Blues
2:19 Blues
Coal Cart Blues
Down In Honky Tonk Town
Volume 6
Long, Long Ago
I Cover The Waterfront
New Do You Call That A Buddy [Now Do You Call That A Buddy]
Hey Lawdy Mama
Ev'rything's Been Done Before
In The Gloaming
I'll Get Mine Bye And Bye
Yes Suh!
I Used To Love You (But It's All Over Now)
Leap Frog
(I'll Be Glad When You're Dead) You Rascal You
When It's Sleepy Time Down South
(Get Some) Cash For Your Trash
I Never Knew
Among My Souvenirs
Coquette
I Wonder
Jodie Man
You Won't Be Satisfied (Until You Break My Heart)
The Frim Fram Sauce
Format:
UK English