Well-Aged 'Whisky' On Otis Redding Live Box Set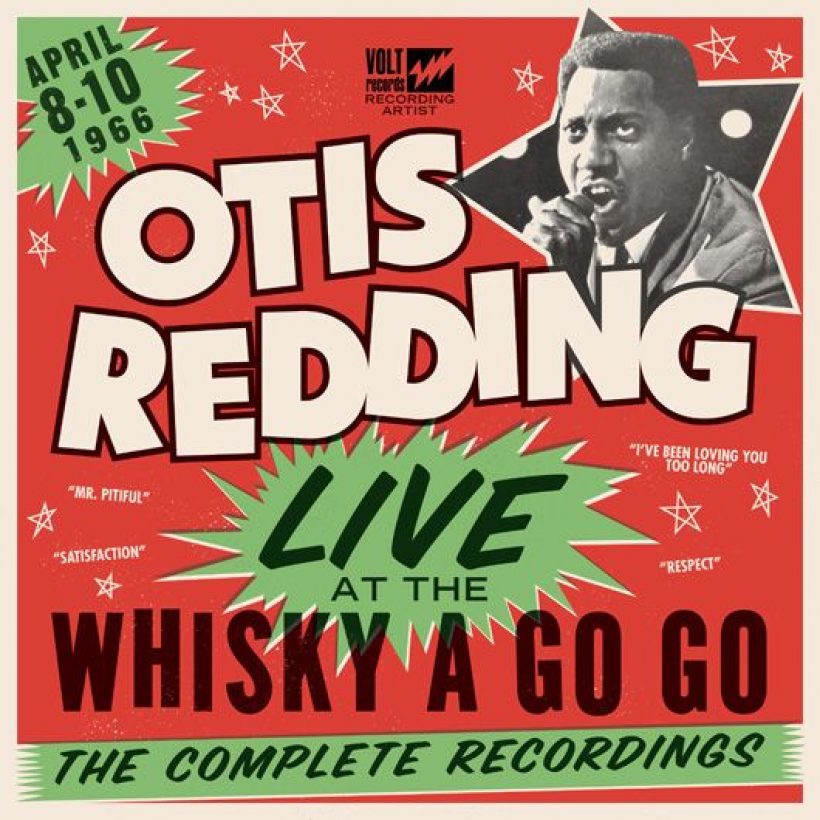 As a live performer, Otis Redding was unparalleled. Sweetly soulful one moment, bursting with unfettered energy the next, he was arguably the epitome of the Southern soul singer: raw, impassioned and uncontainable. He might have made his name with the iconic studio album, Otis Blue, but live recordings arguably capture the true essence of the man.
He was also one of the few classic-style soul singers to appeal to the hippie counterculture of the 60s – for whom Sly And The Family Stone were more likely to represent "soul music" as it transformed into funk. But, as Otis' three-night run at Los Angeles' iconic rock venue Whisky A Go Go proved, he was every bit up to the task of transfixing the younger crowd. After all, this was the man who took The Rolling Stones' '(I Can't Get No) Satisfaction' and handed it back to them as a soulful workout that the Stones themselves would later base their live versions on.
"I remember standing right in front of the stage for the whole show," Doors guitarist Robbie Krieger recalls of the night he caught Redding at the Whisky. He'd never heard of the singer before, but was "amazed at the energy that he created on the stage". This was no one-night stand, either: across three nights, 8-10 April 1966, Redding performed seven shows, each a tireless masterclass that saw Redding take Southern soul to the West Coast.
Those seven sets formed the basis of the 1966 live album, In Person At The Whisky A Go Go. Just 10 songs could fit on the record, meaning that a host of equally stunning performances had to be shelved – until now. The 6CD box set Live At The Whisky A Go Go: The Complete Recordings collects all seven Whisky sets in chronological order, presenting this stunning residency in all its uncut glory.
Mastered from the original four-track tapes, and including Redding's stage banter as he commands both band and audience, the wealth of unreleased material on the collection is staggering, providing priceless insight into this moment in Redding's career. The following year he would be on stage at the Monterey Pop Festival, rivalling only The Who and Hendrix for impact.
Scroll down to read the full 6CD Live At The Whisky A Go Go: The Complete Recordings tracklist is, and order the box set here:
Disc 1: Friday, 8 April 1966
Set 1
'Introduction'
'I Can't Turn You Loose'
'Pain In My Heart'
'Good To Me'
'Just One More Day'
'Mr Pitiful'
'(I Can't Get No) Satisfaction'
Set 2
'I'm Depending On You'
'I've Been Loving You Too Long'
'Good To Me'
'Security'
'Respect'
Disc 2: Friday, 8 April 1966
Set 2 (continued)
'Just One More Day'
'(I Can't Get No) Satisfaction'
'Any Ole Way'
'These Arms Of Mine'
'I Can't Turn You Loose'
'Pain In My Heart'
'Good To Me'
'(I Can't Get No) Satisfaction'
Disc 3: Saturday, 9 April 1966
Set 1
'Introduction'
'Mr Pitiful'
'Good To Me'
'Respect'
'Just One More Day'
'I Can't Turn You Loose'
'Ole Man Trouble'
'(I Can't Get No) Satisfaction'
Disc 4: Saturday, 9 April 1966
Set 2
'Introduction'
'(I Can't Get No) Satisfaction'
'Any Ole Way'
'I've Been Loving You Too Long'
'I'm Depending On You'
'I Can't Turn You Loose'
Set 3
'Introduction'
'Security'
'Just One More Day'
'These Arms Of Mine'
'(I Can't Get No) Satisfaction'
'I Can't Turn You Loose'
'Chained And Bound'
'Respect'
Disc 5: Sunday, 10 April 1966
Set 1
'Introduction'
'I'm Depending On You'
'I Can't Turn You Loose'
'(I Can't Get No) Satisfaction'
'Chained And Bound'
'Just One More Day'
'Any Ole Way'
'I've Been Loving You Too Long'
'(I Can't Get No) Satisfaction'
Disc 6: Sunday, 10 April 1966
Set 2
'Introduction'
'Destiny'
'Security'
'Good To Me'
'Respect'
'Chained And Bound'
'Mr Pitiful'
'(I Can't Get No) Satisfaction'
'Ole Man Trouble'
'I Can't Turn You Loose'
'A Hard Day's Night'
'These Arms Of Mine'
'Papa's Got A Brand New Bag'
'Satisfaction'
Format:
UK English