The Best Aerosmith Songs: 20 Rock Classics
No matter which era of the band you love, there's something here for you.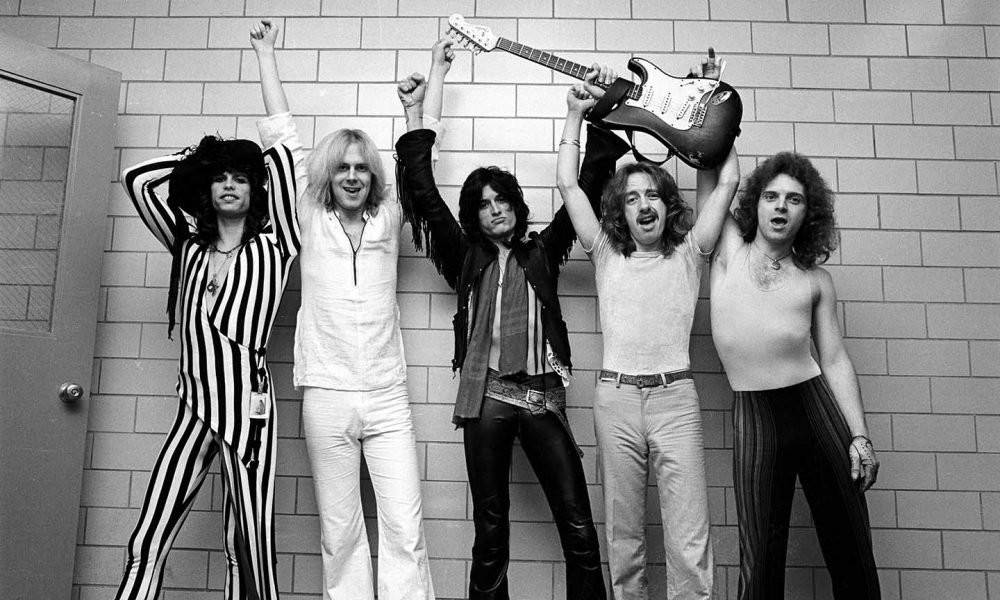 Which version of Aerosmith do you prefer: The hungry rock & rollers of the 70s? The unstoppable superstars of the 80s and 90s? Or the venerable long-distance rockers of recent years? Our answer is simple: We love it all, and the news of the Boston quintet's "Peace Out" tour provided the perfect excuse to take a deep dive into their catalogue and present the best, most earthshaking Aerosmith songs.
Our criteria was simple: We wanted to go across the board and represent every era of the band, if not quite every album. We didn't have room for every hit – or every personal favorite – but what's here is some of the most essential rock of the past 50 years. Like the man said, "just push play."
Order Aerosmith's Greatest Hits now.
Dream On (1973)
Arguably rock's first real power ballad and inarguably one of its greatest, "Dream On" proved that there was depth and sensitivity behind Aerosmith's swagger. "Dream On" has an interesting chart history: The single didn't catch on its original release – except of course in Boston, where it was a sensation – but gave Aerosmith its first Top Ten when reissued two years later. It hit again in 2002, when Eminem built his single "Sing for the Moment" around it.
Aerosmith - Dream On (Audio)
Mama Kin (1973)
During their early days, Aerosmith famously lived and rehearsed in a band house near Boston University, so they knew a few things about how it felt to be a young guy turned loose in the city. "Mama Kin" is a suitably feisty rocker that captures that feeling. "Mama Kin" became an iconic track that has figured in their live shows since day one. For Boston fans, it has a special meaning: Mama Kin was the name of the rock club that the band operated for a few years in the 1990s, just across the street from Fenway Park.
Train Kept a Rolling (1974)
It's no secret that Jeff Beck was one of Joe Perry's favorite guitarists. This track was one of the first things Aerosmith ever played together, though it had to wait till their second album to hit vinyl. By then they'd worked up a unique two-part arrangement – funky in the first half, full throttle in the second. It became one of their first FM radio hits.
Sweet Emotion (1975)
"Sweet Emotion" makes a strong case for Tom Hamilton as Aerosmith's secret weapon: He wrote the music for this tune around his indelible bassline, with Joe Perry making a rare use of talkbox guitar. One of the band's more ambitious early hits, it glides between crunching verse and psychedelic chorus; producer Jack Douglas added backward percussion to make it even trippier.
Walk This Way (1975)
This song is one of the reasons Toys in the Attic was a must-own for everyone growing up in the 70s. "Walk This Way" sports a trademark Joe Perry riff and some of Steven Tyler's slyest lyrics; it's a wonder that some of his double-entendres here ever snuck onto AM radio. It also, of course, became a groundbreaker ten years later when the group re-cut it with Run-DMC.
Aerosmith - Walk This Way (Audio)
Back in the Saddle (1976)
The band's hit streak continued with Rocks, which opened with one of the great one-two punches in "Back in the Saddle" and "Last Child" (the latter, a funky number co-written by Whitford). "Saddle" rates as one of the most definitive Aerosmith tracks, a song that promises a memorable night of carousing. It became one of the band's most durable anthems, and the theme for the 1984 tour that reintroduced the classic lineup.
Draw the Line (1977)
It was the year of punk, and Aerosmith was likely paying attention: "Draw the Line" just might be the rawest and wildest of all of Aerosmith's hits, and that's saying a lot. After the mid-song guitar breakdown, the band comes roaring back in with Tyler screaming his way through the last verse, a moment of pure abandon.
Lightning Strikes (1982)
This era of Aerosmith found the band at a crossroads, with Perry and Whitford temporarily estranged and new guitarists stepping in. That lineup ultimately didn't get its wings, but they did pull out a surprisingly strong album with Rock in a Hard Place. Among the album's experiments with punk and psychedelia was this classic-model Aerosmith single, the only track to include Whitford.
Let the Music Do the Talking (1985)
Leading off the album Done With Mirrors, this track served notice that the classic Aerosmith lineup was back. A highlight of the raw and bluesy full-length, "Let the Music Do the Talking" was originally the title song of the first Joe Perry Project album but the reworked verses and added lyrics make it a full-fledged Aerosmith anthem.
Dude (Looks Like a Lady) (1987)
This hit introduced the late 80s version of Aerosmith. They met the challenge by keeping their raunchy base and adding horns, backing vocals, and synthesizers to the mix. Originally called "Cruisin' for a Lady," the song got inspired by a night carousing in L.A., where Steven Tyler's eye was briefly caught by a guy with platinum blonde hair and makeup. And now it can be told: the dude who looked like a lady was Vince Neil of Motley Crue.
Aerosmith - Dude (Looks Like A Lady) (Official Music Video)
Rag Doll (1987)
The third big one from Permanent Vacation (because "Angel" must be mentioned), "Rag Doll" sounded new and vintage at once. The late Bruce Fairbairn's sparkling production was evident, with a horn section and Joey Kramer's drums given a massive 80s sound. Behind it all was a snarling old-school rocker, with Perry wailing on slide guitar and Tyler sneaking in a nod to Bowie's "Rebel Rebel." ("Hot tramp!")
Love in an Elevator (1989)
If Aerosmith updated their sound on Permanent Vacation, they upped the ante on Pump. Even a rocker like "Love in an Elevator" is full of fun sonic details, including the surprise acapella break toward the end. Tyler's cheeky humor is in full effect on this tale of a romance that's just long enough to have both ups and downs.
Janie's Got a Gun (1989)
The hit after "Elevator," "Janie's Got a Gun" showed a whole different side of the band: An Aerosmith song about child abuse and violent revenge would probably have been unheard-of in the 1970s. It started with the title, which hit Tyler as a good turn of phrase and set him thinking about what the backstory might be. Hamilton again proves the band's secret weapon, writing the music for this dramatic number.
Livin' on the Edge (1993)
"Livin' On the Edge" was both unusually political and unusually epic (six minutes) for an Aerosmith single. Inspired by the Rodney King riots, the song addressed the state of the world and made a point of ending on an optimistic note. But listen close and you can hear another nod to the Yardbirds, whose own topical song "Mister You're a Better Man Than I" is referenced in the lyric.
Aerosmith - Livin' On The Edge (Official Music Video)
Cryin' (1993)
Get a Grip proved to be Aerosmith's biggest album, going 7x platinum and producing a half-dozen hit singles. "Cryin'" was one of many highlights. Originally written as a straightforward ballad, the song got a re-think with a nod toward Stax/Volt with the heavy riff and horns.
Pink (1997)
The Nine Lives album marked another new start for Aerosmith and a move back to their roots, with "Pink" bringing back Tyler's harmonica and Perry's slide guitar. The lyrics deal with sex in a more abstract way than usual, and it won them their fourth Grammy. The song has proved its staying power: In 2018, Janelle Monae interpolated on her own hit, "Pynk."
I Don't Want to Miss a Thing (1998)
Aerosmith achieved the impossible, scoring their first Number One single a quarter-century into their recording career. This love song showcased writer Diane Warren at her best, and Aerosmith proved they still knew how to put the power into a power ballad. It never appeared on a proper Aerosmith studio album. Instead, it was recorded for the sci-fi movie Armageddon, whose star was none other than Steven Tyler's daughter Liv Tyler.
Jaded (2001)
Just Push Play was slanted toward pop – but pop in a more classic sense, with a bit of Beatles influence between the lines. Co-producer Mark Hudson was fresh from a run of Ringo Starr albums, which Joe Perry had occasionally guested on. The album's big hit, "Jaded," had some of their best harmonies and addressed the topic of Tyler's relationship with daughter Liv.
Devil's Got a New Disguise (2006)
New songs on greatest hits compilations are traditionally a mixed bag, but Aerosmith came up with a winner on this rocker. The song had been kicking around for awhile and was considered for both Pump and Get a Grip, but this guitar-heavy version was a fresh recording. Putting Aerosmith on the radio once again, the song was written by Tyler and Perry with Diane Warren – so much for her image as a writer exclusively of sweet ballads.
What Could Have Been Love (2012)
Aerosmith returned to power ballad mode on this hit from Music from Another Dimension. A song of lost love and regret, it sports one of Tyler's most emotive vocal performances.
Aerosmith - What Could Have Been Love