Best Disney Holiday Songs: A Festive Top 10
For so many of us, the magic of Disney and the holiday season go hand in hand.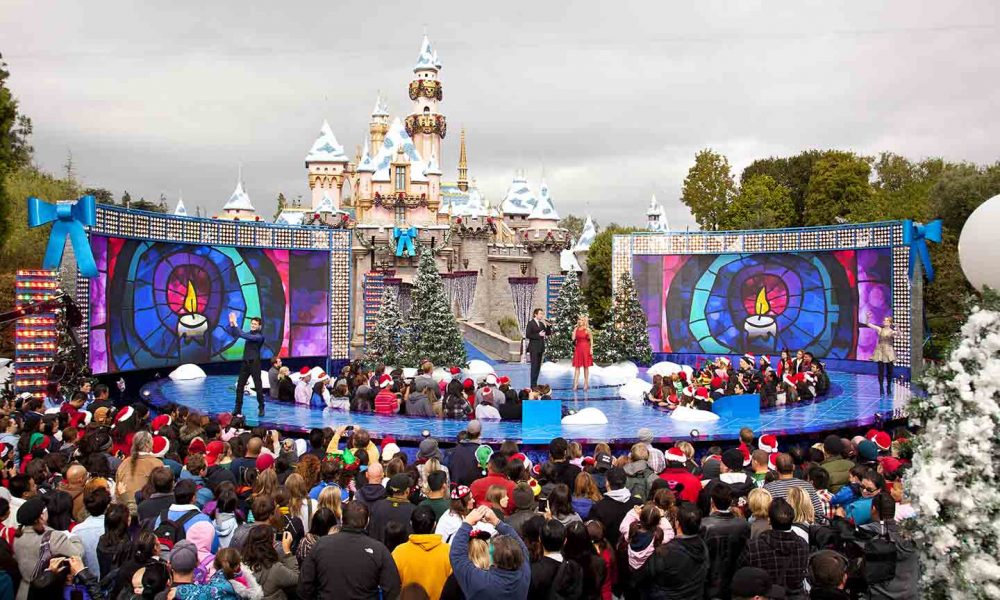 For so many of us, the magic of Disney and the holiday season go hand in hand. Unsurprisingly, over the years, the studio has been responsible for some classic festive songs. Here are some of our favorites.
Listen to the Disney Christmas playlist now.
Do You Want To Build A Snowman? (Frozen, 2013)
Coming at a pivotal point in Disney's blockbuster Frozen, "Do You Want To Build A Snowman?", written by Kristen Anderson-Lopez and Robert Lopez, begins as a playful plea from a five-year-old Anna to her sister Elsa and ends in tragedy. Elsa has been locked in her room because of her powers, which she has yet to learn how to control. Anna yearns for the company of her sister and insists she comes out to play in the snow. The song skips forward four years, and Elsa is still not able to join her sister. Finally, we see a 15-year-old Anna returning from their parents' funeral and asking one more time that her sister emerges from her room.
Do You Want to Build a Snowman? (From "Frozen"/Sing-Along)
Christmas Morning (The Muppet Christmas Carol, 1992)
Composer, singer-songwriter, and actor Paul Williams was a natural choice to score The Muppets' telling of Charles Dickens' festive morality tale. Williams had been nominated for an Oscar for "Rainbow Connection" from The Muppet Movie and had written the score and lyrics to Bugsy Malone. "Christmas Morning" soundtracks the moment when Scrooge (played by Michael Caine) wakes up a changed man after being visited by the ghosts of Christmas past, present, and future.
What's This? (The Nightmare Before Christmas, 1993)
Tim Burton's The Nightmare Before Christmas offers a striking alternative to traditional holiday movies, perfectly complemented by composer Danny Elfman's rambunctious songs and score. The joyful "What's This?" is sung by the "Pumpkin King" of Halloween Town, Jack Skellington (voiced by Elfman), as he discovers the delights of Christmas Town.
I Wish I Could Be Santa Claus (A Muppets Christmas: Letters To Santa, 2008)
Another piece of Muppet music magic from Paul Williams. "I Wish I Could Be Santa Claus" is a sweeping, melancholic ballad sung by Gonzo The Great and Fozzie Bear. Having created chaos earlier in the movie, here the Muppets realize they can put things right and save Christmas singing, "I wish we could be Santa Claus, perhaps we can/The job's about the giving, not the suit and not the man."
I Wish I Could Be Santa Claus
Rudolph The Red-Nosed Reindeer (Disney's Merry Little Christmas, 2016)
A Disney holiday list wouldn't be complete without an appearance from the studio's most enduring character. Mickey Mouse is joined by Minnie Mouse and Goofy on a fun-filled version of the yuletide classic, "Rudolph The Red-Nosed Reindeer," from 2016's Merry Little Christmas album. Goofy's vocals suggest that he's a big fan of country music, who knew?
When We're Together (Olaf's Frozen Adventure, 2017)
Frozen's much-loved snowman Olaf had his time to shine in the 2017 featurette, Olaf's Frozen Adventure. "When We're Together," written by Kate Anderson and Elyssa Samsel, provided a stunning finale, sung by sisters Anna and Elsa. The lyrics speak of the importance of togetherness during the festive season, a theme that runs throughout the Frozen franchise.
Home For Navidad (Elena Of Avalor, 2018)
Elena Of Avalor was a computer-animated Disney Channel show that ran for three seasons from 2016-2020. It focused on the adventures of Elena, a princess in a fantasy kingdom inspired by Latin American culture. Fittingly, the Cuban-flavored 2018 holiday song "Home For Navidad" features Elena listing all the reasons why she loves Christmas – she's had a tough year fighting the "powers of darkness" and can't wait for some respite surrounded by family, who can blame her?
Home for Navidad 🎄 | Music Video | Elena of Avalor | Disney Junior
This Christmas (Noelle, 2019)
The 2019 live-action film, Noelle, told the story of Nick – the son of Santa Claus (Bill Hader) – coming to terms with his father's death and struggling to fill the great man's oversized boots. When Nick goes AWOL, his sister Noelle (Anna Kendrick) must find him and save the holiday season. Pop-rockers Lawrence's peppy "This Christmas" is a cover of the Donny Hathaway classic and soundtracks Noelle's morning routine before being reprised in the movie's credits.
Puppy For Hanukkah (The Disney Channel, 2020)
In 2020 the Disney Channel pitched the idea of a Hanukkah song that conveyed the oft-overlooked multiculturalism of the Jewish community to rapper and Hamilton star Daveed Diggs. "Puppy For Hanukkah" was Diggs' response – a playful rap song in which he explains exactly what kind of Hanukkah gift he'd like to receive in no uncertain terms. The song's hilarious video was a viral hit, featuring three kids lip-syncing and acting out Diggs' lyrics.
Daveed Diggs - Puppy for Hanukkah
Christmas Again (Christmas… Again?!, 2021)
A holiday film that takes its cue from the Bill Murray classic, Groundhog Day, "Christmas… Again?" finds 11-year-old Rowenna (Scarlett Estevez) living the same day repeatedly until she learns to love her new, post-divorce family and discover the true meaning of Christmas. "Christmas Again" is a contemporary pop take on Christmas standards sung by Estevez.