Best Judy Garland Songs: Essentials From A Hollywood Great
Judy Garland first achieved worldwide fame in 'The Wizard of Oz,' but her best songs prove that she was much more than that.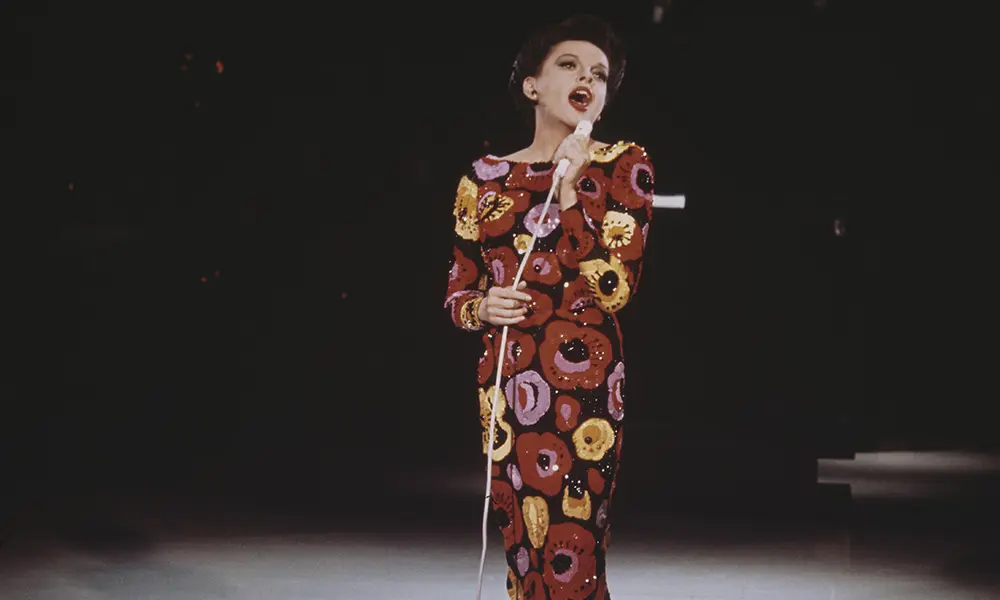 "She was the greatest. The rest of us will be forgotten, but never Judy." Those were Frank Sinatra's words and few would argue with his contention that Judy Garland was one of the greatest entertainers the world has ever seen. Not only was she a prodigiously accomplished and versatile actor who appeared in 34 Hollywood movies and won an Academy Award at the age of 17, but she also possessed a supremely expressive singing voice that brought her a welter of hit records and three Grammy Awards; and to cap it all, she could dance with a nimble-footed combination of grace, panache, and precision that enabled her to hold her own when she danced alongside two of Hollywood's greatest, Gene Kelly and Fred Astaire.
In terms of her talent, then, Garland was abundantly blessed. But behind the Hollywood glamour lay a vulnerable, deeply troubled soul. It's fair to say that she was irreparably damaged by the Hollywood studio system that reared her. Many early traumas left deep psychological scars affecting Garland's self-esteem that she carried with her the rest of her life.
Listen to Judy Garland's best songs on Apple Music and Spotify.
In terms of her music, Garland's early recordings for Decca mostly seemed happy and carefree, disguising her travails, but eventually, her private life seeped into her sound; an almost palpable sense of heartache and sorrow is etched into in the recordings she made in the 1950s and 60s for Capitol Records, adding a deeply autobiographical slant to songs that she was able to inhabit and make her own. The mixture of fragility and stoicism which she invested in her later performances – especially when she was live on stage – was what endeared her to the public; they felt her pain and vulnerability but also reveled in the heroic perseverance she showed as she battled her demons and stayed true to the old theatrical adage "the show must go on."
Her talent blazed like a beacon between 1936 and 1963; and it's from this fertile period we've selected the best Judy Garland songs that encapsulate her peerless genius.
A star is born
Judy Garland was born Frances Gumm in 1922 in Grand Rapids, Minnesota, the youngest of three daughters born to parents who were vaudeville performers and ran a movie theater. Soaking up her parents' passion for song and dance, young Frances took to the stage at two years old and was soon part of a family trio with her two elder siblings called the Gumm Sisters. In 1934, when Frances was 12, they became the Garland Sisters, and a year later – with Frances having adopted the name Judy Garland – they performed in Los Angeles where Judy was singled out by a talent scout and successfully auditioned for the MGM movie studio.
While MGM decided how they could best accommodate Judy Garland's adolescent talents, in 1936 she made her first recordings for Decca Records. Her third single, "(Dear Mr. Gable) You Made Me Love You" was an adaptation of Al Jolson's 1913 song "You Made Me Love You (I Didn't Want To Do It)" and was first sung by Garland at a party MGM gave for movie star Clark Gable's 36th birthday. The studio was so pleased with Garland's performance as a love-struck movie fan that they had her sing the song in the movie, Broadway Melody Of 1938. Even though she was only 15, Garland sang with a maturity and depth of expression that exceeded her tender age. While the song helped Garland's movie career get underway, it also put her in the pop charts. But the song that she has become synonymous with followed two years later; that's when she was cast as Dorothy Gale in The Wizard Of Oz and sang "Somewhere Over The Rainbow," Harold Arlen and Yip Harburg's dreamy, optimistic ballad, which topped the US pop charts and also won the young chanteuse an Academy Award.
Judy Garland in the 40s
More hit songs from movies from Judy Garland followed in the 1940s: there was the ballad "I'm Nobody's Baby" (from 1940's Andy Hardy Meets Debutante, one of several films Garland starred in alongside Mickey Rooney); "For Me & My Gal," a blithe duet with Gene Kelly from the 1943 movie of the same name; and the exuberant "The Trolley Song," a Top 20 US hit taken from a Christmas-themed 1944 movie, Meet Me In St. Louis, directed by Vincente Minnelli, who became Garland's second husband. The film also yielded the first ever recording of "Have Yourself A Merry Little Christmas," Hugh Martin and Ralph Blaine's classic Yuletide song that Garland helped transform into a pop-jazz perennial.
Garland hit the US Top 20 in 1945 with the chugging railroad-themed track, "On The Atchison, Topeka & The Santa Fe," originally heard in the Hollywood musical The Harvey Girls, where Garland played a mail-order bride. The single version she recorded for Decca framed Garland's voice with luxurious close-harmony work by The Merry Macs.
Judy Garland's later musicals
In 1950, 28-year-old Judy Garland recorded another of her signature songs in the shape of the effervescent big band tune "Get Happy," which exuded a pronounced revivalist flavor; it was the rousing finale of the movie Summer Stock, co-starring Gene Kelly, about a theater group descending on a farm. Garland wasn't the first artist to record the evergreen Harold Arlen-Ted Koehler tune but she made it her own and afterwards it became a staple of her live shows.
Summer Stock marked a watershed moment in Garland's career; after 27 movies with MGM, she parted ways with the Hollywood studio. From there she worked at developing her career as a singer, recording a clutch of singles for Columbia in the early 50s. In 1954, though, she agreed to appear alongside British actor James Mason in the Warner Bros musical, A Star Is Born, a remake of an earlier film about a rising starlet helped by a waning matinee idol. The film was a triumphant comeback for Garland who shone brightly singing the episodic medley, "Born In A Trunk" – a vivid narrative of her life as a performer – and "The Man That Got Away," a torch song that married emotional desolation with a decidedly jazz flavor. Garland's performance highlighted her maturity as a singer; she delivered the song like she'd lived its story and her contralto voice, with its lush, velour tone and wide, throbbing vibrato, possessed a deeper, darker luster.
Garland's final movie appearance, in the 1963 music drama I Can Go On Singing, found her in a role she could relate to; as a lonely concert singer battling personal issues. The movie's title song – written by Harld Arlen and Yip Harburg, who were responsible for "Over The Rainbow" – begins softly before building into a rousing celebration of song. With its blend of humor and pathos, it allows Garland to show the full range of her vocal abilities.
The Capitol years
Though her movie career slowed in the 1950s, Judy Garland's music continued apace, first at Columbia, and then more successfully at Capitol where she cut seven studio albums between 1955 and 1962. Her debut for the company, arranged by Jack Cathcart, coincided with her first television special and was aptly titled Miss Show Business. It found Garland firing on all cylinders on the show-stopping numbers "Rock-a-Bye Your Baby With a Dixie Melody" and "After You've Gone," both staple numbers of the singer's stage shows.
Rock-A-Bye Your Baby With A Dixie Melody
Garland brought in Frank Sinatra's arranger, Nelson Riddle, for her second Capitol album, 1956's Judy; he framed Garland's majestic voice with sophisticated, jazz-infused charts, especially on the Latin opener, a dynamic uptempo reading of Harold Arlen and Johnny Mercer's "Come Rain Or Come Shine."
Riddle waved his magic orchestral wand again on the 1958 album, Judy In Love, which included swinging big band versions of "Zing! Went The Strings Of My Heart" – a revamp of the singer's 1943 hit – and "I Concentrate On You," where Garland's voice soars majestically over a busy Latin-style backdrop punctuated by blaring horns.
Zing! Went The Strings Of My Heart
Thanks to her vaudeville roots, Garland could easily serve up glitzy Hollywood razzmatazz, but it was on heart-wrenching ballads – where she adopted a subtler, more nuanced approach – that she unveiled her soul. Devoted to ballads about loss, heartbreak, and solitude, her 1957 LP Alone included a beautifully bittersweet rendering of Irving Berlin's "How About Me."
Judy Garland's electric live performances
Despite making many accomplished studio recordings, Judy Garland's live albums offer a vivid portrait of her electrifyingly dramatic stage presentation. Her first live album, 1959's Judy Garland At The Grove, was a strong representation of her stage show – her version of "When You're Smiling" is particularly affecting – but it was eclipsed by her most famous in concert recording: the iconic Judy At Carnegie Hall, a double LP from 1962 devoted to tunes from the Great American Songbook, which marked her triumphant second comeback and won the singer two Grammy Awards: for Album Of The Year and Best Solo Vocal Performance, Female. Punctuating her sublime vocal performances with humorous anecdotes, Garland is in spellbinding form; the musical highlights range from "That's Entertainment" with its pulsating energy and stirring pizzazz to the soft ballad "Do It Again," where Garland reveals her sensuous side with a perfectly calibrated vocal.
That's Entertainment! (Live At Carnegie Hall/1961)
Though Judy Garland left the world at a relatively young age, the many memorable films and recordings she left behind have enshrined her place in history and conferred upon her immortality. These Judy Garland songs not only reveal the extent to which she poured her heart and soul into her performances but also how she never tried to be anything else but her authentic self. "Always be a first-rate version of yourself, instead of a second-rate version of somebody else," Garland once famously said. She stayed true to that motto until the very end.
Think we missed one of Judy Garland's best songs? Let us know in the comments below.