Bluey From Incognito Looks Back On A Life In Music
The jazz funk legend looks back on a life in music, from chart-bothering hits to exciting collaborations with Stevie Wonder, Chaka Khan, and more.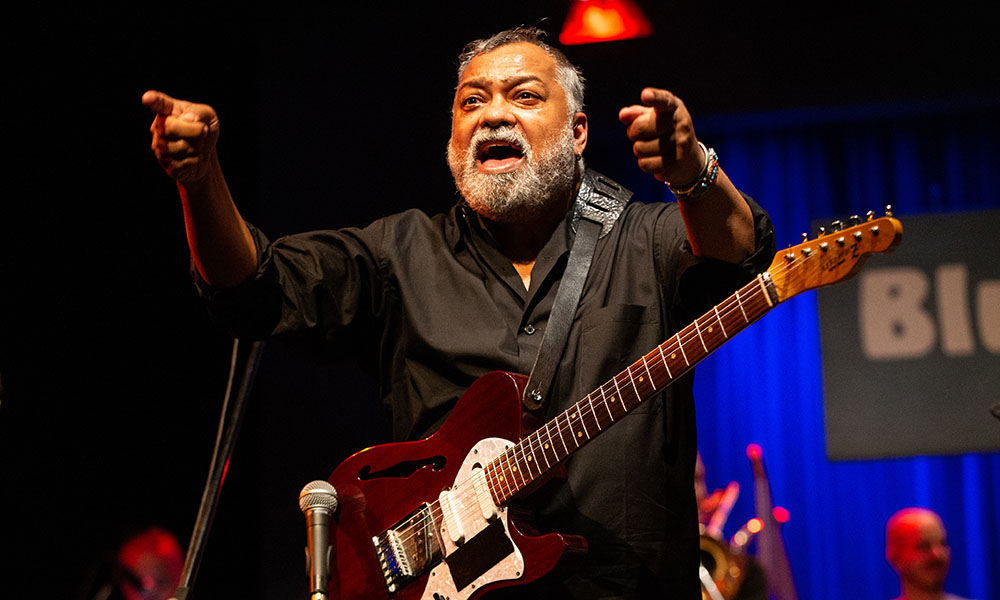 British jazz band Incognito was formed in London in 1979 by guitarist, composer, and record producer Jean-Paul 'Bluey' Maunick together with Paul 'Tubbs' Williams, as a satellite project for the group Light of the World. It quickly became one of the most popular groups in the country, leading to top 10 hits and collaborations with artists like Stevie Wonder, George Benson, Chaka Khan, and more. The group's ranks have boasted some of the UK and world's finest jazz and soul instrumentalists and vocal talents.
Bluey is celebrating the 40th anniversary of the group's debut album with a new compilation called Always There 1981 – 2021 (40 years and still groovin'). Grace Duggan and Genny Turay caught up with Bluey to talk about his creative journey, one of the great stories of UK music.
Listen to the career-spanning Incognito compilation Always There: 1981-2021 (40 years & still groovin') here.
Incognito - You Are In My System ft. Bluey
Can you tell us a little about relocating to the UK from Mauritius? What it was like back then in London, and how you were inspired by the local live music scene and in particular bands such as Gonzales & FBI?
It divided my soul! On one hand, here I was a young aspiring musician full of dreams entering the Promised Land, the musical hub of the universe. On the other, constant racial prejudice, severe beatings, and cold weather to boot! To say music saved me would be a gross understatement!
Discovering the live music scene and the captivating sound of soul, jazz, and funk with all its derivatives was inspirational, liberating, and life-changing. Bands like Gonzales, FBI, and the Average White Band were my blueprint, my guides, my teenage guide to the galaxy!
It was through a job at David (Linx) Grant's cousin's record store in Tottenham that you formed your first bands, New Life and Light Of The World. Can you tell us a little about those times, working in the shop and how you took that big step into not one but two bands?!
A career in music was always my goal and any opportunity to be close to music whilst taking those steps along the way was better than working in factories and warehouses, which I had plenty of experience doing after leaving school at 15.
Dancing was a big part of it all and working in the record shop was key to connecting with DJs, dancers, shakers, and movers. The late Paul "Trouble" Anderson was one of those teenagers who hung out at the record shop. Above the record shop was a rehearsal space, and the owner, Joe Williams, heard me practicing and introduced me to his cousins and we formed New Life with David as lead vocalist. Whenever musicians came by the store, we would start talking about instruments, and the music that inspires us.
One hot summer's day, three guys walk into the shop carrying guitar, sax, and trumpet cases. They looked cool and we soon got talking about Kool & The Gang, the Blackbyrds, and the Average White Band. They told me they were in the process of putting a band together and I immediately offered my services as a bass player. They told me that they already had a 14-year-old playing bass. I also played guitar, so I asked Joe if we could jam upstairs. The brother of one of our regulars was a drummer, so we organized the session. The 14-year-old Paul "Tubbs" Williams on bass was on a whole other level and blew our minds. I looked at Joe and saw a huge grin on his face. I realized there and then that the door to my dreams of a future in the world of music had been blown wide open. Paul on bass, Everton on drums, Kenny on trumpet, David (Baps) on sax, Breeze and myself on guitar were a band… and we were on fire!
Joe's entrepreneurial skills and his contacts with the UK's number one club DJ / A&R director of the Ensign record label joined the dots and Light Of The World was on the way to the studio. The rest, as they say, is history.
In 1978 Chris Hill signed Light of the World to Ensign and their debut album was a landmark for UK jazz funk. They were on TV, on Top of the Pops, and having success, so how did Incognito come to be?
Chris Etienne, a mild-mannered 17-year-old percussionist joined us for the recording of our debut Light Of The World album. We became close friends and he stayed at my place. Sadly, whilst on a pre-release tour of the album, one of our two touring vans was in a road accident, and he was killed. I found it hard to keep going. My son was born soon after, and we had no money. My priority was to provide, so I took on a bunch of jobs including McDonald's in Wood Green, Debenhams on Oxford Street, Fender Arbiter in Enfield, and Commercial Gowns in the City.
A year later, whilst at Commercial Gowns, I met Johnny Rocca who worked in a record shop just off Petticoat Lane. We ended up forming Freeez. After the first two Freeez singles, I started jamming with Paul from Light Of The World and Chris Hill heard a rough demo made in my bedroom and put us in the studio. With a little help from our friends Geoff Dunn and Peter Hinds, Incognito was born.
Our first single "Parisienne Girl" reached number 73 in the UK charts in 1980 and a year later our debut album "Jazz Funk" made it in the UK top 30 peaking at 28.
Leading up to that, how had you found the whole education experience in the UK?
I had a lovely year at primary school in West Green Road followed by a rude awakening to the hatred and violent world of secondary education at Holloway School for Boys. I mostly bunked off school for a year hiding from skinheads. My saving grace in that year was my friendship with my landlord's son (Eliel) who was also the drummer in my first band and bought me a bike with money he nicked from his father, knowing that my mum could not afford to buy me a bike. We had barely enough for food. He was not a thief, just wanted to do something for me as we were poor! He took a beating for it. It was an act of pure love I shall never forget and it balanced the other stuff!
Between the age of 12 to 15, I attended a boarding school in Hertfordshire, where I was told by my headmaster and all my teachers bar one, that I would amount to nothing at all and that the English language was wasted on me! One teacher who broke that mold told me the opposite and felt that my future was bright and that my songs would be the making of me. He will forever be a guiding light for me!
I loved being at a mixed school and my songwriting gained momentum [while I was there], fueled by the pretty girls as I fell in love regularly and often!
You've recently talked about those early days, gigging in the UK, and some of the challenges you all faced. Have those experiences informed your thinking and approach to making and having a career in music?
Those years shaped me. As the saying goes, "what doesn't kill you makes you stronger" and in my case, the power of music, love, and adventures on the road fortified my commitment to my music. Working with my peers, Stevie, Chaka, George Duke, and Leon Ware was affirmation that if you live what you preach, finding the balance between fame and servitude can complete you and bring you a life of happiness!
In 1983 you began to work on a follow-up to Incognito's debut album, but things fell apart. Can you tell us a little about what must have been a difficult time and what course your music career then took?
We had started to listen to jazz fusion and what we had been listening to reflected in our writing and production. The Brecker Brothers, Billy Cobham, Jeff Lorber, Gino Vannelli were having a huge influence on the band, especially the guys we had brought into the lineup who already had that music in their DNA. Whereas Tubbs, Peter, and I were coming from the likes of the Blackbyrds, Roy Ayers, the Crusaders, and Earth Wind & Fire, we were happy to try this fresh fusion approach.
When Chris Hill and the folks at Ensign heard the album, they said that they would not release it as Incognito and renamed the band The Warriors, and to keep a link to Incognito they named the album Behind the Mask! I don't regret making that record as it's a great album and a huge learning curve!
In the late 80s you began creating tracks at home using samplers and sequencers for a new studio album and subsequently teamed up with Gilles Peterson to join his Talkin' Loud label. As signings go, even now it seems like a bold move on Gilles's part, can you recall how it all came together?
I spent most of the 80s working as a songwriter / session guitarist, and developed my skills as a producer and later programmer. The list of people I worked with included Maxi Priest, Total Contrast, Steven Dante, Steve Harvey, Keni Stevens / Onyeka / Nia Peeples, George Duke ("King for A Day"… Uncredited), and Marcus Miller.
I was biding my time waiting for a climate conducive to live music and real playing to return. I was getting tired of digital sounds and started to add more live playing as opposed to programming everything. I played my old friend Gilles Peterson a couple of my demos and he signed me to his new label Talkin' Loud with the stipulation that I would go in the studio and complete the recordings as Incognito and put the band back together again. That was music to my ears!
Gilles encouraged you to record your own arrangement / version of the Ronnie Laws classic instrumental "Always There." It would prove a pivotal moment, yet Jocelyn Brown who delivered a standout vocal for the track wasn't originally going to be involved. Can you tell us how "fate" played its part back then and perhaps how you view fate in the wider scheme of things?
We were playing a weekend festival up North, and Gilles was also deejaying. He walked into the room after his set as we were playing the final number. "Always There," mixing versions of Ronnie Laws, Side Effects and Willie Bobo.
The crowd wanted an encore and was screaming for "Always There" to be played again. We obliged! Gilles came running into our dressing room and the first words to come out of his mouth were "You've got to record that!" and put us into the studio the following Monday after the show.
Sadly, our singer lost her voice and we had to break the news to Gilles that we would put down the track and wait for her to get better. He needed it urgently and suggested that we use Jocelyn Brown, who just happened to be in town, to which I replied "Are you kidding me? THE Jocelyn Brown? 'Somebody Else's Guy' Jocelyn Brown??" To cut a long story short, she came into the studio, we talked about our love of music and food, she went into the recording area and did one take. She then came back into the control room where she found me crying with joy.
I will never forget that moment till the day I die! I knew right there that the stars were aligned, and all that I had done till then had led me to the realization of my dreams. Serendipity is not merely a lucky accident, but an unpredicted arrival at a destination I had subconsciously been travelling to!
Incognito - Always There ft. Jocelyn Brown
An update of Stevie Wonder's "Don't You Worry 'Bout a Thing" ensured that your second album for Talkin' Loud continued the upward trajectory. Can you tell us about Stevie, how you came to work with him subsequently, and what he means to you?
Someone named Maysa had been referred to me by my friend Steve "The Scotsman" Harvey who was living in LA. I told him I wanted the least diva-like person and he gave me her number. Speaking to Maysa on the phone, I asked her if she could sing something for me. She asked me what I would like her to sing and I asked her if she was familiar with the music of Stevie Wonder. She bursts out in a fit of laughter, then catching her breath told me that the reason she was in LA was to sing backing vocals for Stevie on his Jungle Fever album. Hence not only did I gain the singer who would become the voice of Incognito, but also an in to the world of Stevie! Once again serendipity was at play!
My first encounter with Stevie was on stage at The House Of Blues. Unbeknownst to me, Maysa had arranged a surprise. I had my eyes closed, playing the guitar riff on the intro of "Don't You Worry 'Bout a Thing" and was expecting to hear Maysa's voice kick into the verse, but I was gobsmacked when I hear what was distinctively Stevie Wonder! I open my eyes to see him being led to the front of the stage. I was almost paralyzed with shock and awe, that I forgot to play the guitar for the best part of the song. I was just gawping at Stevie as he hit notes that other mortals could only dream of singing! He was so friendly and generous, taking us back to his Wonderland studio, hosting and entertaining us into the wee hours of the night. It's a friendship that has lasted to this day.
Incognito - Don't You Worry 'Bout A Thing
1993's album Positivity sold a million units worldwide and includes the hits "Still A Friend Of Mine"' and "Givin' It Up" and struck a chord with American audiences. As a fan of so much music from 'across the pond,' how did that feel and doors did it unlock?
It totally lifted our profile. When we played the Fox Theatre in Detroit, there was a standing ovation as we took to the stage. I thought that someone famous was standing behind us, like Eddie Murphy… But I was humbled that it was for us!
The biggest surprise to us all was the reaction to "Deep Waters" from that album. The noise the audience made when we played the opening drum fill was deafening! That song was embraced by audiences and fans across the United States and, to this day, it is the most requested song on tour dates in the USA and played a big part in propelling Maysa's solo career.
The success of Positivity also opened doors for me as a songwriter-producer and paved the way for collaborations with Stevie Wonder, George Benson, and Philip Bailey.
Incognito - Still A Friend Of Mine
Can you recall for us how you come to work with Chaka Khan?
Incognito was invited to the Lenny Henry show to perform one of our songs and play Rufus to special guest Chaka Khan. She was happy with our performance and attention to detail. Many years later, she came over for a series of shows with Lulu and Anastacia. She remembered me and put my name forward to be the musical producer / director for "Here Come the Girls." Lulu had also put my name in the hat and I was hired for the job. When the shows ended, Chaka thanked me and told me that if I ever needed her, that she would be there for me. She kept her word and remains my Queen to this day!
In conjunction with the release of the box set, all your videos from the time at Talkin' Loud have recently been restored and are being re-distributed. There are some great pieces amongst them and some surprises too. Can you tell us about working with director Brett Ratner, and also how you came to have Jason Statham feature in one?
Brett was a rising young director and Universal got him just before he broke big with the films Money Talks in 1997 and Rush Hour in 1998. He was vibrant and directed with clarity. For the "Where Did We Go Wrong" video, he showed that he was connected too, as the location and actors were all in his reach. The fire in his belly was obvious for all to see.
Incognito - Where Did We Go Wrong?
Another person with fire in his belly and destined for big things was the charismatic, athletic dancer who had been scouted by a member of the crew employed to produce the video for "Everyday" who noticed him dancing in a nightclub some days before.
When we were in the dressing room, I introduced myself and we got talking whilst he listened to the song and practiced his moves. He told me that this was his last job in the UK as he was heading to America to pursue an acting career. The next time I'd see him was when I was sitting down and watching Lock, Stock and Two Smoking Barrels. His name you ask? Well, that would be Jason Statham!
Outside of playing and writing music do you have any other passions and if so, do they feed in any way into your music?
Where do I start? My family, travelling, my musical instruments, collection of stamps, looking out for those less fortunate than myself, creating opportunities for talented youths, and collecting sunrises and sunsets wherever life takes me!
If a 10-year-old who has ideas about writing songs, playing, and being in a band is reading this interview now, what advice would you give them?
At a young age, we gravitate to music because it makes us happy, and we quickly realize that we are even happier when others find joy in our creations and early musical explorations, raw as they may be.
Never lose sight of that feeling, it's pure and unencumbered by life's baggage. Your ability to tap into that feeling at every stage of your life will keep your music fresh and your creative spirit shining!
We've talked about the early years and the subsequent Talkin' Loud period. Since then, you have continued to regularly record and release albums, and this collection features material from all these. Can you tell us about those later recordings and highlight some of the tracks that mean the most to you and why?
My records are all reflections of my life and, as life continues, so does my music. The songs are all my babies that I nurture for a while and then they are out to fend for themselves. That is why I still get a warm feeling when the youngest ones are accepted and cherished.
"Step Aside" featuring Joy Rose
This is a song I felt compelled to write for all women in abusive relationships. Its energy also brings down the house when Joy performs it live. Meaningful songs can be dance floor hits, just as "Always There" had proved to me!
"It's Just One Of Those Things" featuring Maysa and Tony Momrelle
This one is a song I wrote because being brokenhearted is a very common experience that many people struggle with. Just when you think you are over it, you are hit for six! As the song says… "There are stories in our eyes, chapters of our lives we can't disguise. They will sometimes disappear when day turns to night, but morning comes again and they reappear."
It's Just One Of Those Things
"That's The Way Of The World" featuring Maysa and Carleen Anderson
A song that spoke volumes to my heart from the moment I first heard it when Earth, Wind & Fire played Hammersmith Odeon in 1975. Written by Charles Stepney, Maurice White & Verdine White, it's a gift to the world that I embraced and a light I had to pass on!
"Lowdown" featuring Chaka Khan & Mario Biondi
The original version by Boz Scaggs and co-written with David Paich from Toto was a great favorite in my record collection and one that always drew me to the dance floor. So recording this with my Queen and my Italian brother Mario was a no-brainer and a lot of fun!
"Goodbye To Yesterday" featuring Mo Brandis
This was an exciting co-write for me. I had the guitar riff and the hook line "It's time to say goodbye to yesterday" and Mo was bouncing back verse lyrics as soon as he heard my basic idea. Also, him being a multi-instrumentalist meant we had the song fleshed out and ready for the gang to record in no time at all!
"Just Say Nothing" featuring Vanessa Haynes
Sometimes a song is inspired by a voice. In this case Vanessa's voice! I got the rhythm section in the studio to co-write and flesh out my bare bones' lyrics with her voice in mind. We also added dramatic stops in the song, knowing that it would be very effective live. Vanessa came in and owned it!
"After the Beat Is Gone" featuring James Berkeley
Recommended by dear friends, I went to listen to Brighton-based band Yakul at Jazz re:freshed in Notting Hill. They were amazing! My relationship with singer / keyboardist James Berkeley grew when he was producing an artist in my studio. This collaboration ensued and he joined Incognito as a special guest for shows in Japan, Italy, and London.
"You Are In My System" featuring Bluey
When asked by Universal if I had a new recording to add to this 40 years of Incognito celebration, I played them my version of "You Are In My System" that my longtime collaborator Richard Bull and I had been recording during lockdown with bass ace Darrell Freeman based in Atlanta, and our horn section recording in their respective home studios. They gave me the thumbs up and even kept my guide vocals… Happy days!
Incognito - You Are In My System ft. Bluey