British Sea Power Talk About The "Positive Emotional Response" That Is 'Let The Dancers Inherit The Party'
In the 14 years since the release of their debut album, The Decline Of British Sea Power, British Sea Power have become one of the most beloved bands of the 21st Century, with a fervent fanbase devoted to their every move – whether that be a performance at the highest pub in the world (Tan Hill Inn in North Yorkshire), or a evening's boat-bus-and-gig jaunt around central London. Yet it's been four years since the release of their last album proper, 2013's Machineries Of Joy, which makes the release of their new album, Let The Dancers Inherit The Party, a particularly momentous occasion.
During that four-year period the group recorded several soundtracks (among them the score to the documentary From The Sea To The Land Beyond: Britain's Coast On Film) and left Rough Trade, their record label for a decade, to set up their own imprint, Golden Chariot. Having spent that time largely focused on their past (they released a collection of re-recorded songs arranged for performance with a brass band, and also issued a generously expanded edition of their debut album), Let The Dancers… finds BSP reinvigorated and firing on all cylinders.
"It has made us reflect a little bit more about what we wanted to do," guitarist Martin Noble says. "We had loads of songs and, after doing all those other side projects, we wanted to do classic songs with strong melodies – an album that ran together rally well. We were talking about: you do an album and then only a few would stay in the set, but you play a song like 'Carrion' for every gig that you've done, pretty much."
Frontman Scott Hamilton adds: "I've said: what's the point in those other nine songs? Let's at least have eight which might go out and become part of the set."
This new focus sees the band move away from the wide-ranging styles of previous albums, towards a more concise record that's the antithesis of what's often been described as BSP's "epic" sound. "We used to have this enormous worldview, and between everyone, with their different moods and whatever being all mixed up, it'd be a really wide range," Scott says. "Sometimes I think maybe too much, so you'd have to be pretty patient to really get into it… This is a bit more like filling in one of the gaps in a slightly more small-scale way."
After a decade and a half together, British Sea Power have also found themselves at a bit of a crossroads: "Are we a young band or are we an elder statesman kind of band?" Martin asks, adding, "There's been that period and I think we're on the other side now, where you clearly know what you are."
"I'm a bit fed up of being oddballs," Scott asserts, challenging a tag that has followed the group almost from the beginning. "I generally like oddballs, as long as they've got something reasonable going on. But I think there's other stuff which gets ignored because of these easy things to describe, and it puts off people who actually might like us."
Not that the band aren't happy to leave some things open to (mis)interpretation. 'Keep On Trying (Sechs Freunde)' might ostensibly refer to the continued adventures of the six-piece BSP, but it's also "a funny, cheap European sex joke" says Scott. "And then you've got the degrees of separation thing, which is more meaningful," he adds, along with a misunderstanding wherein the band were deemed to be singing "sex finger". "It's built to get it wrong," says cornetist and keyboardist Phil Sumner. It's also "quite big with young children", Scott notes. "It's quite weird because they're singing it and it's like, 'What's happening at home?' I'm quite happy, though. I think there's an element of the album which is muso-unfriendly."
Not taking themselves too seriously has been one of British Sea Power's great strengths over the years, though recent world events have inevitably filtered into Let The Dancers…, albeit through a BSP lens. "We've never been overtly political, but it's just part of the climate," Martin says, while Phil acknowledges, "It's hard for it not to filter in indirectly, but it's not about coming out and saying, 'We're going to make a political statement,' because often that's not a good idea."
"It's just very late and reactionary to think, 'Well, I'll make a record that protests this and that'll make it better,'" Scott says, adding, "I just can't do that." Rather, he tries to "encapsulate a bit of how I feel in this world and have a bit of perspective on it where it's a pretty mixed-up thing". "In the morning I might be worried about the Ukraine," he says. "In the afternoon I might be worried about how much work I've got to do in the garden. And they both stress me out fairly equally. So, yeah, I try and put both equally in a song.
"We've been a very inclusive band, an out-looking band," Scott continues. "I just wanted to come up with a positive emotional response which accepted all that but didn't either rant against it, or moan about it or try and cash in on it in a weird way."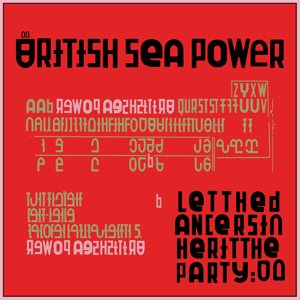 What they have done, however, is create arguably their most cohesive album, full of hooks and melodies, and dispatched in a way that makes what they do seem deceptively easy. The group describe Let The Dancers Inherit The Party as their most "direct" work, but there's much more going on than is immediately obvious – and that's what keeps you drawing back.
"If you're in a certain mood there are some albums you can put on and it suits your mood, and they're some of your favourites," Martin says. "I don't think we've ever had one like that," he adds, laughing: "I'm not sure if this one's like that, but it's kind of more like that at least."
For a band like British Sea Power it's hard to pick favourites – but there's no denying that Let The Dancers… is immediately up there with the group's finest moments, and is certainly something to celebrate in uncertain times.
Let The Dancers Inherit The Party is out now and can be purchased here.