Motortown Revue In Paris – Revisited!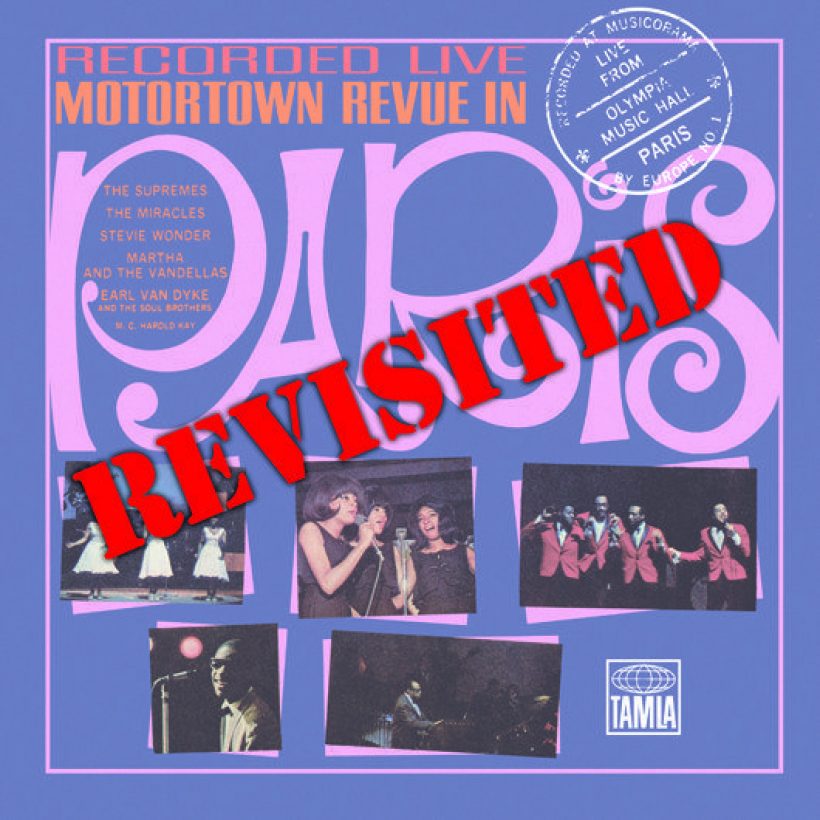 On 13 April 1965, Earl Van Dyke and his Sextet, Martha And The Vandellas, "Little" Stevie Wonder, The Supremes and The Miracles performed at the Olympia, in Paris, on the final date of the Motown Revue's first ever overseas jaunt. Introducing The Sound Of Young America to a French audience, many of whom would be experiencing Motown's groundbreaking music for the first time, the concert has gone down in history for being one of the most energetic Motown shows ever performed, capturing the label at an important time when its music was beginning to top the charts outside of the US.
The results were recorded for posterity, selected portions of which were given a US release at the end of 1965 as the live LP Motortown Revue In Paris. On 16 February 2016, the entire concert will be reissued in its original running order, with 12 previously unreleased tracks, as Motortown Revue: Live In Paris. A joint venture between Universal and PledgeMusic, it's being pressed on both 2-CD and 3-LP formats.
As a taster of what this historical release has in store, we've recreated the original concert setlist below, using a mix of classic studio versions and performances that featured on the original 1965 live album.
(Where some performaces by the featured artists have been unavailable, we've had to make a few considered substitutions. Marvin Gaye did not appear at the Paris Motortown Revue, but, as one of Motown's most iconic stars, it seemed only fitting to use his recording of 'See See Rider' in the absence of Earl Van Dyke's. And, though not a Motown star at all, Georgie Fame fully understood the label's mod appeal in the 60s: we could think of no finer stand-in for Van Dyke's performance of 'All About My Girl' than his 1964 version. Finally, though Dionne Warwick never appeared on the label either, her sophisticated soul would have fit well among Berry Gordy's brood, so it's her version of 'Wives And Lovers' that we've used in place of The Miracles'.)
Scroll down for our playlist and the full Motortown Revue: Live In Paris 3-LP tracklist.
The Motortown Revue: Live In Paris 3-LP tracklist is:
Side A:
Introduction By Harold Kay
All For You (Earl Van Dyke Sextet)
See See Rider (Earl Van Dyke Sextet)
Too Many Fish In The Sea^ (Earl Van Dyke Sextet)
Side B:
Heat Wave* (Martha And The Vandellas)
Wild One* (Martha And The Vandellas)
If I Had A Hammer^ (Martha And The Vandellas)
Nowhere To Run^ (Martha And The Vandellas)
Dancing In The Street^ (Martha And The Vandellas)
Side C:
Jazz-Blues Instrumental* (Stevie Wonder)
Make Someone Happy* (Stevie Wonder)
Hi-Heel Sneakers^ (Stevie Wonder)
Funny How Time Slips Away (Stevie Wonder)
Fingertips^ (Stevie Wonder)
Side D:
Introduction By Harold Kay
All About My Girl (Earl Van Dyke Sextet)
Too Many Fish In The Sea* (Earl Van Dyke Sextet)
Soul Stomp* (Earl Van Dyke Sextet)
Come See About Me* (The Supremes)
Side E:
Baby Love^ (The Supremes)
People* (The Supremes)
Somewhere^ (The Supremes)
Stop! In The Name Of Love (The Supremes)
You're Nobody 'Til Somebody Loves You (The Supremes)
Shake (The Supremes)
Side F
I Gotta Dance To keep From Crying* (The Miracles)
That's What Love Is Made Of (The Miracles)
Wives And Lovers* (The Miracles)
Ooo Baby Baby (The Miracles)
Come On Do The Jerk* (The Miracles)
Mickey's Monkey [Unedited Version]* (The Miracles)
^ From original LP, issued November 1965 (US), February 1966 (UK/Europe)
* Previously unreleased
Format:
UK English