Best Classical Guitarists Of All Time: Top 20
Who are the best classical guitarists? Discover our selection of the top 20 guitarists featuring legendary virtuosos and today's young stars.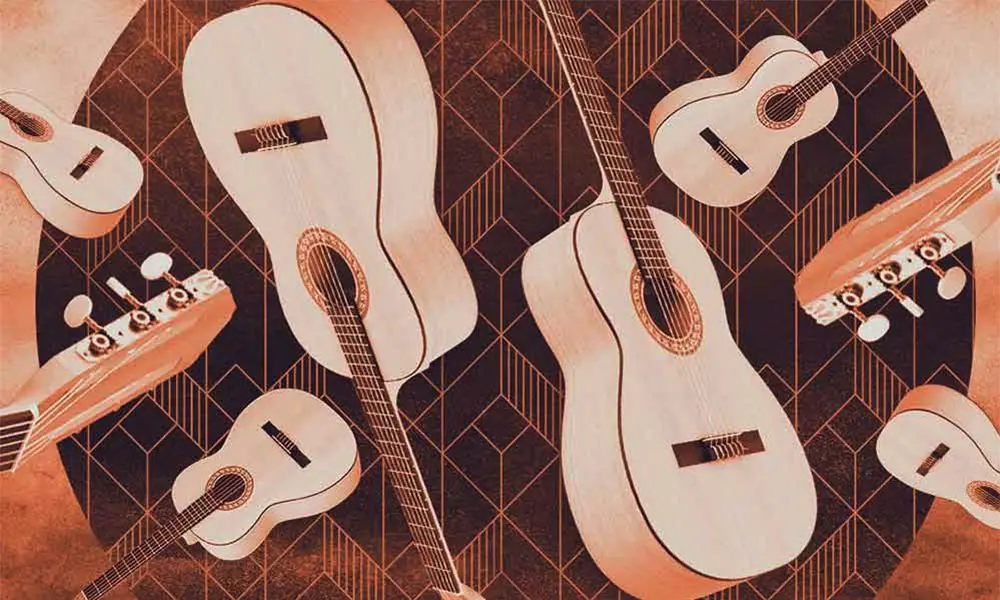 Paganini abandoned the violin for three years to devote himself to the guitar. Weber played it and wrote songs with its accompaniment, as did Schubert. Berlioz was an accomplished guitarist. But, by and large, it was not until the twentieth century that major composers in any number began writing serious music for the instrument. And that change was largely due to the advocacy of one man, a Spanish musician whose artistry led to the present-day popularity of the classical guitar – and whose influence, as we shall see, is still felt by those who followed in his footsteps. Scroll down to discover our selection of the best classical guitarists of all time.
20: Thibaut Garcia (b. 1994)
Classical Guitar has described the Franco-Spanish guitarist as "one of the most promising young contemporary guitarists". Born in Toulouse, he began learning the instrument aged seven. At the age of 16, he was admitted to the Conservatoire National Supérieur de Musique et de Danse de Paris. Since then, he has been a serial competition entrant, winning, so his website claims, "every major international guitar competition within the space of just a few months". In 2016, he signed exclusively with Warner Classics/Erato, with a first release Leyendas. His second album, Bach Inspirations, was released in the autumn of 2018.
19: Krystof Meisinger (b. 1984)
The Polish guitarist, according to his website, is "in the opinion of many critics and music lovers from around the world […] one of the most fascinating and charismatic young classical guitar players … His talent international critics used to compare him to such artists as Piotr Anderszewski and Pepe Romero. He is a winner of many national and international competitions." In May 2020 he signed an exclusive contract with Chandos, having previously recorded for Orfeus with the likes of Sumi Jo, Prague Philharmonia, Sinfonia Varsovia, and his own baroque orchestra Poland baROCK. Meisinger is the artistic director of his own Meisinger Music Festival founded in September 2017 in Szczecin.
MEISINGER with Sinfonia Varsovia plays Asturias by Isaac Albéniz
18: Ferdinando Carulli (1770-1841)
Carulli – his full name is Ferdinando Maria Meinrado Francesco Pascale Rosario Carulli – was an Italian guitarist and composer from an affluent family in Naples whose lasting influence on the classical guitar is his seminal Méthode Complete Pour Guitare ou Lyre, Op. 27 of 1810. Some of its exercises are still used by students today. He composed over 400 works for his instrument, including works for guitar and flute, guitar and violin, guitar with chamber orchestra, and three guitar concertos. He died in Paris where he spent most of his career.
17: David Russell (b. 1953)
Scottish-born (Glasgow) guitarist Russell moved with his family to Menorca aged five – which is where his love of the guitar began, inspired by the playing of Segovia and John Williams. Today, he is based in Galicia from where he tours all over the world (as well as competing in amateur golf tournaments in Scotland and Spain). He has recorded the complete works of Tárrega, as well as albums devoted to Torroba and Barrios, on the Grammy Award-winning Aire Latino, featuring music written by Latin American composers.
16: Mauro Giuliani (1781-1829)
The Italian guitar virtuoso was entirely self-taught, good enough to undertake a tour of Europe at the age of 19, landing up in Vienna in 1806 where he became associated with Hummel, Moscheles, and Diabelli. Beethoven wrote some guitar music especially for him. After an extraordinarily successful visit to London in 1823, there was even a (short-lived) publication The Giulianiad issued, devoted to reports about his activities. He composed over 150 works for the guitar which formed the nucleus of the 19th-century repertoire and include three concertos, six fantasies on opera themes by his friend Rossini, and many chamber works.
15: William Carter
Online sources are silent on the birth year of this American-(Florida)-born guitarist, lutenist, and theorbo player, but he now makes his home in London where he is the go-to name for lute and baroque guitar repertoire. He has appeared on numerous recordings with the acclaimed Palladian Ensemble (of which he is a founder member), the Academy of Ancient Music, and The English Concert, for both of which he acts as the principal lutenist. Among his solo recordings for Linn are La Guitarre Royalle: The Music of Francesco Corbetta, La Guitarra Española: The Music of Santiago de Murcia, and Fernando Sor: Early Works both of which were an Editor's Choice in Gramophone magazine. His most recent recording in the series, Le Calme: Fernando Sor Late Works, was awarded an Opus d'Or.
Three Études, Op. 29: No. 23 in G Major (Allegro)
14: Francisco Tárrega (1852-1909)
Tárrega (or Francisco de Asis Tárrega y Eixea to give him his full name), one of the best classical guitarists, is known as "the father of the classical guitar" and "the Sarasate of the guitar' (after his contemporary, the great Spanish violin virtuoso). He was among the first to present the guitar as a recital instrument, rather than in an accompanying role. His piece Recuerdos de la Alhambra (1899) is one of the most popular works ever written for the instrument. He also transcribed many piano works for the guitar by composers ranging from Beethoven, Chopin, and Mendelssohn to his friend Albéniz.
13: Xuefei Yang (b. 1977)
Yang is the first Chinese guitarist to have established an international career. When she was born, the ban on all Western music and instruments in the Peoples' Republic had only just been lifted and there was no tradition of teaching guitar in the country. She made her Tokyo debut at 12, her Madrid debut at 14 and then won an international scholarship for a postgraduate program of study at the Royal Academy of Music in London, the first guitarist to win such an award. She has played in over 50 countries and has collaborated with musicians ranging from Sir James Galway and the Elias String Quartet to singers Ian Bostridge and Rosalind Plowright.
Xuefei Yang - Manhã de Carnaval by Luiz Bonfá
12: Pepe Romero (b. 1944)
The second of three sons born to guitarist and composer Celedino Romero, Pepe made his debut alongside his father aged just seven. In 1958, the family left Franco's Spain for America. Two years later, Pepe Romero made the first of his more than 60 albums (featuring flamenco dances from his native Andalucia, a genre in which he excels). Among the classical composers who have written for him are Joaquin Rodrigo and Federico Torroba.
11: Craig Ogden (b. 1967)
Ogden took up the guitar aged seven in his native Australia. Since 1990 he has been based in the UK and, having studied at the Royal Northern College of Music, was awarded its Fellowship in 2004, the youngest instrumentalist to be so honored. Ogden has recorded for Virgin/EMI, Chandos, Nimbus, Hyperion, Sony, and Classic FM for whom he has made six chart-topping albums. As well as worldwide engagements as soloist and with orchestra Ogden is a sought-after chamber music partner, playing with all manner of different combinations, including, in September 2019, a new program with the Syrian qanun player Maya Youssef.
10: Sean Shibe (b. 1992)
Shibe (pronounced SHEE-ba), one of the best classical guitarists, is of English-Japanese ancestry. He was born in Edinburgh and studied there, in Aberdeen, and in Glasgow where he was the youngest student to enter the Royal Scottish Conservatoire. BBC Music Magazine hailed his debut album as "not just great guitar playing …the best [the jury] had ever heard". In 2018 he became the first guitarist to receive the Royal Philharmonic Society Award for Young Artists. Shibe bestrides the classical guitar repertoire (his latest album includes, Ravel, Satie, Poulenc, and de Falla), the lute, and the electric guitar. Famously, he performs Georges Lentz's hour-long solo for electric guitar Ingwe.
Mompou's Coral - Guitarist Sean Shibe
9: Sharon Isbin (b. 1956)
The multi-Grammy Award-winning artist (three wins, and three nominations) is the daughter of a nuclear scientist. From the age of nine, she studied in Italy (where her father was based), and later with Segovia, Diáz, and others, including the noted Bach scholar and pianist Rosalyn Tureck. With a catalog of over 35 recordings and sales of nearly a million copies, Isbin claims to have commissioned more works for the guitar than any other. She is the founding director of the guitar department at the Juilliard School of Music.
Sharon Isbin performs Tarrega Capricho Arabe for solo guitar - Remembering Julian Bream
8: Miloš Karadaglić (b. 1983)
Born in Montenegro, Miloš – the guitarist is known universally by just his first name – came to London in September 2000 having won a scholarship to the Royal Academy of Music. He made his London debut at the Wigmore Hall in 2009 and has since been hailed as "the anointed successor to Julian Bream" and, after his chart-topping debut album Meditterráneo (The Guitar in the UK), "classical music's guitar hero". Miloš repertoire ranges far and wide, including The Beatles and new concertos by Joby Talbot and Howard Shore. Hand problems caused by over-work (he averaged over 120 concerts a year between 2010 and 2016) put a stop to his career for two years (2016-18). These have been overcome and he has resumed his position as one of the best classical and most charismatic guitarists of the present day.
Milos Karadaglic - Blackbird (Beatles cover)
7: Narciso Yepes (1927-97)
Having made his debut in 1947 with the Orquestra Nacional in Madrid, the Spanish virtuoso launched an international career taking in the US, South America, and Japan. From 1961 he used a 10-string guitar of his own creation. The instrument made it possible to transcribe works originally written for the lute without having to transpose bass notes to the detriment and integrity of the music. Its string resonators tuned to C, A#, G#, and F# resulted in the first guitar with truly chromatic string resonance, giving the instrument a benefit similar to the piano's sustain pedal mechanism. Yepes specialized in Spanish music from the 15th to 20th centuries, recorded the complete lute works of Bach, and composed the soundtracks for several films.
Rodrigo: Concierto de Aranjuez for Guitar and Orchestra - II. Adagio (Version 1979)
6: Alirio Díaz (1923-2016)
Díaz is one of the most eminent guitarists to come out of South America (he was born near Carora in the west of Venezuela). After studying clarinet and piano, he became a typesetter for a newspaper before studying English and going to Caracas to study guitar. In 1950, the Venezuelan government gave him a grant to study in Europe where he became a disciple of Segovia, acquiring a flawless technique and becoming his assistant. He performed all over the world and with such eminent conductors as Sergiu Celibidache, Leopold Stokowski, and Rafael Fruhbeck de Burgos. The 9th International Guitar Festival 'Alirio Diaz' (founded 1974) takes place on 12 and 13 November 2021.
Concierto de Aranjuez: 1er Mov. Alegro con Spirito
5: Fernando Sor (1778-1839)
Originally Ferdinando Sors, this celebrated Spanish virtuoso was born in Barcelona. Having studied music from the age of 11, he later joined the French army, earning the rank of captain. He fled to Paris after the defeat of Bonapartist rule in Spain where he met Cherubini, Méhul, and other composers who advised him to give concerts on the guitar. Thereafter, his fame as a virtuoso quickly spread throughout Europe – he lived in London from 1815, eventually settling in Paris – dubbed by the critic Fétis "the Beethoven of the guitar". He wrote many works for his instrument (fantasies, minuets, and studies) many of which are still played.
4: Agustín Barrios (1885-1944)
Born in Paraguay, Barrios's name is still revered in Latin America. A contemporary of Segovia, he was thought by many to be superior to the Spaniard (who was certainly no composer compared to Barrios). John Williams, a student of Segovia, has gone as far as to say, "As a guitarist-composer, Barrios is the best of the lot, regardless of era. His music is better formed, it's more poetic, it's more everything!" In all, Barrios wrote over 300 works for the guitar, many of them folk-tune based, though his magnum opus is considered to be his 1921 Bach-inspired La Catedral. Barrios was a consummate virtuoso and among the very first guitarists ever to make recordings (1909-10), all of which are available today on three CDs. Brilliant Classics have issued his complete guitar compositions on six CDs. He died in El Salvador, probably poisoned by his wife's lover. The case remains open.
3: John Williams (b. 1941)
Born in Melbourne, Australia, Williams moved to London in 1952 where his English father, Len Williams, founded the Spanish Guitar Centre. From the age of 11, he attended summer courses with Segovia and made his official debut in 1958. His duo recording with Julian Bream, Together, won a Grammy for the Best Chamber Music Performance in 1973. Not content with just the classical repertoire, Williams founded the fusion group Sky, and also recorded with rock guitarist Pete Townsend of The Who. His most famous recording is of Cavatina by Stanley Myers (He Was Beautiful in the vocal version by Cleo Laine, accompanied by Williams) used as the theme tune for the Oscar-winning film The Deer Hunter (1978). Stephen Dodgson, André Previn, and Patrick Gowers are among those who have written music for him.
Cavatina (Theme from "The Deer Hunter")
2: Julian Bream (1933-2020)
Charismatic guitarist and lutenist, who was in many ways like a latter-day English version of Segovia. Making his debut aged 17, he founded the Julian Bream Consort, a period instrumental ensemble that led to a great revival of interest in the music of the Tudor period. Bream commissioned many works, perhaps most significantly Britten's Nocturnal written especially for him. He traveled widely and recorded prolifically (four Grammy Awards and two Edisons) – a 40 CD set was issued in 2013 including two DVDs about his life and career. Equally important was the guitar he had designed for him, resulting in "the English sound" of clarity and balance, as opposed to the then prevalent Spanish one with a "candle-flame treble" and "fruit-salad" bass. Julian Bream, one of the best classical guitarists, was a much revered and beloved figure of the British music scene for over half a century.
Suite Espanola, Opus 47: Granada
1: Andrés Segovia (1893-1987)
Number One – not because he was the greatest technician (others have since surpassed even him in that regard) but because, apart from being a great guitarist, he was one of the seminal musicians of the 20th century. During this time, Segovia's name was synonymous with the instrument. Virtually self-taught, he made his formal debut in 1909 and was still playing in the mid-1980s. It was he who was largely responsible for bringing the guitar back into the concert hall, making many important transcriptions for the instrument and commissioning many works from composers such as Ponce, Turina, Villa-Lobos, and Castelnuovo-Tedesco. He was named Marquis of Salobreña by King Juan Carlos in 1981.
Tárrega: Recuerdos de la Alhambra
Listen to The Art of Segovia on Apple Music and Spotify.
---
Format:
UK English