The Best Classical Music Gifts This Christmas
Are you wondering what to buy the classical music lover in your life this Christmas? Choose the best classical music Christmas gifts here!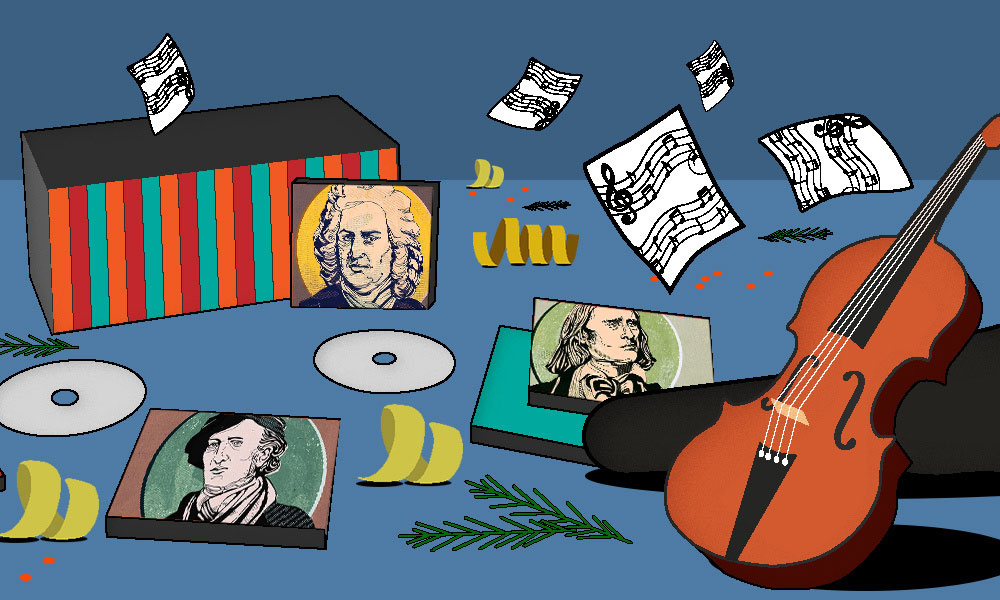 Are you wondering what to buy the classical music lover in your life this Christmas? Look no further – our classical music gift guide features a selection of the best releases this year that every classical music fan would love to Santa to bring them this Christmas. Our selection box includes classical masterpieces, movie themes, Christmas Classics, inspirational songs and contemporary compositions from artists including Lang Lang, Sheku Kanneh-Mason, The Kanneh-Masons, Víkingur Ólafsson, John Williams, André Rieu, Andrea Bocelli, Ludovico Einaudi, Max Richter and Ólafur Arnalds. Choose the best Christmas gift for the classical music lover in your life here!
Best Christmas gifts for classical music fans who love …
classical masterpieces
Lang Lang: Bach: Goldberg Variations
Superstar pianist Lang Lang has realised a lifelong dream by recording Johann Sebastian Bach's monumental keyboard work, the Goldberg Variations. Lang Lang has released two complementary performances of the work: the first was recorded in a single take in concert at the iconic St Thomas Church in Leipzig, where Bach worked and is now buried, and the second was made soon after in the seclusion of the studio. The two recordings can be purchased together as part of a super deluxe edition, the first simultaneous live and studio album release for the Goldbergs, offering fascinating insights into the art of interpretation. "This is the most creative and multidimensional work in the keyboard repertoire, it is also deeply emotional and goes straight to the heart," observed Lang Lang. "It allows us to draw on everything we have within ourselves, but also makes us realise what's missing and what we still have to learn."
Sheku Kanneh-Mason: Elgar
Sheku Kanneh-Mason's album Elgar features the composer's legendary Cello Concerto, arguably the best-known work in the classical canon written for solo cello. Sheku was inspired to learn the cello after hearing Jacqueline du Pré's recording of Elgar's Cello Concerto when he was a child. He recorded the concerto at Abbey Road Studios with the London Symphony Orchestra conducted by one of his lifelong heroes Sir Simon Rattle. Earlier this year Sheku Kanneh-Mason became the first cellist in chart history to break into the UK Official Album Chart Top 10 when Elgar entered at No. 8. The album also topped the UK Classical Chart giving Sheku his second classical No. 1 album.
The Kanneh-Masons: Carnival
The Kanneh-Masons' first family album Carnival is very special collaboration featuring all seven "extraordinarily talented" (Classic FM) Kanneh-Mason siblings, Academy Award-winning actor Olivia Colman, and children's author Michael Morpurgo. Carnival includes new poems written by War Horse author Morpurgo to accompany French composer Saint-Saëns' humorous musical suite Carnival of the Animals. The poems are read by the author himself who is joined by The Favourite actor Colman. The album also features Morpurgo's heart-warming Grandpa Christmas story, set to music for the first time with classic tracks including 'Dance of the Sugar Plum Fairy' and 'Flight of the Bumblebee', as well as the Kanneh-Masons' own arrangement of Bob Marley's iconic hit 'Redemption Song' celebrating 40 years since its release in 1980.
Víkingur Ólafsson: Debussy • Rameau
Pianist Víkingur Ólafsson's album, Debussy • Rameau, juxtaposes pieces by the two revolutionary French composers and explores the contrasts and common ground between them. Víkingur Ólafsson discovered Rameau's keyboard music during his student days in New York and was immediately fascinated by the music and the immaculate blend of "freedom and discipline", qualities which he also recognised in Debussy's piano music. "This album is set up as a dialogue between two of my favourite composers, Jean-Philippe Rameau and Claude Debussy. I see them as musical brothers and soulmates, even though one was 180 years older than the other," explained Ólafsson. They were two uniquely gifted keyboard composers, two progressive and fiercely original musical thinkers who could capture incredibly evocative images through sound."
Best Christmas gifts for classical music fans who love …
movie themes
John Williams: John Williams In Vienna
John Williams In Vienna features the legendary composer's historic debut concert with the Vienna Philharmonic. John Williams told the audience that the invitation to work with the world-famous orchestra was "one of the greatest honours of my life". The Hollywood legend and the world-famous orchestra, joined by violinist Anne-Sophie Mutter, performed iconic themes from cinematic landmarks including Star Wars, Harry Potter, Indiana Jones and Jurassic Park. During rehearsals the Vienna Philharmonic's brass players asked John Williams if they could add the 'Imperial March' from Star Wars to the programme. "It was honestly one of the best presentations of that March I've ever heard," Williams reflected afterwards.
Best Christmas gifts for classical music fans who love …
Christmas classics
André Rieu: Jolly Holiday
André Rieu's new Christmas album, Jolly Holiday (CD & DVD), features a selection of some of the most famous Christmas and romantic melodies of all time including 'Jingle Bells', 'We Wish You a Merry Christmas', 'I'm Dreaming of a White Christmas' and 'Silent Night'. You can now enjoy André Rieu and his Johann Strauss Orchestra's magical Christmas concerts from Maastricht in December 2019 on this live recording from the comfort of your own home. Take an exclusive look behind the scenes with the DVD as André Rieu builds the stage for his very own winter-wonderland. André Rieu said, "This album captures the fantastic atmosphere of these concerts as well as an exclusive view behind the scenes. I am thrilled to share it with you and wish you a wonderful holiday season with a lot of music."
Best Christmas gifts for classical music fans who love …
inspirational songs
Andrea Bocelli: Believe
Andrea Bocelli's new album Believe celebrates the power of music to soothe the soul and features a collection of uplifting songs that have inspired and sustained him throughout his career. Believe includes duets with Grammy Award-winning artists Alison Krauss and Cecilia Bartoli as well as a previously unreleased track by the late, great Italian composer Ennio Morricone. Andrea Bocelli has also composed his own settings of 'Ave Maria' and 'Padre Nostro' specially for this record. "The concept behind Believe is based on three words: faith, hope and charity," explained Andrea Bocelli. "These are the three theological virtues of Christianity, yet – quite independently of any religious belief – they are also the three extraordinary keys to giving meaning and completeness to the lives of every one of us."
Best Christmas gifts for classical music fans who love …
contemporary compositions
Ludovico Einaudi: Einaudi Undiscovered
Ludovico Einaudi's new collection, Einaudi Undiscovered, features a selection of rarities, hidden gems, and previously unreleased tracks he has personally chosen from his 25-year career. Einaudi Undiscovered includes live performances of tracks including 'Nuvole Bianche', 'Elegy For The Arctic', 'Four Dimensions', 'La Nascita' and 'In Un'Altra Vita', a Starkey remix of 'Experience', lesser known material and pieces from his soundtrack work, and the 'Main Theme' from The Third Murder which was previously only released in Japan. Ludovico Einaudi explained, "For me it was nice to look back, brush up my memories, being surprised and somehow rediscover myself, and compose a new necklace made of stones of my past."
Max Richter: Voices
Max Richter's groundbreaking album Voices was inspired by the Universal Declaration of Human Rights. Max Richter invited people around the world to be part of the piece and interwove hundreds of crowd-sourced readings of the Universal Declaration of Human Rights into the work. These readings form the aural landscape that the music flows through: they are the Voices of the title. The Universal Declaration of Human Rights was drafted by a group of philosophers, artists and thinkers, convened by Eleanor Roosevelt, to address the great questions of the time and adopted by the United Nations General Assembly in 1948. Richter incorporated the 1949 recording of the preamble to the Declaration by Roosevelt at the start of Voices which also includes narration by acclaimed US actor Kiki Layne (If Beale Street Could Talk) whose distinctive tones complement the choral, orchestral and electronic soundscape.
Ólafur Arnalds: Some Kind Of Peace
Ólafur Arnalds' new album, Some Kind Of Peace, is his most revealing and vulnerable work to date. The recording is about Ólafur's personal experiences of the past year and the new life changes and perspectives they brought. All the collaborators were key to Ólafur's life during the making of the album, including British musician Bonobo, Icelandic singer and multi-instrumentalist JFDR who Ólafur has admired for years, and his friend Josin, a German singer-songwriter. "It is a personal album, my most personal to date, set against a background of a world thrown into chaos," explained Ólafur. "I've poured all my love, dreams and fears into this album through a magical but difficult process, but the result is something that makes me immensely proud and happy to be doing what I do."
Do you want to be the first to hear the latest news from the classical world? Follow uDiscover Classical on Facebook and Twitter.
Format:
UK English