The Best Classical Music Gifts This Christmas
Are you wondering what to buy the classical music lover in your life this Christmas? Choose the best classical music Christmas gifts here!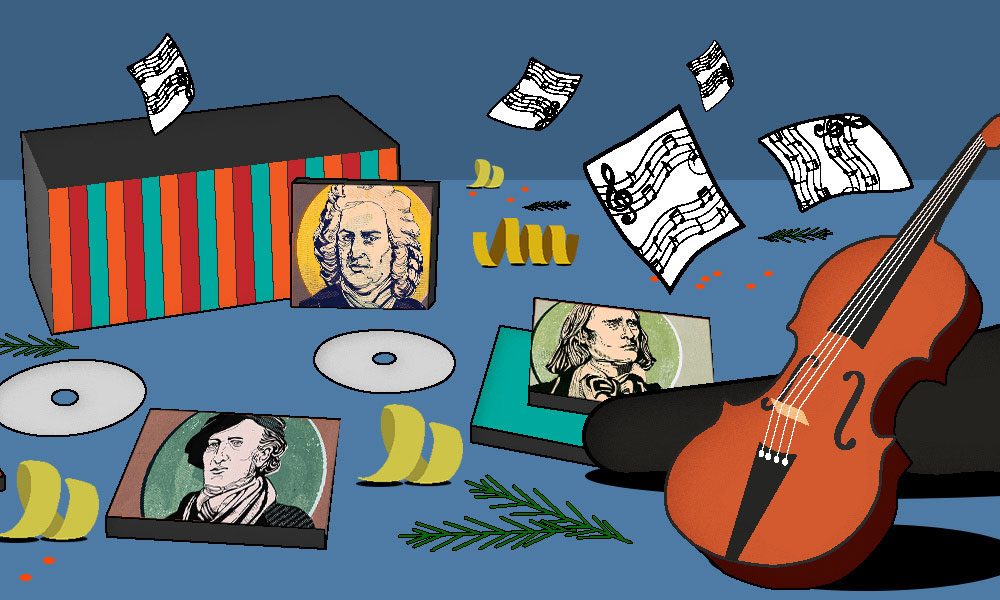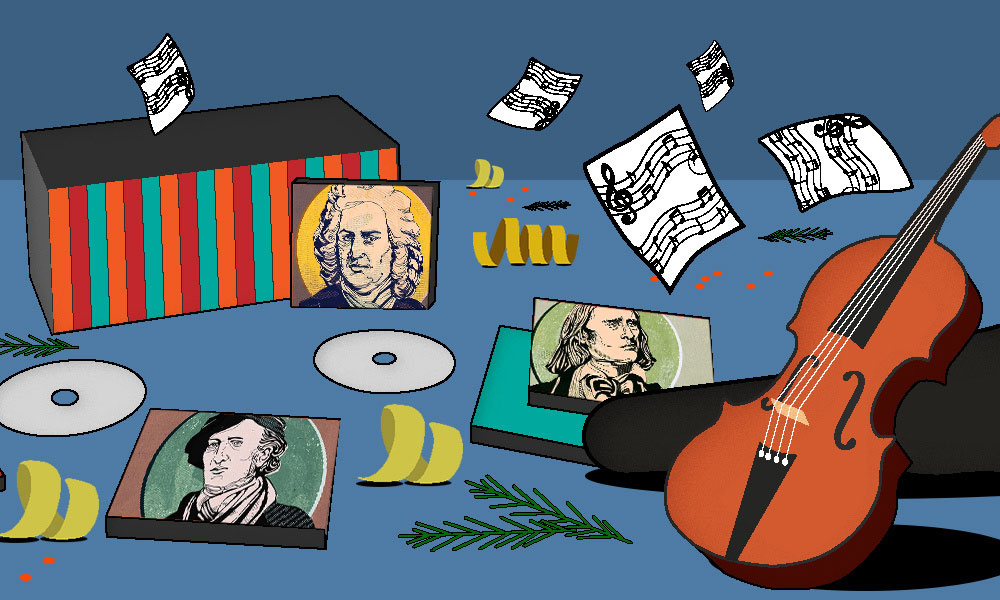 Are you wondering what to buy the classical music lover in your life this Christmas? Have you had enough of Christmas shopping already (bah humbug!) and eaten too many mince pies? Don't worry – help is at hand. Our classical music gift guide features some of the best releases this year from artists including Andrea Bocelli, Ludovico Einaudi, Bruce Liu, Víkingur Ólafsson, Max Richter, André Rieu, Daniil Trifonov, Vangelis, Andrew Lloyd Webber, Brian Wilson, Krystian Zimerman and Hans Zimmer. We've chosen a selection of classical and contemporary masterpieces, music for stage and screen, and Christmas songs that every classical music fan would love Santa to bring this Christmas.
For fans of classical masterpieces
Krystian Zimerman: Beethoven's Complete Piano Concertos
Krystian Zimerman and Sir Simon Rattle reunited to record Beethoven's Complete Piano Concertos with the London Symphony Orchestra. Their landmark recording was a major highlight of the celebrations to mark the 250th anniversary of Beethoven's birth, which provided the perfect reason for the pianist to return to Beethoven's piano concertos. "I had not played these pieces for a few years and I miss them," said Krystian Zimerman. "Some concertos you can play all your life and still feel hungry for them. To these concertos, Beethoven belongs." BBC Music Magazine noted, "Zimerman's return to Beethoven is a triumph."
Krystian Zimerman – Beethoven: Piano Concerto No. 5 in E Flat Major, Op. 73: II. Adagio un poco moto
Víkingur Ólafsson: Mozart & Contemporaries
Víkingur Ólafsson's thought-provoking programme for Mozart & Contemporaries features some of his favourite Mozart keyboard works juxtaposed with pieces by a selection of the composer's leading contemporaries: Carl Philipp Emanuel Bach (1714–1788); Joseph Haydn (1732–1809); Baldassare Galuppi (1706–1785); and Domenico Cimarosa (1749–1801). "I feel like, when I play Mozart, that I get to know myself as a musician," observed Víkingur Ólafsson. "I get to know sides that I didn't before. He seems to reflect your innermost core in music." The Guardian noted, "The Icelandic star's new album of Mozart and co is another winner."
Víkingur Ólafsson – Mozart: Ave verum corpus, K. 618 (Transcr. Liszt for Solo Piano)
Daniil Trifonov: Bach: The Art of Life
Pianist Daniil Trifonov's new album Bach: The Art of Life is centred around Johann Sebastian Bach's late masterpiece, The Art of Fugue, and reflects Trifonov's insight into the family life and music of one of the greatest composers of all time. He explained, "This album is, in many ways, about love: the romantic love between Johann Sebastian and his first and second wives; familial love between parents and their children; and love for the Creator." Bach: The Art of Life ends with Trifonov's beautiful performance of Dame Myra Hess's transcription of Jesu, Joy of Man's Desiring.
Daniil Trifonov – Bach: Cantata BWV 147: Jesu, Joy of Man's Desiring (Transcr. Hess for Piano)
Bruce Liu: Chopin
Bruce Liu, the winner of the International Chopin Piano Competition 2021, has released an album of his live recordings made during the various stages of the world's most prestigious competition for classical musicians. The jury awarded the top prize to the 24-year-old Canadian pianist in October after the final round of the Chopin Competition in Warsaw. Bruce Liu said, "Being able to play Chopin in Warsaw is one of the best things you can imagine, of course, so I'm truly honored for this award." Previous winners of the prestigious competition include superstar pianists Maurizio Pollini, Martha Argerich, Krystian Zimerman, Rafał Blechacz and Seong-Jin Cho.
Chopin: Études, Op. 10 - No. 4 in C Sharp Minor "Torrent" (Live)
The Chopin Masters: 28 CD box set
The Chopin Masters features 28 great albums from legendary Chopin pianists including laureates of the Chopin Competition Martha Argerich, Vladimir Ashkenazy, Rafal Blechacz, Michel Block, Stanislav Bunin, Seong-Jin Cho, Halina Czerny-Stefanska, Yundi Li, Ivo Pogorelich, Maurizio Pollini, Dang Thai Son, Fou Ts'ong and Krystian Zimerman. The collection includes rare recitals, best-selling albums, and many recordings that have been released on CD for the first time including Maria Joao Pires' 1991 recording of Chopin's Piano Concerto No. 1 with the Royal Philharmonic Orchestra under André Previn.
The Chopin Masters (Trailer)
For fans of stage and screen
Hans Zimmer: No Time To Die official soundtrack
Hans Zimmer's record-breaking soundtrack for the James Bond film No Time To Die entered the Official UK Album Charts at No. 7, achieving the highest ever UK chart position for any Bond soundtrack to date and the highest-charting album for the renowned composer. The soundtrack also includes Billie Eilish's title track 'No Time To Die', which topped the Official UK Singles Chart, and music by Johnny Marr who is the featured guitarist on the album. James Bond Producers Michael G. Wilson and Barbara Broccoli said, "Hans and his team have delivered an exceptional and emotional score for No Time To Die. It has been a privilege to work with this legendary composer on one of the best Bond soundtracks ever."
James Bond: No Time To Die | Official Soundtrack
Ludovico Einaudi: Cinema
Cinema features Ludovico Einaudi's greatest works from film and television including tracks from Oscar, BAFTA and Golden Globe winners Nomadland and The Father. The collection includes two previously unreleased recordings – the title track from Russell Crowe's 2014 movie The Water Diviner and 'My Journey' from The Father. Ludovico Einaudi noted, "They say my music is cinematic …it is always interesting for me to see my music combined with images; it is like rediscovering reading my music with a different perspective."
Ludovico Einaudi - Einaudi: Low Mist (Day 3) (From ''Nomadland'')
Andrew Lloyd Webber: Symphonic Suites
Andrew Lloyd Webber's Symphonic Suites features new orchestral arrangements of music from The Phantom of the Opera, Evita, and Sunset Boulevard. The Symphonic Suites were recorded by an 81-piece orchestra at Lloyd Webber's newly refurbished Theatre Royal Drury Lane. For many of the musicians this was the first time they returned to live recording after the devastating impact of the coronavirus pandemic. The Phantom of the Opera re-opened on Broadway in New York in October and this year celebrated 35 years in London's West End. The filmed production of Sunset Boulevard, which first opened in London in 1993 at Leicester Curve, was re-released for audiences to view this summer, and Evita has been in performance in London for 43 years.
Andrew Lloyd Webber: The Phantom Of The Opera Symphonic Suite (Pt.1)
For fans of popular classics
Andrea Bocelli: Concerto: One Night In Central Park
Andrea Bocelli's Concerto: One Night In Central Park, celebrates the 10th anniversary of his unforgettable concert. The all-star extravaganza, featuring Celine Dion and Tony Bennett, was a childhood dream come true and dedicated to the memory of Andrea Bocelli's father. "That was a memorable milestone in my career," explained Andrea. "One of its highest and most emotionally overwhelming moments. A mega-show that took 16 months of work, as well as a brave and ambitious artistic undertaking. A concert that went on to become my first fully live album, for which every note was recorded live, without a safety net."
Concerto: One Night in Central Park - 10th Anniversary Edition
André Rieu: Happy Together
Superstar violinist André Rieu celebrates the return to life, happiness and love, and the joy of being together with friends and family, on his new studio album and accompanying DVD Happy Together. André Rieu has personally chosen and recorded some of his favourite songs from all over the world including 'You are my Sunshine', 'La Bamba', 'Happy Together', 'Voices of Spring', 'Valencia', 'Circus Renz', 'Estudiantina' and 'When I'm 64'. André said, "When my orchestra and I were finally able to get together again after more than one year apart, we laughed and we cried and were full of emotions! We are one big family, and I'm looking forward so much to being happy together with all of you again!"
Happy Together - The New Album - Pre-Order Now!
Brian Wilson: At My Piano
Brian Wilson's At My Piano features his classic hits reimagined for solo piano including 'God Only Knows,' 'Wouldn't it Be Nice,' 'California Girls,' and 'Good Vibrations'. Brian Wilson spearheaded a musical revolution as founding member of The Beach Boys who, since 1961, have epitomised the sound of California, surfing, and sunshine. Now he has returned to his rich catalogue of hits and performs them alone at his piano. Brian said, "I can't express how much the piano has played such an important part in my life. It has bought me comfort, joy and security. It has fuelled my creativity as well as my competitive nature. I play it when I'm happy or feeling sad. I love playing for people and I love playing alone when no one is listening. Honestly, the piano and the music I create on it has probably saved my life."
BrianWilson At My Piano: "Good Vibrations"
For fans of contemporary composers
Max Richter: Exiles
Max Richter's album Exiles features the world premiere recording of the title piece, his ballet score for Nederlands Dans Theater, inspired by the tragedy of the migrant crisis. The album also features new orchestral versions of some of Max Richter's best-known earlier works including On the Nature of Daylight, arguably his most famous composition, from his second album The Blue Notebooks, an emotional response to the outbreak of the Iraq War. Exiles opens with the previously unreleased Flowers of Herself, from the Virginia Woolf-inspired ballet Woolf Works, which was featured earlier this year at Fendi's S/S21 couture show in Paris.
Max Richter on writing for ballet and his new album EXILES
Vangelis: Juno To Jupiter
Vangelis takes us on a multi-dimensional musical journey, featuring the voice of opera superstar Angela Gheorghiu and sounds from the cosmos, on Juno To Jupiter. The album, inspired by NASA's groundbreaking mission by the Juno space probe and its ongoing exploration of Jupiter, includes sounds from the Juno launch event on earth, from the probe and Juno's subsequent journey that have been sent back to earth from the probe. Vangelis' orchestrations expand once again the horizons of electronic music, blurring the lines between electronic and acoustic symphonic music, and create a sense of mystery about life beyond our planet.
Vangelis - Vangelis: In the magic of Cosmos (Info)
For fans of Christmas songs
Winter Tales
Winter Tales features Christmas music reimagined by star musicians inspired by their childhoods and homelands. The album includes 12 very personal and diverse reflections from Roger and Brian Eno, Peter Gregson, Víkingur Ólafsson, Hania Rani and Dobrawa Czocher, Balmorhea, Mari Samuelsen, Ane Brun, Dustin O'Halloran and Bryan Senti, ABBOTT, Vanbur, Classical Sundays and Joep Beving. Roger Eno was drawn to the music of Adolphe Adam's O Holy Night, but not to the original words, so he created Wanting to Believe with his brother, composer and producer Brian Eno. The new, secular lyrics still express hope for the future but a hope, that Roger observes, is "seen to be held within our own hands."
Wanting To Believe (Oh Holy Night)
Do you want to be the first to hear the latest news from the classical world? Follow uDiscover Classical on Facebook and Twitter.
---
Format:
UK English