'LA Phil 100 Years': Epic Box Set Commemorating Orchestra's History
Celebrating 100 years of music excellence 'LA Phil 100 Years', a 32CD + 3DVD box set, is the most comprehensive collection of the orchestra's history.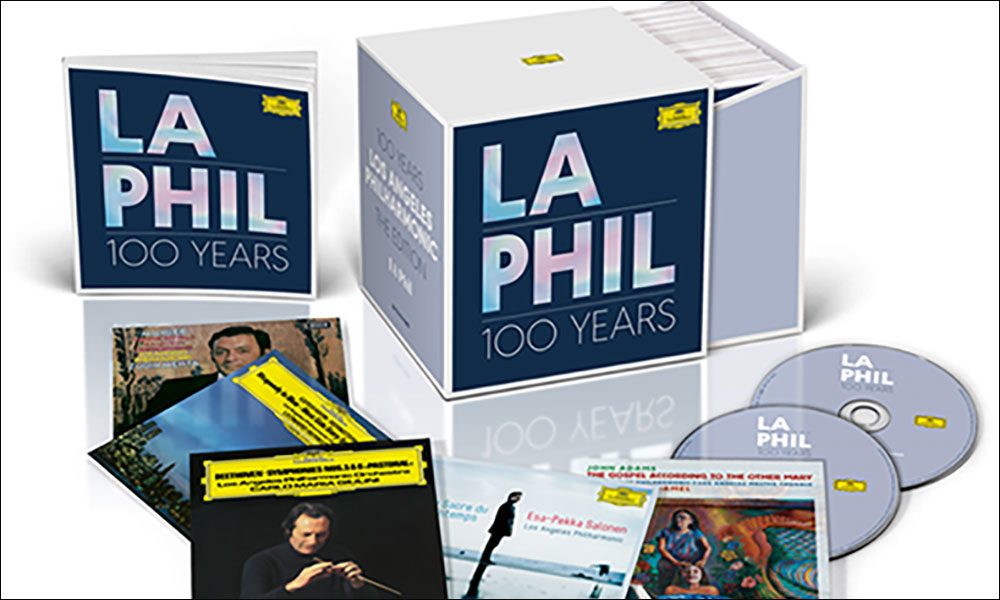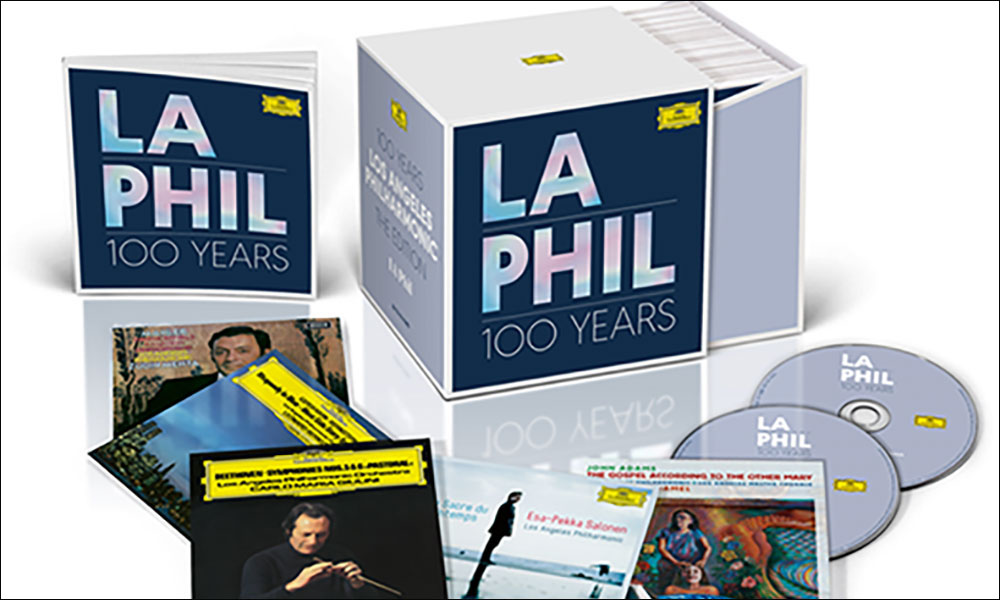 LA Phil 100 Years is the most comprehensive collection of the orchestra's history to be assembled. Celebrating a legendary label-orchestra partnership and 100 years of musical excellence, Deutsche Grammophon marks the centenary of the LA Philharmonic with a limited edition 32CD + 3 DVD box set curated by Music & Artistic Director Gustavo Dudamel. LA Phil 100 Years features great recordings by the orchestra's music directors from Otto Klemperer to Carlo Maria Giulini to Esa-Pekka Salonen to Gustavo Dudamel, and includes Leonard Bernstein's only Deutsche Grammophon recording with the orchestra. The box set includes 2 CDs of previously unreleased historic live recordings and archival surprises plus 3 live DVD performances. The 120 page booklet contains an introduction by Gustavo Dudamel and rare photos from the LA Phil archives.
Listen to LA Phil 100 Years on Apple and Spotify and scroll down to read our guide to the epic box set commemorating the orchestra's history.
LA Phil 100 Years: Highlights
Starting with Otto Klempere and featuring every music director since (including guest conductors Leonard Bernstein and Stravinsky) highlights from LA Phil 100 Years include a performance of Beethoven's Fourth Piano Concerto by Arthur Rubinstein; one of Igor Stravinsky's final conducting appearances; Leonard Bernstein's acclaimed recordings of music by Gershwin, Copland and Barber; Zubin Mehta's intensely passionate and idiomatic Mahler and Tchaikovsky; Strauss's Also Sprach Zarathustra and his ever-green recordings of John Williams' music for Hollywood; one of the most celebrated recorded performances of Verdi's Falstaff conducted by Carlo Maria Giulini. André Previn's Philips recording of two Prokofiev Symphonies, described by Gramophone as one the finest of his achievements on disc; a benchmark performance of Shostakovich's Fourth Symphony conducted by Esa-Pekka Salonen, and Gustavo Dudamel's celebrated recording of John Adams's The Gospel According to the Other Mary, underscoring the orchestra's commitment to new music, and his Grammy Award-winning recording of Brahms' Symphony No. 4 (first release on CD).
LA PHIL 100 YEARS – THE LOS ANGELES PHILHARMONIC CENTENARY EDITION
Previously unreleased recordings
The box set features 2 CDs of previously unreleased historic recordings – among them the first CD releases of recordings by Music Director Eduard van Beinum, a performance of Beethoven's Fourth Piano Concerto by Arthur Rubinstein conducted by Alfred Wallenstein, and one of Igor Stravinsky's final conducting appearances. Several of these recordings are world premiere releases, while others are new to CD – all of them are also available digitally. Three live DVD performances, including Gustavo Dudamel's inaugural concert in 2009 and two later concerts (2019 and 2012) featuring Juan Diego Flórez and the Simón Bolívar Symphony Orchestra of Venezuela, are also included. The editorial contains a 120 page booklet with an introduction by Gustavo Dudamel, a retrospective on the LA Phil's remarkable first century and the orchestra's ability to embrace what Dudamel calls a "tradition of the new".
Gustavo Dudamel – "extraordinary music"
"It has been my tremendous privilege and honor to work alongside my creative partners at the Los Angeles Philharmonic and Deutsche Grammophon to curate the LA Phil's Centennial set of recordings – the most comprehensive collection in the orchestra's history. This wide-ranging, century-spanning volume tells the story of the singular orchestra's evolution in the language through which it expresses itself best: extraordinary music. It is my sincere privilege and honor to share this music, this community with you. I hope you will be transformed by the power and magic of music."
– Gustavo Dudamel
LA Phil 100: Redefining What an Orchestra Can Be
Great Music Directors
You can hear the history of the LA Phil unfold, and its artistic personality take shape, listening to this box set from beginning to end. More often than not, that personality is a reflection of the enviable list of conducting greats who have served as music director: Otto Klempere delivered intensity and drama; Carlo Maria Giulini illuminated the orchestra's soul; Esa-Pekka Salonen brought modernity and adventure with him to Los Angeles, and Gustavo Dudamel brought performances of deep authenticity and electric conviction. Under Dudamel's direction the LA Phil has become one of the leading orchestras in the world, admired for its unmatched commitment to new music, diversity and inclusion.
Tradition of the new
The recordings from the Los Angeles Philharmonic's early history stand out for their rarity, the later ones for their increasing ambition. The LA Phil's trajectory has always been to make change its constant, embracing what Gustavo Dudamel calls a "tradition of the new". New music is part of the orchestra's daily diet and more than 250 concerts are either performed or presented by the LA Phil every year at its two iconic venues – the Walt Disney Concert Hall and the Hollywood Bowl. These presentations represent a breadth and depth unrivalled by other orchestras or cultural institutions.
"If what an orchestra play matters as much as how it plays, a strong case can be made that the Los Angeles Philharmonic … is the most important orchestra in the country."
– The New York Times
Apple Music Destination
Apple Music's LA Phil destination  features access to the orchestra's rich archives, three new full-length concert videos, the curated playlist 'LA Phil 100 Years – 100 Legendary Tracks' and more.
LA Phil Centenary
One hundred years ago the Los Angeles Philharmonic was founded as LA's first permanent symphony orchestra. A century later the LA Phil is recognized as one of the world's outstanding orchestras, leading the way in groundbreaking programming and high-impact educational initiatives.
"At 100, the Los Angeles Philharmonic is forever young. In its centenary celebrations, the orchestra focuses on the musical present and future instead of, as many others do, looking backward."
– Wall Street Journal
LA Phil 100 Years can be bought here.
Format:
UK English