'We Will Remember Them': Words & Music For Remembrance Day
'We Will Remember Them' is a poignant collection of words and music for Remembrance Day featuring celebrity readers including Joanna Lumley.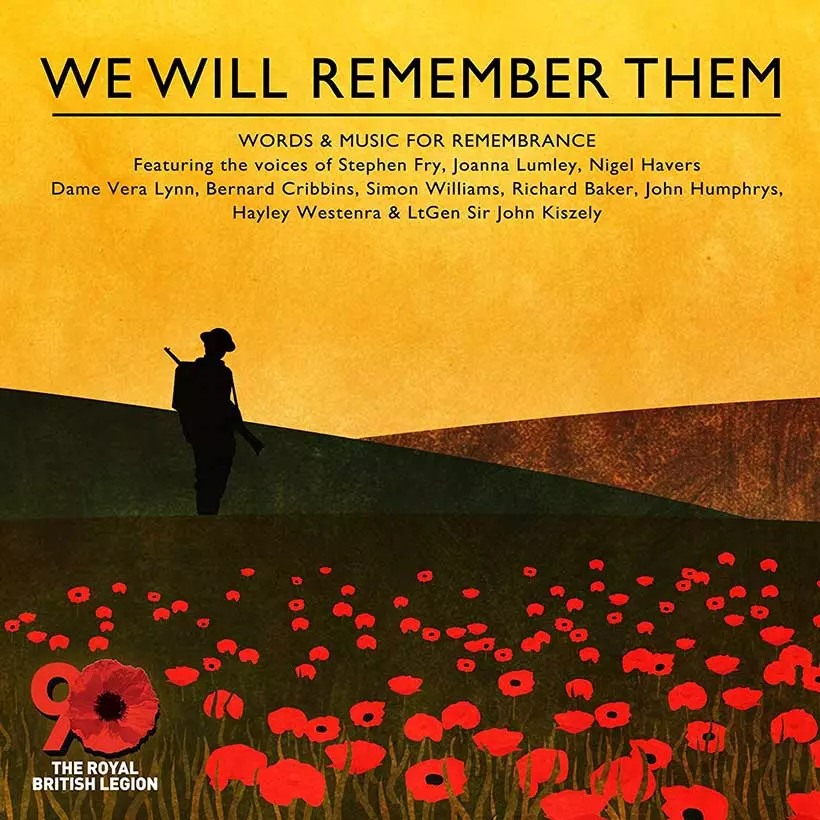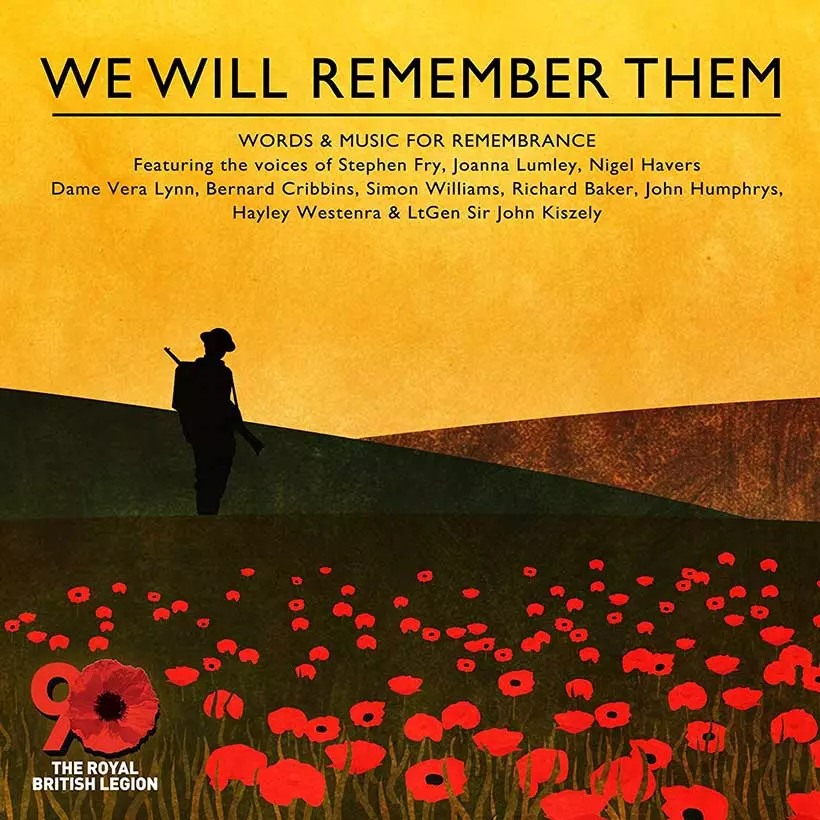 As Remembrance Day approaches once more, we are proud to present a poignant tribute to the men and women who sacrificed their lives in the service of our country. We Will Remember Them is a seamless sequence of prose, poetry and newsreel readings from the First World War through to present day texts written by servicemen in Iraq and Afghanistan. The readings are underscored by some of the world's most uplifting and moving pieces of classical music. The readers are an impressive line-up of celebrities.
Listen to We Will Remember Them: Words & Music For Remembrance Day on Apple Music and Spotify.
We Will Remember Them: Words & Music For Remembrance Day
Among the readers taking part on We Will Remember Them are Joanna Lumley OBE (whose grandfather and father both served in the British Indian army), forces songbird Hayley Westenra (her uncle served in the New Zealand Royal Air Force) and Lt Gen Sir John Kiszely KCB, MC, DL, former National President of The Royal British Legion and hero of the Battle of Mount Tumbledown during the Falklands War.
Dame Vera Lynn CH, DBE, 'the Forces' Sweetheart', still with us at the age of 102, reads the moving Kohima Epitaph by John Maxwell Edmonds carved on the memorial of the 2nd British Division in the cemetery of Kohima (North-East India).
When you go home
Tell them of us and say
"For your tomorrow
We gave our today."
Reading the newsreel items and Laurence Binyon's poem For The Fallen is the late Richard Baker OBE, the much-loved broadcaster (he introduced the first BBC television news broadcast in 1954) and who, in the Second World War, served in the Royal Naval Volunteer Reserve on Arctic convoy minesweepers.
Other readers featured on We Will Remember Them are broadcaster John Humphrys, and actors Bernard Cribbins OBE (who did his National Service with the Parachute Regiment), Stephen Fry, Nigel Havers and Simon Williams.
The album includes some of the nation's favourite poems of remembrance ordered chronologically through various conflicts, from Rupert Brooke's famous World War 1 sonnet The Soldier ('If I should die, think only this of me…') to Sunset Vigil by Staff Sergeant Andrew McFarlane, written to commemorate his comrades killed while serving alongside him in Afghanistan. Legendary record producer Gordon Lorenz reads Wilfred Owens's Anthem For A Doomed Youth.
In addition, Stephen Fry reads In Flanders Fields by John McCrae ('In Flanders fields the poppies blow / Between the crosses, row on row…'), while Nigel Havers reads Our Wall written by William Walker, an RAF veteran whose Spitfire was shot down in 1940 and who, at the time of his death in 2012, was the oldest surviving pilot from the Battle of Britain. Joanna Lumley is particularly moving in I Am With You, written by service wife Hannah Carpenter, and noted, "I've observed Remembrance Day all my life. Because my father was a soldier, Remembrance Day is always sacred to me."
The music for We Will Remember Them includes Holst's The Planets (extracts), Elgar's Enigma Variations (extracts), Barber's Adagio For Strings, Handel's 'Sarabande' from Suite No.3, Debussy's Clair De Lune, Vaughan Williams' Partita For Double String Orchestra (extracts), Elgar's Pomp And Circumstance 'March No.3', Saint-Saëns' The Swan (arr. Godowsky), Handel's Water Music (extracts), Vaughan Williams' The Lark Ascending, Vaughan Williams' Fantasia On Greensleeves, Amazing Grace (Trad.), Ellerton and Scholefield's The Day Thou Gavest Lord Is Ended and Elgar's Pomp And Circumstance 'March No.1'.
The artists include Sir Charles Groves and Andre Previn conducting the Royal Philharmonic Orchestra, Jane Glover directing the London Mozart Players and Ross Pople leading the London Festival Orchestra. Also featured are the Band of the Coldstream Guards, the Jonathon Price Quartet and pianist Gordon Fergus-Thomson.
When the recording was originally released in 2010, Lt Gen Sir John Kiszely remarked, "Remembrance Day is a time to remember all those who sacrificed their lives, particularly those from the British armed forces. It's a personal time for many of us as we remember those individuals we have known who've been killed."
They shall grow not old, as we that are left grow old:
Age shall not weary them, nor the years condemn
At the going down of the sun and in the morning
We will remember them
(from For The Fallen by Laurence Binyon published in The Times on 21 September 1914).
The full tracklisting for We Will Remember Them: Words & Music For Remembrance Day is:
1. Richard Baker – Newsreel No.1
2. Simon Williams – Our Revels Now Are Ended (Shakespeare)
3. Bernard Cribbins – The Soldier (Rupert Brooke)
4. Joanna Lumley – At Daybreak (Siegfried Sassoon)
5. Simon Williams – On The Idle Hill Of Summer (A.E. Housman)
6. Lt Gen Sir John Kiszely – Aftermath (Siegfried Sassoon)
7. Richard Baker – Newsreel No.2
8. Bernard Cribbins – For The Fallen (Laurence Binyon)
9. Lt Gen Sir John Kiszely – The General (Siegfried Sassoon)
10. Gordon Lorenz – Anthem For Doomed Youth (Wilfred Owen)
11. Bernard Cribbins – Safety (Rupert Brooke)
12. Stephen Fry – In Flanders Fields (John McCrae)
13. Interlude: I Vow To Thee My Country (Holst)
14. Richard Baker – Newsreel No.3
15. Nigel Havers – Our Wall (William Walker)
16. Simon Williams – Soldier's Song (Jocelyn Brooke)
17. John Humphrys – The Hand That Signed The Paper (Dylan Thomas)
18. John Humphrys – And Death Shall Have No Dominion (Dylan Thomas)
19. Interlude: The Swan (Saint-Saëns arr. Godowsky)
20. Nigel Havers – Lie In The Dark And Listen (Noël Coward)
21. Joanna Lumley – Do Not Stand At My Grave And Weep (Mary Elizabeth Frye)
22. Bernard Cribbins – All Day It Has Rained (Alun Lewis)
23. Interlude: Amazing Grace
24. Richard Baker – Newsreel No.4
25. Hayley Westenra – The Future (anon)
26. Lt Gen Sir John Kiszely – Helmand (John Hawkhead)
27. Joanna Lumley – I Am With You (Hannah Carpenter)
28. Lt Gen Sir John Kiszely – Reality In Afghanistan (Phil Williams)
29. Joanna Lumley – Poppies (Jane Weir)
30. Hayley Westenra – They Tell Me (Anon)
31. Lt Gen Sir John Kiszely – Sunset Vigil (Andrew McFarlane)
32. Richard Baker – Exhortation (Laurence Binyon)
33. Dame Vera Lynn – Kohima Epitaph (John Maxwell Edmonds)
Format:
UK English