'Classics Unlocked' Explores Beethoven's Revolutionary Symphonies
'Classics Unlocked' podcast explores one of the most famous bodies of work in Western music: Beethoven's nine symphonies.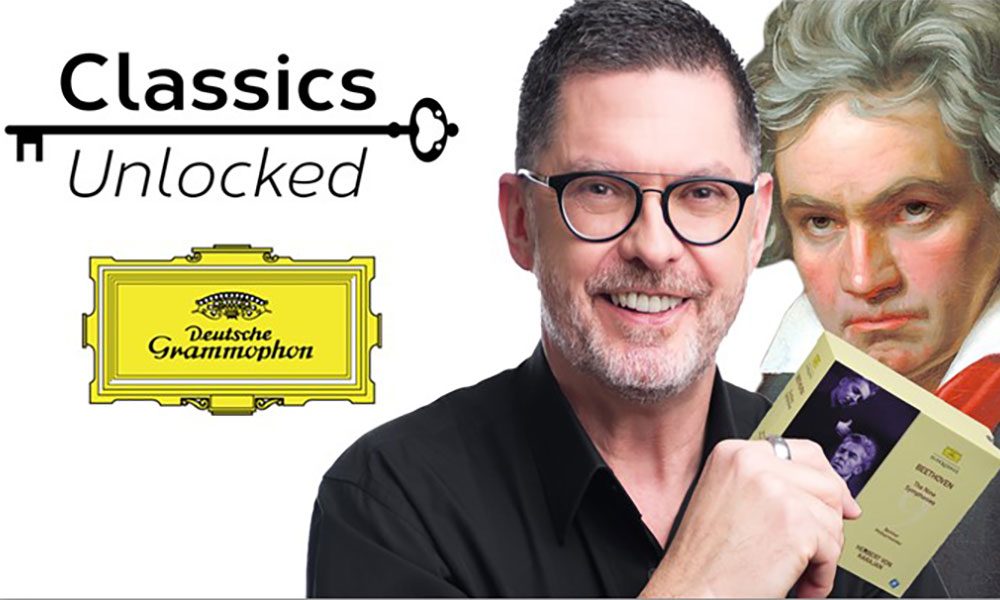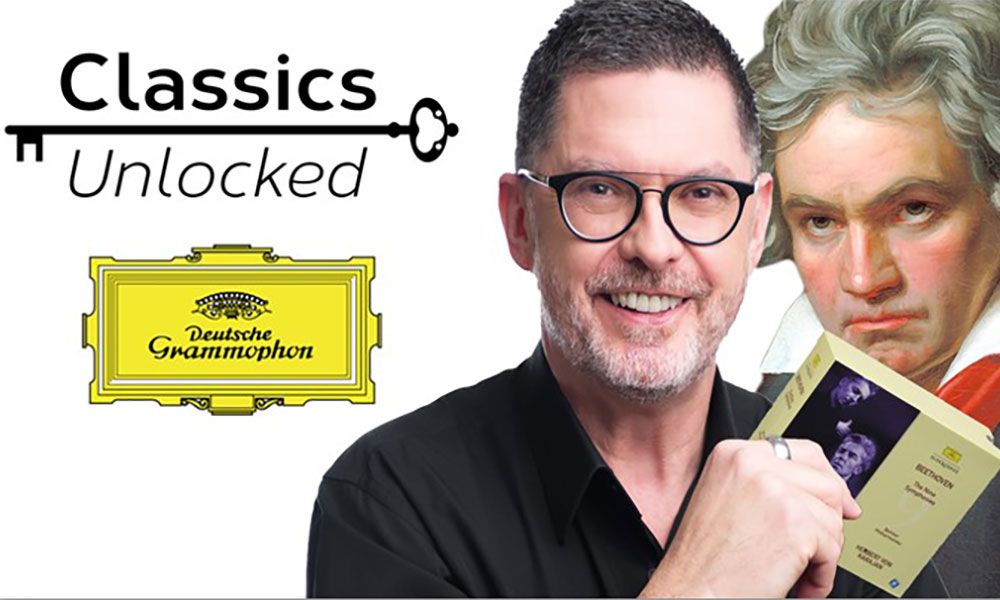 Explore Beethoven's revolutionary symphonies with Classics Unlocked, a podcast presented by Graham Abbott, one of Australia's most beloved broadcasters. Beethoven composed his nine completed symphonies over 25 years – the first dates from 1799 and the ninth was completed in 1824. The symphonies chart a fascinating course through the course of Beethoven's creative life. The recordings used in this episode of Classics Unlocked feature the Berlin Philharmonic conducted by Herbert von Karajan in their first Beethoven symphony cycle together which was released in 1963.
Beethoven's Symphonies
After several attempts in the 1790s to write a symphony Beethoven's first completed and published work in this form was probably written in 1799 when he was 28. The symphonic tradition at the time was dominated by Mozart and Haydn – and although Beethoven pays tribute to his predecessors it's clear that he wanted to set his Symphony No. 1, which is full of originality, apart from the Viennese tradition. The slow introduction to the first movement is highly unusual for its avoidance of the tonic key and the third movement is prophetic of Beethoven's later scherzos.
Beethoven's Symphony No. 2 was completed in Heiligenstadt, a village outside Vienna, in 1802 while he was at his lowest ebb regarding the crisis over his hearing. In his moving Heiligenstadt Testament, an unsent letter written by Beethoven to his brothers which was discovered after his death, he poured out his anguish regarding his deafness and revealed suicidal thoughts. In spite of his desperate state the symphony has a joyous and happy air.
Beethoven's famous Symphony No. 3 (the 'Eroica'), completed in 1804, is perhaps Beethoven's defining composition. It was originally dedicated to Napoleon and written to celebrate Beethoven's idealistic view of the French military leader as a liberator and unifier of humanity. But when Beethoven received the news of Napoleon's coronation as Emperor of France the composer realised Napoleon was no better than any other tyrant and removed the dedication.
Beethoven's Symphony No. 4 is closer in style to his more classical first two symphonies. Although later composers including Berlioz, Mendelssohn, and Schumann greatly admired the work it is not as widely known as Beethoven's other symphonies.
Beethoven's Symphony No. 5 is one of the best-known compositions in classical music. The distinctive four-note opening motif recurs in various forms throughout the work. The premiere took place on December 22, 1808, at a famous concert which also featured the premieres of Symphony No.6 and Piano Concerto No.4.
Beethoven's Symphony No. 6, also known as the 'Pastoral' Symphony, is a programmatic symphony inspired by Beethoven's love of nature and walks through the countryside. The music is intended to evoke countryside scenes and each movement has a descriptive title (for example 'Scene By The Brook').
Beethoven's Seventh and Eighth Symphonies were written simultaneously. Beethoven's Symphony No. 7 pulses with rhythmic invention and the popular second movement, the 'Allegretto', is often performed separately from the complete symphony. Symphony No. 8 is generally light-hearted, but not lightweight, and various passages are considered to be musical jokes by some listeners.
Beethoven's Symphony No. 9, the 'Choral' Symphony, is widely regarded as one of Beethoven's greatest compositions and one of the greatest symphonies ever composed. The final movement features four vocal soloists and a chorus who sing a setting of Schiller's poem An Die Freude (Ode To Joy). In the 'Choral' symphony, Beethoven took the structure of a Classical symphony to its limits in expression of his lofty philosophical theme: the unity of mankind and our place in the universe.
Classics Unlocked podcasts
The following Classics Unlocked podcasts are available on YouTube and as Apple Music podcasts. Each 45-minute podcast focuses on a particular period of music or body of work and delves into the stories behind the music.
• Bach's Six Cello Suites – Pierre Fournier
• Mahler's Symphonies – Bernard Haitink
• Tchaikovsky's Symphonies – Mikhail Pletnev
• Wagner's Ring Cycle – Sir Georg Solti
• Berlioz The Rule Breaker – Various Artists
• Beethoven's Early Piano Sonatas – Wilhelm Kempff
• Bruckner's Symphonies – Vienna Philharmonic Orchestra/various conductors
• Mozart's Wind Concertos – Orpheus Chamber Orchestra
• Carols Old And New – Choir of King's College Cambridge conducted by Stephen Cleobury
• Beethoven's Symphonies – Berlin Philharmonic conducted by Herbert von Karajan
Beethoven's Nine Symphonies, performed by the Berlin Philharmonic conducted by Herbert von Karajan, can be bought here.
Do you want to be the first to hear the latest news from the classical world? Follow uDiscover Classical on Facebook and Twitter.
Format:
UK English