Watch Deutsche Grammophon's World Piano Day Global Livestream
Deutsche Grammophon will mark World Piano Day on Saturday 28 March with a global livestream virtual festival featuring their star pianists.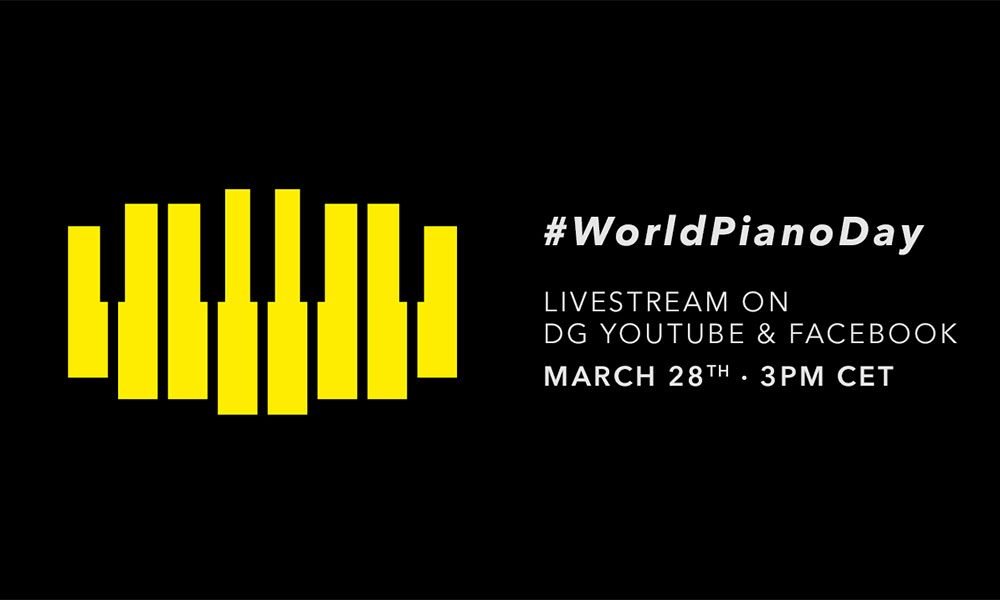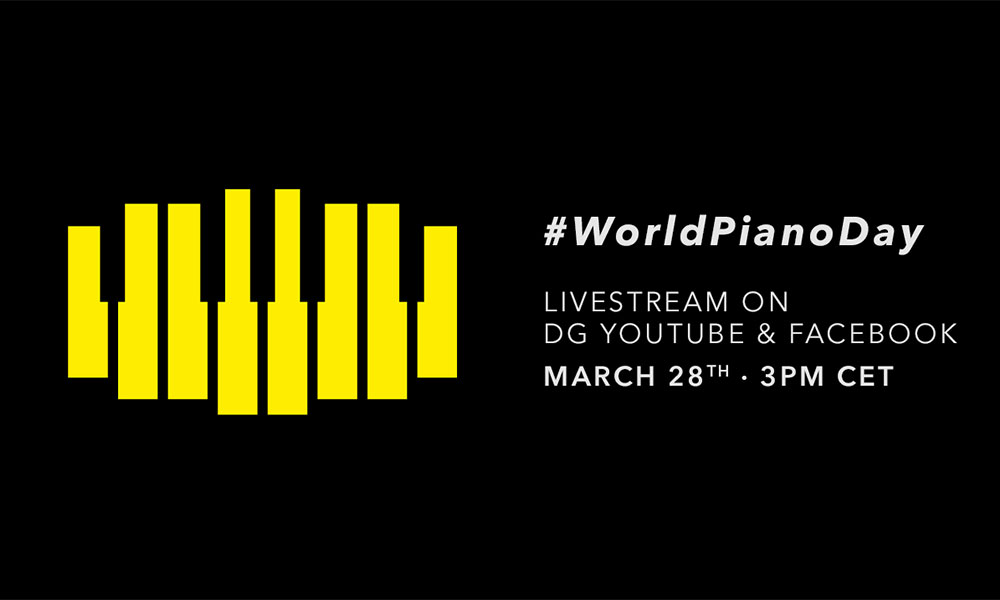 Deutsche Grammophon will mark World Piano Day on Saturday 28 March at 3pm CET with a global livestream virtual festival, celebrating music's power to bring people together, featuring their star pianists . Artists confirmed so far include Maria João Pires, Rudolf Buchbinder, Evgeny Kissin, Víkingur Ólafsson, Jan Lisiecki, Seong-Jin Cho, Joep Beving, Simon Ghraichy, Kit Armstrong and Daniil Trifonov.
Viewers will be able to watch the World Piano Day livestream, featuring some of the world's finest pianists, via Deutsche Grammophon's YouTube and Facebook channels using the hashtags #StayAtHome and #WorldPianoDay. Watch highlights from the livestream below.
World Piano Day 2020 – Global Livestream Highlights | Deutsche Grammophon
Dr Clemens Trautmann, President Deutsche Grammophon, explained, "Technology allows us to turn this year's World Piano Day into an online space where masterful pianists can share positive and uplifting messages through music, performing on their own pianos and reaching people in their homes. We are deeply grateful to all those musicians who have agreed to take part and invite everyone to join the virtual festival audience."
Deutsche Grammophon's World Piano Day livestream virtual festival will feature a series of short performances pre-recorded live by the pianists in their homes. Staying at home doesn't mean the music has to stop – the global virtual festival will bring the music, recorded by artists in their own homes, directly to you.
Featured Pianists
Acclaimed Portuguese pianist Maria João Pires is one of the finest musicians of her generation. She has appeared all over the globe with all the major orchestras and is also a keen performer of chamber music. Gramophone described her as, "among the most eloquent master-musicians of our time."
Celebrated Austrian pianist and renowned Beethoven specialist Rudolf Buchbinder recently released his first album for Deutsche Grammophon The Diabelli Project. The recording features not only his new interpretation of Beethoven's Diabelli Variations but also 12 new variations by contemporary composers.
Grammy Award-winning Russian pianist Evgeny Kissin is one of the most distinguished musicians of his generation, revered the world over by audiences and critics alike for the virtuosity and eloquence of his pianism and the imagination and insight of his interpretations. He has performed with the world's leading orchestras and received many prestigious awards and prizes.
Multi-award winning Icelandic pianist Víkingur Ólafsson has become, in just a few years, one of the most sought-after artists of today. His innovative new album Debussy • Rameau juxtaposes pieces by two giants of French music, Claude Debussy and Jean-Philippe Rameau, exploring the contrasts and common ground between them.
Canadian pianist Jan Lisiecki is one of the most acclaimed pianists of his generation. His recent recording of Beethoven's Complete Piano Concertos was described as, "A sparkling performance that seems refreshingly spontaneous – yet is intellectually perfectly formed" by Der Tagesspiegel.
Seong-Jin Cho won the prestigious International Chopin Piano Competition in 2015, propelling the pianist to pop-star status in his native South Korea. His new album The Wanderer, released in May, features two monuments of the 19th-century repertoire – Schubert's 'Wanderer' Fantasy and Liszt's Piano Sonata in B minor – and follows critically acclaimed recordings of works by Chopin, Mozart and Debussy.
Dutch pianist and composer Joep Beving has enjoyed almost unprecedented success in the contemporary classical music world. He received millions of streams for his first two albums Solipsism and Prehension and the final volume in the triology, Henosis, won an Edison Award.
Simon Ghraichy is a French pianist of Lebanese and Mexican heritage. He is renowned for his unique personal style defined with rich, cultural influences. His 2017 album Heritages reached number one in the classical charts.
British-American pianist and composer Kit Armstrong has been described by the New York Times as a "brilliant pianist" who combines "musical maturity and youthful daring in his exceptional playing". He has performed as a soloist with some of the world's most famous orchestras while maintaining a career as a recitalist and composer.
Grammy Award-winning Russian pianist Daniil Trifonov has made a spectacular ascent of the classical music world as a solo artist, champion of the concerto repertoire, chamber and vocal collaborator, and composer. The Times noted he is, "without question the most astounding pianist of our age." His album Destination Rachmaninov: Departure was described by The Guardian as "one of the releases of the year."
Stay at home and watch Deutsche Grammophon's World Piano Day livestream on Saturday 28 March at 3pm CET via YouTube and Facebook.
Do you want to be the first to hear the latest news from the classical world? Follow uDiscover Classical on Facebook and Twitter.
Format:
UK English