Watch Video For Monolink's Remix Of Erik Satie's 'Gnossienne No. 1'
Monolink has remixed Satie's 'Gnossienne No. 1' for new 'Fragments' series featuring innovative reworks of the composer's music.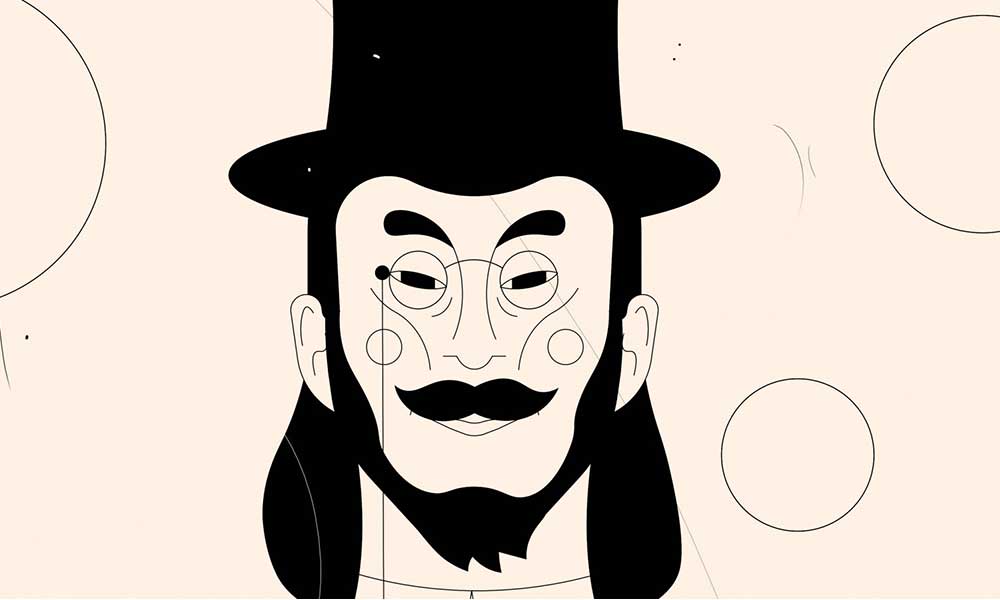 German artist and producer Monolink has digitally released two remixes of Erik Satie's Gnossienne No. 1, Nostalgia and Score, for Deutsche Grammophon's new Fragments series featuring innovative reworks of the composer's music.
Monolink was intrigued by Satie's famous 'Gnossienne No. 1'
Monolink (aka Steffen Linck) is renowned for his unique blend of vocals, acoustic guitar and synths, and for singing and playing live as part of his DJ sets. Monolink was intrigued by Satie's famous Gnossienne No. 1 for solo piano, composed in 1890, and decided to approach the project instinctively. "I simply had to feel my way into the piece and play the music without consciously thinking," he explained. "I wanted to retain and heighten the feeling and beautiful memories I associate with the song, rather than render it unfamiliar."
The sense of reminiscence that runs through Monolink's Nostalgia remix is reflected in the accompanying video made by motion designer and illustrator Karim Dabbèche which features monochrome animations moving to newly added beats. Monolink's Score remix, more dance-like in feel, shows how a classic can inspire contrasting ideas from an inventive and contemporary artist.
Monolink – Satie: Gnossienne No. 1 (Monolink Nostalgia Remix) FRAGMENTS
French composer Erik Satie wrote the Gnoissiennes in the late 19th century. The pieces are for the most part in free time (without barlines or time signatures) and are highly experimental with form, rhythm and chordal structure. Satie's coining of the word 'gnoissienne' was one of the rare occasions when a composer used a new term to indicate a new type of composition.
New Fragments series features innovative reworks of Satie's music
Deutsche Grammophon's new Fragments series celebrates music past and present by inviting some of today's most innovative electronic artists to rework the creations of earlier influential composers. Fragments begins by focusing on the music of eccentric French genius Erik Satie, forefather of modern minimalism and an enduring influence almost a century after his death. Satie's influence and relevance is more obvious today than ever before. From ambient music to conceptual art, minimalism to rock, Satie's music made its mark. Twelve Satie reworks will be digitally released over the next few months, creating a portrait of the composer for the 21st century, which will be released as an album in May 2022.
The Fragments series started with a rework, Danses de Travers No. 2 from Satie's Pièces Froides ('Cold Pieces'), by Berlin based duo Two Lanes, known for music rich in both acoustic and electronic elements. "His music has always been a great source of inspiration for us. Its minimalism and simplicity are qualities that can also be found in today's electronic music," explained Two Lanes.
French electro-pop artist French 79 reimagined Satie's Gnossienne No. 5. "His ability to craft such simple yet beautiful melodies or his peculiar song structures, as when a theme comes and goes through a piece – these are still relevant patterns in today's electronic music," noted French 79. "I have tried to preserve these ideas in my approach to Gnossienne No. 5 while proposing my own interpretation."
German DJ Sascha Braemer created two remixes of Satie's Air de l'Order, a solo piano piece evoking hymns, plainchant and a long-lost medieval world of monastic devotion. Yet Braemer remains convinced of Satie's importance today, "Ultimately, the origin of all musical genres come from people like him, who probably influenced others more than they knew at the time."
Monolink's Nostalgia and Score remixes have been digitally released.
Do you want to be the first to hear the latest news from the classical world? Follow uDiscover Classical on Facebook and Twitter.
---
Format:
UK English