Orpheus Chamber Orchestra Complete Recordings On Deutsche Grammophon Out Now
To anticipate the 50th anniversary of the Orpheus Chamber Orchestra in 2022 their 'Complete Recordings on Deutsche Grammophon' has been released.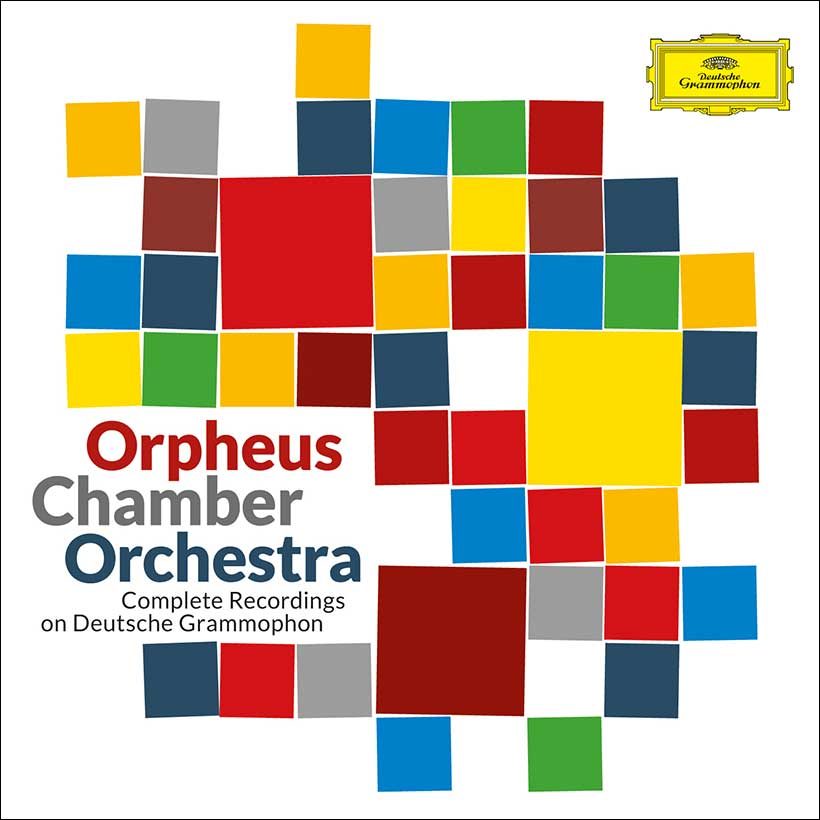 To anticipate the 50th anniversary of the Orpheus Chamber Orchestra in 2022 their Complete Recordings on Deutsche Grammophon, a 55-CD box set, has been released.
Features outstanding recordings and soloists
This definitive collection includes the ensemble's illustrious recordings of Mozart and Haydn, Schoenberg's Chamber Symphonies, works by Charles Ives, Stravinsky Miniatures, Rossini Overtures, Baroque Encores and Vivaldi's Four Seasons.
The Orpheus Chamber Orchestra's Complete Recordings on Deutsche Grammophon features recordings with Martha Argerich, Gidon Kremer, Mischa Maisky, Jan Lisiecki and Gil Shaham as well as remarkable soloists from within the orchestra.
The anthology includes a previously unreleased recording of Mendelssohn's 'Italian' Symphony from 2018, outstanding recordings with original cover art, and a comprehensive booklet including previously unreleased material from the Orchestra's archives.
All the recordings have also been digitally released, including 14 albums which are available for streaming and download for the first time.
Orpheus Chamber Orchestra - Complete Recordings on DG (Trailer with Interview)
The Orpheus Chamber Orchestra's philosophy
In 1972 a group of young artists made history by creating an orchestra without a conductor in which musicians led themselves democratically. The formation of the Orpheus Chamber Orchestra was facilitated by the Zeitgeist: the anti-establishment values of the protests against the American war in Vietnam and the cooperative spirit fostered by the rising ideal of collective artistic leadership.
"Orpheus was created at a time when food co-ops and communal living came into vogue," explained cellist and co-founder Julian Fifer. The Orchestra's philosophy of collective and democratic leadership, from repertoire selection to rehearsal to its social activity, has shaped its development from its foundation through to today.
The Orpheus Chamber Orchestra is unique in many ways: it is known for its unconventional interpretations, outstanding programmes and extraordinary level of flexibility. The intriguing sound culture of the Orpheus Chamber Orchestra is often explained as a result of its cooperative mindset and innovative rehearsal process. The sound culture has been formed not only by members of the orchestra but also by outstanding record producers, including Wolf Erichson.
Orpheus' philosophy of shared leadership continues to make inroads not just in the musical world, but also in the sphere of business via seminars and residencies, attracting the interest of numerous corporate CEOs. Similarly Fife feels that the Orpheus Chamber Orchestra's Complete Recordings on Deutsche Grammophon represents more than artistic excellence.
"For me, these recordings embody our founding ethos – the individual's unfettered artistic imagination and musical skill in pursuit of a collective voice. I have come to view Orpheus as the lyrical expression of the human rights values of diversity of opinion, inclusion of all voices, and mutual respect, essential qualities for creating vibrant and enduring communities, on stage and off."
Repertoire
CD 1 Bartók: Divertimento · Janáček: Mládí
CD 2 Beethoven: The Creatures of Prometheus
CD 3 Prokofiev · Britten · Bizet: Symphonies
CD 4 Vivaldi · Boccherini: Cello Concertos – Maisky
CD 5 Copland: Appalachian Spring · Short Symphony
CD 6 Dvořák: Serenades
CD 7 Elgar · Vaughan Williams
CD 8 Ravel · Satie · Fauré
CD 9 Grieg: Holberg Suite · Tchaikovsky: String Serenade
CD 10-12 Handel: Concerti grossi · Water & Fireworks Music
CD 13-19 Haydn: Symphonies 22, 44, 45, 48, 49, 53, 60, 63, 73, 77–81, 91, 102 · Armida Overture
CD 20 Ives
CD 21 Summer Evening: Kodály · Suk
CD 22 Mendelssohn: Concertos – Kremer · Argerich
CD 23 Mendelssohn: Symphony 4 *new release · Piano Concertos – Lisiecki
CD 24 Mendelssohn: String Symphonies 8–10
CD 25 Mozart: Clarinet & Horn Concertos – Neidich · Jolley
CD 26 Mozart: Horn, Oboe & Bassoon Concertos
CD 27 Mozart: Flute Concertos – Palma · Allen
CD 28 Mozart: Eine Kleine Nachtmusik · Divertimentos
CD 29 Mozart: Nannerl Septet · Serenata Notturna
CD 30 Mozart: Gran Partita
CD 31 Mozart: Wind Serenades
CD 32 Mozart: Sinfonie concertanti
CD 33 Mozart: Symphonies 29, 33, 40
CD 34 Mozart: A Little Light Music
CD 35 Respighi
CD 36 Rodrigo · Villa-Lobos: Guitar Concertos – Söllscher
CD 37 Rossini: Overtures
CD 38 Saint-Saens: Cello Works – Maisky
CD 39 Schoenberg: Verklärte Nacht · Chamber Symphonies
CD 40 Classical Hits
CD 41 Schumann: Cello Works – Maisky · Argerich
CD 42 R. Strauss: Divertimento · Der Bürger als Edelmann
CD 43 R. Strauss: Wind Sonatinas
CD 44 Stravinsky: Pulcinella · Dumbarton Oaks · Miniatures
CD 45 Stravinsky: Shadow Dances
CD 46 Stravinsky: Orpheus · Danses concertantes
CD 47 Tchaikovsky: Rococo Variations – Maisky
CD 48 Vivaldi: The Four Seasons · Kreisler – Shaham
CD 49 Vivaldi: 6 Flute Concertos – Gallois
CD 50 Weber: Clarinet Concertos · Rossini – Neidich
CD 51 Wagner · Wolf · Puccini · Berlioz · Sibelius · Dvořák
CD 52 Baroque Encores
CD 53 Romances – Shaham
CD 54 Points of Departure
CD 55 Wayfaring Stranger – Scholl
Orpheus Chamber Orchestra Complete Recordings on Deutsche Grammophon can be bought here.
Do you want to be the first to hear the latest news from the classical world? Follow uDiscover Classical on Facebook and Twitter.
---
Format:
UK English