Watch Yellow Lounge International Women's Day Free Concert
Watch the free premiere of Yellow Lounge's International Women's Day concert, featuring Deutsche Grammophon stars, on 7 March on DG Stage.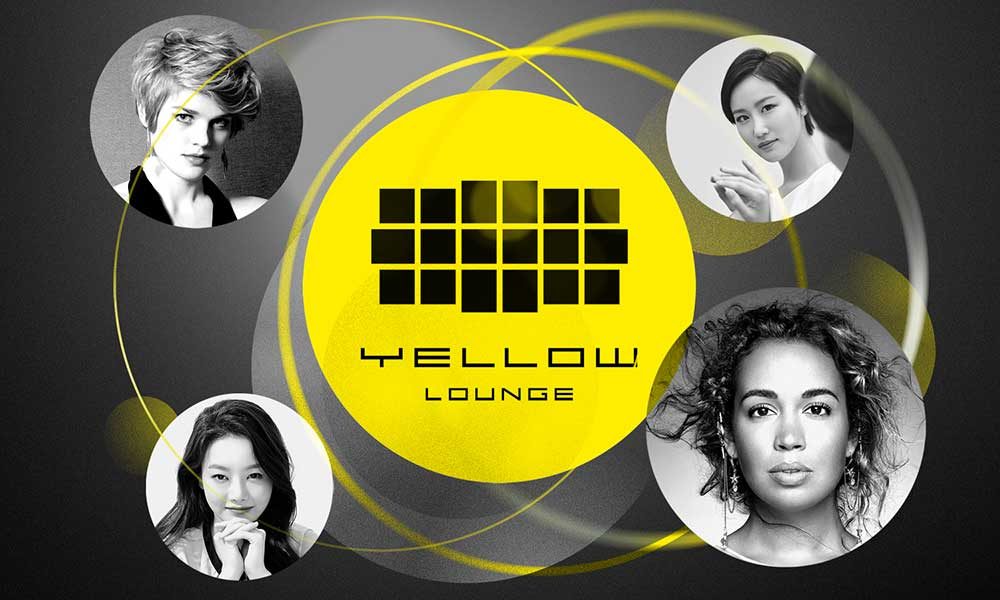 Celebrate International Women's Day 2021 by watching a special edition of Deutsche Grammophon's Yellow Lounge streamed from Berlin. The free online concert will be premiered on Deutsche Grammophon's online platform DG Stage on Sunday 7 March at 12:00 CET and will also be shown on the label's YouTube channel on Monday 8 March at 22:00 CET. The concert features four outstanding young Deutsche Grammophon stars – Nadine Sierra, Magdalena Hoffmann, Bomsori and Hera Hyesang Park. They will perform a rich and varied programme of works by female composers including Clara Schumann, Amy Beach, Grażyna Bacewicz and Joowon Kim. A feminist VJ collective, Trial and Theresa, will provide visuals for the event which was created and produced by an all-female team.
Soprano Nadine Sierra
Soprano Nadine Sierra will open Yellow Lounge on International Women's Day with a performance of Broadway songs and opera arias including 'Take Care of this House', from Leonard Bernstein's lesser-known musical 1600 Pennsylvania Avenue, 'I Could Have Danced All Night' from Lerner and Loewe's My Fair Lady, 'O Mio Babbino Caro' from Puccini's Gianni Schicchi, and 'Je Veux Vivre' from Gounod's Roméo et Juliette.
Bernstein: Take Care of This House (From "1600 Pennsylvania Avenue")
Harpist Magdalena Hoffmann
Harpist Magdalena Hoffmann, Deutsche Grammophon's latest signing, will perform Danse des Lutins by harpist, composer and teacher Henriette Renié (1875-1956), Clara Schumann's Notturno, and La Danse du Moujik by harpist Marcel Tournier.
Violinist Bomsori
Violinist Bomsori, who also recently signed to Deutsche Grammophon, will perform the famous 'Méditation' from Massenet's opera Thaïs, accompanied by Hoffmann, before paying tribute to one of Poland's finest composers, Grażyna Bacewicz (1909-69). She will also perform Romance, Op.23 by Amy Beach (1867-1944), recognised during her lifetime as the foremost woman composer in the United States.
Soprano Hera Hyesang Park
Soprano Hera Hyesang Park will perform 'Like the Wind that Met with Lotus' by Joowon Kim (b.1984), and 'Una Voce Poco Fa', from Rossini's Il Barbiere di Siviglia, both featured on her recent Deutsche Grammophon debut album I Am Hera. She will conclude her set with the last of Clara Schumann's Six Lieder, Op.13, 'Die Stille Lotosblume'.
Kim: Like the Wind That Met with Lotus
Kleopatra Sofroniou, General Manager Classics Deutsche Grammophon, observed, "International Women's Day is an important moment to reflect on the challenges and achievements of great female artists throughout history. At Deutsche Grammophon, we are proud to support Nadine, Magdalena, Bomsori, Hera and Sophia as they forge their own remarkable careers, representing the next generation of female talent on the label. It is a great pleasure to celebrate International Women's Day with their Yellow Lounge performances."
Deutsche Grammophon's classical club night concept Yellow Lounge brings classical music into eclectic urban venues worldwide featuring a mix of live performances by classical stars and guest DJ/VJ sets. Yellow Lounge on International Women's Day is one of a series of events aimed to connect communities around the world and help forge positive change for women. The performances will help to raise awareness of the vast repertoire of works by women composers and the determination of today's classical performers to dismantle gender stereotypes and challenge inequality.
Watch the exclusive free premiere of Yellow Lounge's International Women's Day concert on Sunday 7 March at 12:00 CET on DG Stage.
Do you want to be the first to hear the latest news from the classical world? Follow uDiscover Classical on Facebook and Twitter.
---
Format:
UK English