All Minds Set On New George Harrison Vinyl Box Set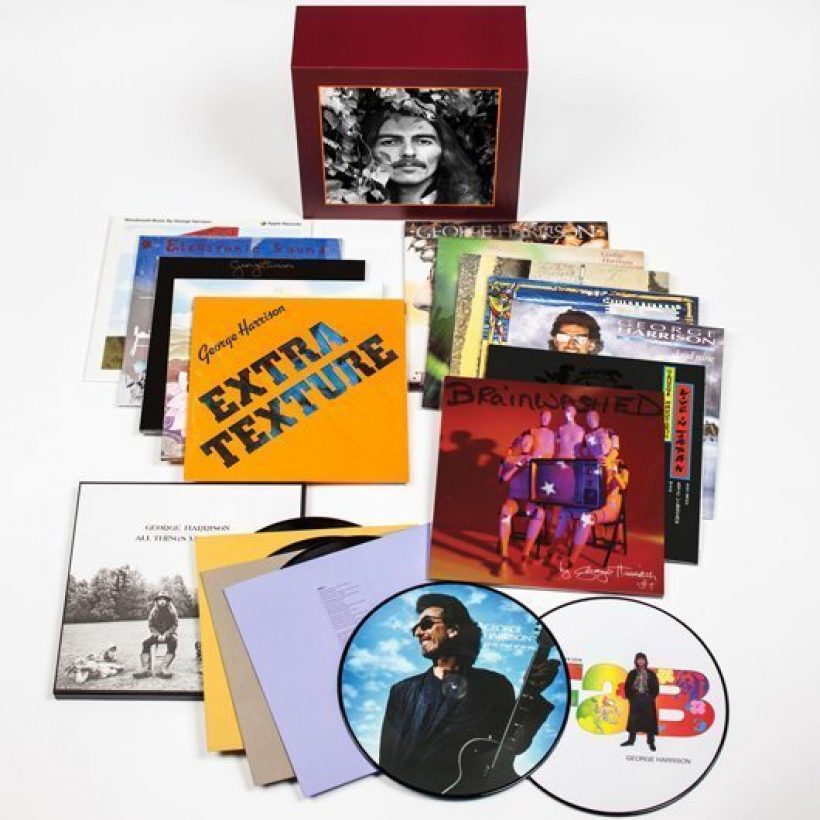 Though it's generally accepted that George Harrison bloomed late as a Beatles songwriter, there's no denying it was worth the wait. The release of All Things Must Pass, in 1970, was like unstopping a bottle: an ambitious triple-album, it included unimpeachable classics such as 'My Sweet Lord', 'Wah-Wah' and its contemplative title track, and set the template for the nine studio albums that would follow.
But Harrison's solo career really started two years earlier, with the release of the soundtrack to the 1968 psychedelic Jane Birkin vehicle Wonderwall. While Harrison was stockpiling material that would appear on All Things Must Pass, he was also indulging a taste for the experimental, marrying Mellotron with world music strains on Wonderwall Music, and further pushing into the avant-garde with the Moog excursions found on the 1969's Electronic Sound.
Harrison's fascinating makes up a sumptuous 16LP vinyl box set, The George Harrison Vinyl Collection. With the albums also being made available as standalone releases, the collection will be pressed on 180g vinyl mastered from the original analogue tapes and cut at Capitol studios – the legendary label which is celebrating its 75th anniversary this year. Housed in a slipcase box with a lenticular cover, it will also feature two bonus 12" picture discs in the shape of 'When We Was Fab' (a reflection on Harrison's time with The Beatles) and 'Got My Mind Set On You', both taken from his 1987 album Cloud Nine.
It was after this album that Harrison's solo career seemingly went on hiatus. Following a stint with The Traveling Wilburys, live outing Live In Japan found him Harrison on fine form on stage, but several tragic setbacks ensured that he never fully completed his final, posthumous album, Brainwashed. Finished by his son Dhani and originally released in 2002, a year after Harrison's death, it makes up the final disc in the set and is a reminder that Harrison's songwriting never lost its potency.
The 16LP The George Harrison Vinyl Collection is out now, along with an expanded edition of his much-loved collection of lyrics, I, Me, Mine, which was originally released through Genesis Publications in 1980.
Scroll down to read the full list of albums included in The George Harrison Vinyl Collection and order the box set here.
The full list of albums included in The George Harrison Vinyl Collection are:
Wonderwall Music (1968) (1LP)
Electronic Sound (1969) (1LP)
All Things Must Pass (1970) (3LP)
Living In The Material World (1973) (1LP)
Dark Horse (1974) (1LP)
Extra Texture (1975) (1LP)
Thirty Three & 1/3 (1976) (1LP)
George Harrison (1979) (1LP)
Somewhere In England (1981) (1LP)
Gone Troppo (1982) (1LP)
Cloud Nine (1987) (1LP)
Live In Japan (1992) (2LP)
Brainwashed (2002) (1LP)
Plus: bonus 12" picture discs 'When We Was Fab' and 'Got My Mind Set On You'.
Format:
UK English