Box Set Charts Lloyd Cole's Lost Weekends in New York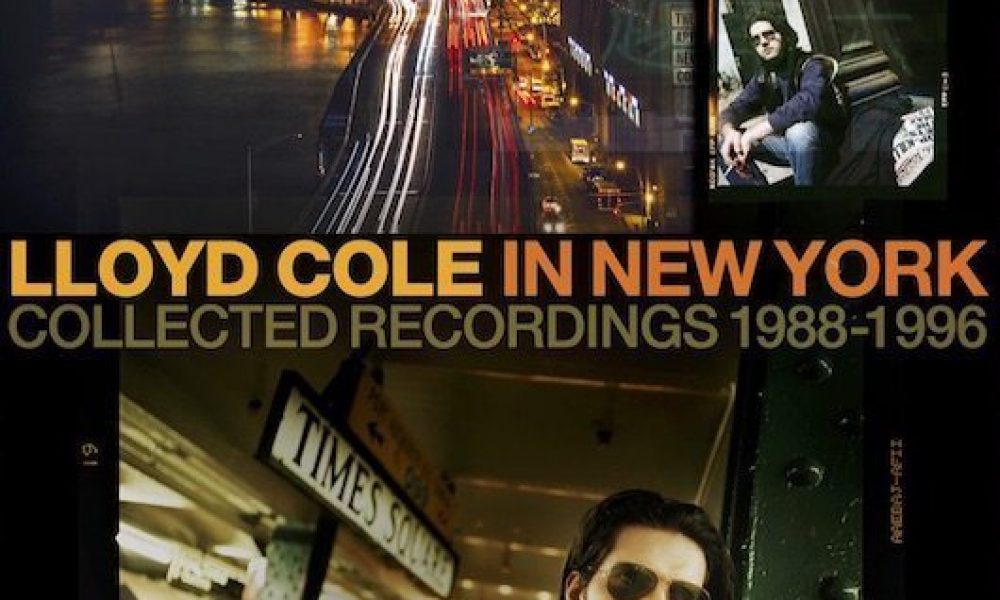 From 80s indie pop heartthrob to cult musician, Lloyd Cole has explored many musical avenues, but his calling card will always be poetically written, beautifully arranged and imaginative pop songs.
After making a name for himself as the frontman of Lloyd Cole & The Commotions and playing to the same angsty eighties boppers and lit majors as The Smiths, Cole eventually decamped from London to New York in '88 as a solo artist and joined the city's long line of poetic singer-songwriters.
Embracing the grittier side of his adopted city, Cole released his first solo album, Lloyd Cole (aka 'The X album) chronically his spirits-soaked adventures in the city and establishing himself as the 90s heir to Bob Dylan, Lou Reed and Leonard Cohen in the postpunk era.
With a career-spanning 12 studio albums that run the gamut from cerebral pop to experimental folk, Cole is now releasing a deluxe limited edition box set featuring his early solo years entitled Lloyd Cole In New York on March 17th 2017.
This collection captures Cole's evolution in New York, just as he was experimenting with his sound and collaborating with some of the top talent in the states, including guitarist Robert Quine (Richard Hell & the Voidoids, Lou Reed, Brian Eno), drummer Fred Maher (Material, Scritti Politti, Lou Reed) and Matthew Sweet.
The box includes all four solo albums Cole released on the Polydor and Fontana labels between 1988 and 1996 including Lloyd Cole ('90), Don't Get Weird On Me Babe ('91), Bad Vibes ('93) and Love Story ('95) plus Smile If You Want To, the 'unreleased' fifth album (including one previously unreleased track) and Demos '89-'94, 20 recordings from home and studio made public for the first time.
The box also includes a hardback book by John O'Connell featuring new interviews with Cole and esteemed musicians, producers and collaborators and a rare selection of photos from the period plus a poster and postcards that feature Cole shot in New York by noted photographer Kevin Cummins, who was responsible Cole's NME cover for his first solo record.
Lloyd Cole, 'Don't Look Back', 1990
Cole's anthology not only evokes New York's emerging indie scene in the 90s, but showcases his talent as a superior songsmith, crafting such enduring pop songs as 'No Blue Skies', 'Undressed' and 'Ice Cream Girl' on 'X'. The sweeping strings on intro of 'A Long Way Down' serve as a precursor to the orchestral arrangements that would shape the following record, the songwriter-rock band hybrid, Don't Get Weird On Me Babe. The concept album featured one orchestral side and one rock side and was described by Cole as his "farewell to rock".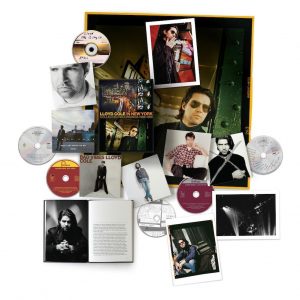 Further pushing his artistic sensibilities in new directions, Cole fused his melancholic melodies with psychedelic pop on 1993's Bad Vibes; a divisive record that still ensares with Cole's singular vocals. Just two years later, he returned to critical and commercial success with Love Story. An intimate record, fan favourite and true rock-pop hybrid, Cole described it as such.
"We wanted to make the kind of record that draws the listener towards the speakers, as opposed to pushes them away from the speaker".
Later inspired by Dylan's John Wesley Harding, Cole continued his shift away from rock and further experimented with his sound, resulting in a series of demos that were recorded but never released. Smile If You Want To was to be Cole's 5th solo album and while the songs came out on subsequent albums, this is the first time they've been released as a whole album and fully mastered by Ian Jones at Abbey Road studios.
Listen to Love Story:

In addition to the demos he recorded for Love Story, the box set also includes other early tentative recordings he made as a solo artist as well as a previously unheard version of 'The Ship Song' by Nick Cave and a demo version of 'The One You Never Had' featuring a guitar solo by Quine.
Catch the other man in black, on tour when he returns to the UK in March 2017 and pre-order New York boxset from the uDiscover store and you could win a pair of tickets to a date of your choice.
2017 Tour Schedule
March
20.3.17 – St. Paul's Worthing, Worthing
21.3.17 – Exeter Phoenix, Phoenix
23.3.17 – The Assembly, Leamington Spa
26.3.17 – The Aquarium, Lowestoft
27.3.17 – City Hall Ballroom, Sheffield
29.3.17 – Unity Works, Wakefield
30.3.17 – The Atkinson, Southport
31.3.17 – Waterside, Sale
April
1.4.17 – Arts Centre, Pocklington
3.4.17 – Guild Hall, Preston
4.4.17 – The Met, Bury
6.4.17 – Eden Court, Inverness
7.4.17 – The Lemon Tree, Aberdeen
8.4.17 – The Gardyne Theatre, Dundee
9.4.17 – The Albany, Greenock
11.4.17 – Oran Mor, Glasgow
12.4.17 – Oran Mor, Glasgow
Format:
UK English