Classic Slices Of Humble Pie Reissued On 'The A&M Vinyl Box Set 1970-1975'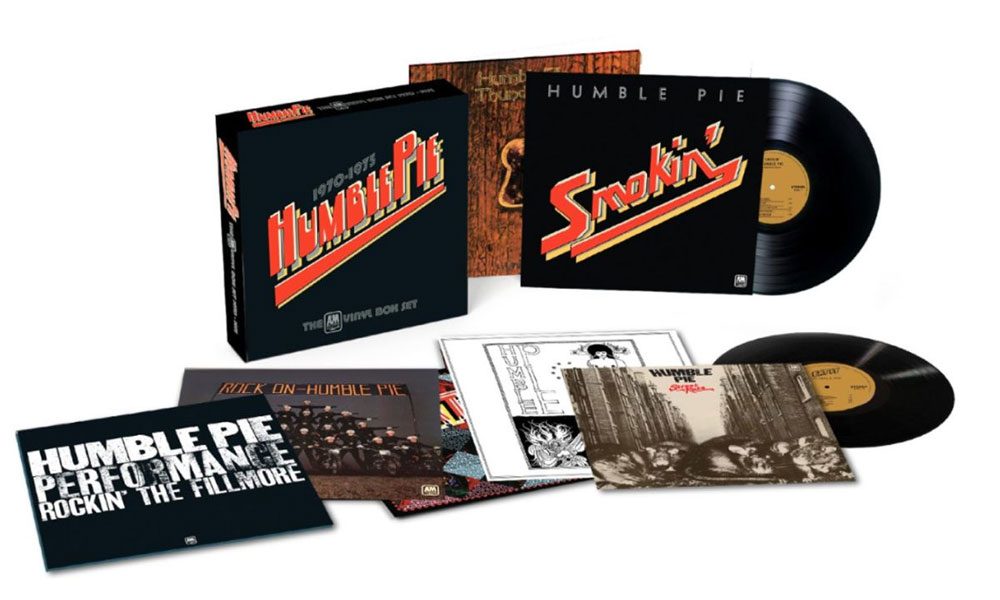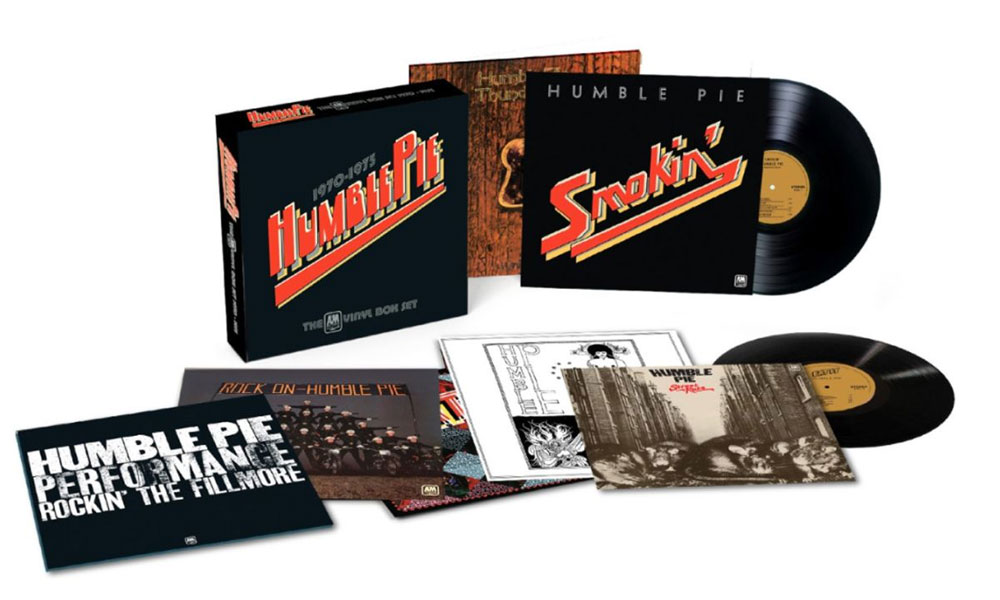 Think you've had your fill of Humble Pie? Think again.
Formed by Steve Marriott in 1969 after the break-up of Small Faces, Humble Pie epitomised the British rock supergroups emerging at the turn of the decade. With the charismatic Marriott taking on frontman duties, he enlisted Peter Frampton (then of The Herd) on guitar, Spooky Tooth's Greg Ridley on bass and a teenage Jerry Shirley on drums. The group released two beloved albums on Small Faces' former label, Immediate, before making a switch to A&M in 1970 and working up a harder, blues-rock sound that would earn acclaim on both sides of the Atlantic.
The group's self-titled effort, released in summer 1970, solidified their new direction and set Humble Pie up for a run of albums that would make an indelible mark on the blues-rock scene, among them Rock On, Smokin' and the classic live double-album, Performance Rockin' The Fillmore, recorded at New York's iconic Fillmore East, before the group temporarily disbanded in 1975.
Steve Marriott and Greg Ridley are with us no more, but with the full input of both Frampton and Shirley, The A&M Vinyl Box Set 1970-1975 commemorates their great work. Collecting all seven of the group's A&M albums across nine slabs of 180g vinyl, it presents this part of the group's legacy in better-than-ever audio.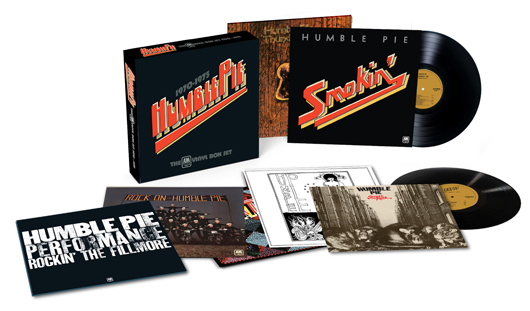 "Eat It, in particular, had sound problems originally," says Jerry Shirley, who adds that they have "now been eradicated once and for all, so that our fans, old and new, can hear it as was it was intended to be". Much love and care has been put into assembling the package too, with the albums coming in a hardback slipcase and replica artwork – including the die-cut sleeve that originally housed Thunderbox.
"Jerry and I worked together with A&M for some time to get this released," Peter Frampton notes, adding, "We pay tribute to our two lost brothers, Steve and Greg, and hope you enjoy this as much as we did putting it all together.
How could you not?
Purchase Humble Pie's The A&M Vinyl Box Set 1979-1975 is out now. Scroll down to read the full tracklist and order the box set here.
Humble Pie (1970)
Side One:
'Live With Me'
'Only A Roach'
'One-Eyed Trouser-Snake Rumba'
'Earth And Water Song'
Side Two:
'I'm Ready'
'Theme From Skint – See You Later Liquidator'
'Red Light Mamma, Red Hot!'
'Sucking On The Sweet Vine'
Rock On (1971)
Side One:
'Shine On'
''Sour Grain'
'79th And Sunset'
'Stone Cold Fever'
'Rollin' Stone'
Side Two:
'A Song For Jenny'
'The Light'
'Big George'
''Strange Days'
'Red Neck Jump'
Performance Rockin' The Fillmore (1971)
Side One:
'Four Day Creep'
'I'm Ready'
'Stone Cold Fever'
Side Two:
'I Walk On Gilded Splinters'
Side Three:
'Rollin' Stone'
Side Four:
'Hallelujah (I Love Her So)'
'I Don't Need No Doctor'
Smokin' (1972)
Side One:
'Hot'n'Nasty'
'The Fixer'
'You're So Good For Me'
'C'mon Everybody'
'Old Time Feelin''
Side Two:
'30 Days In The Hole'
'Road Runner'/'Road Runners "G" Jam'
'I Wonder'
'Sweet Peace And Time'
Eat It (1973)
Side One:
'Get Down To It'
'Good Booze And Bad Women'
'Is It For Love?'
'Drugstore Cowboy'
Side Two:
'Black Coffee'
'I Believe To My Soul'
'Shut Up And Don't Interrupt Me'
'That's How Strong My Love Is'
Side Three:
'Say No More'
'Oh, Bella (All That's Hers)'
'Summer Song'
'Beckton Dumps'
Side Four:
'Up Our Sleeve'
'Honky Tonk Women'
'(I'm A) Road Runner'
Thunderbox (1974)
Side One:
'Thunderbox'
'Groovin' With Jesus'
'I Can't Stand The Rain'
'Anna (Go To Him)'
'No Way'
'Rally With Ali'
Side Two:
'Don't Worry, Be Happy'
'Ninety-Nine Pounds'
'Every Single Day'
'No Money Down'
'Drift Away'
'Oh La-De-Da'
Street Rats (US Version) (1975)
Side One:
'Street Rat'
'Rock And Roll Music'
'We Can Work It Out'
'Scored Out'
'Road Hog'
'Rain'
Side Two:
'There 'Tis'
'Let Me Be Your Lovemaker'
'Countryman Stomp'
'Drive My Car'
'Queens And Nuns'
Format:
UK English