'Endtrospective' Shines Light On Shadow's Debut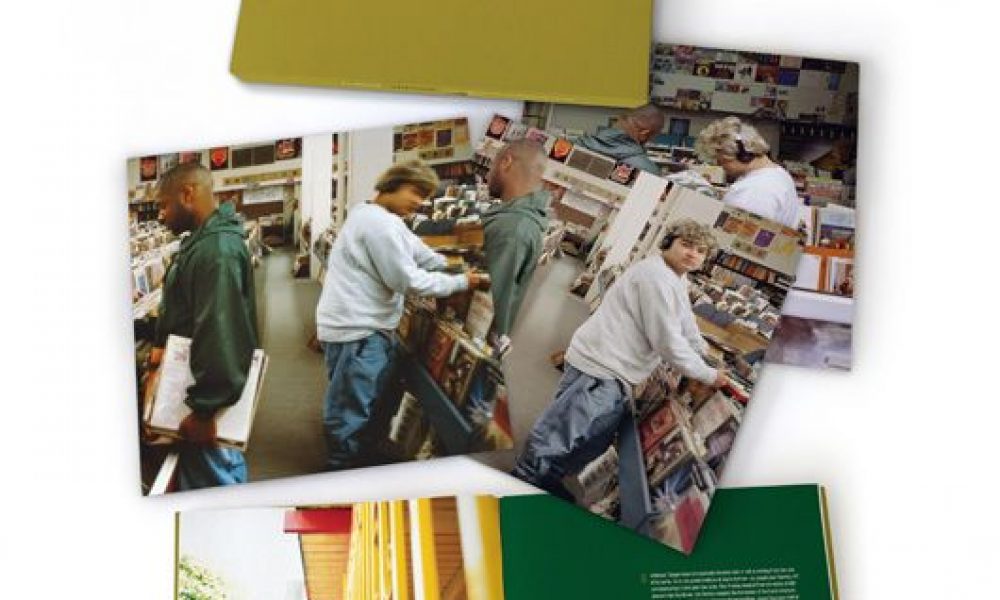 DJ Shadow's Endtroducing….. is one of those albums that defied categorisation. When it was released in 1996, it tore up the hip-hop rulebook, straddled electronica, ambient and trip hop, and introduced its creator as one of the most forward-thinking minds in music.
As the album cover made perfectly clear, Endtroducing….. was a create-digger's paradise: a voyage of discovery that refuses to age, and which continues to reveal new facets to fans that have lived with it for the last two decades. "I've had to sort of concede that there is something about the record that took on a life of its own," Shadow himself has said, adding, "10 or 15 years down the road, people were discovering it."
DJ Shadow - Midnight In A Perfect World
Celebrating this landmark release in Shadow's career, the Endtroducing….. (20th Anniversary Endtrospective Edition) presents the full album in all its glory, along with a disc of "excessive ephemera" including alternate takes of timeless classics such as 'Building Steam With A Grain Of Salt' and 'Best Foot Forward', and a remix of 'The Number Song' by Shadow cohort Cut Chemist. A third disc, titled Endtroducing Re-Emagined, gives the likes of Hudson Mohawke and Daedelus, along with legendary hip-hop producer Prince Paul (De La Soul), the chance to run riot with the original album, creating a whole new experience for newcomers and old fans alike.
Initially released on James Lavelle's Mo' Wax label, Endtroducing….. was immediately embraced by hardcore hip-hop addicts and electronica devotees alike, and its legacy secured via a slew of superlative reviews. In treating everything as source material, Shadow created a postmodern masterpiece that remains unsurpassable. This 20th-anniversary reissue is a fitting tribute to Shadow's skills and a reminder of the place his debut album holds in music history.
Endtroducing….. (20th Anniversary Endtrospective Edition) is released in both 3CD and 3LP formats, with an extremely limited number of vinyl box sets coming with two exclusive white labels. Scroll down to read the full tracklisting and order the vinyl box set here:
The full Endtroducing….. (20th Anniversary Endtrospective Edition) tracklisting is:
CD/LP1: Endtroducing…..
'Best Foot Forward'
'Building Steam With A Grain Of Salt'
'The Number Song'
'Changeling'
'**Transmission 1'
'What Does Your Soul Look Like (Part 4)'
'Untitled'
'Stem/Long Stem'
'**Transmission 2'
'Mutual Slump'
'Organ Donor'
'Why Hip Hop Sucks In '96'
'Midnight In A Perfect World'
'Napalm Brain/Scatter Brain'
'What Does Your Soul Look Like (Part 1 – Blue Sky Revisit)'
'**Transmission 3'
CD/LP2: Excessive Ephemera
'Best Foot Forward' [Alternate Version]
'Building Steam With A Grain Of Salt' [Alternate Take Without Overdubs]
'The Number Song (Cut Chemist Party Mix)'
'Changeling' [Original Demo Excerpt]
'Stem (Cops'n'Robbers Mix)'
'Soup'
'Red Bus Needs To Leave!'
'Mutual Slump' [Alternate Take Without Overdubs]
'Organ Donor (Extended Overhaul)'
'Why Hip Hop Sucks in '96' [Alternate Take]
'Midnight In A Perfect World (Gab Mix)'
'Napalm Brain' [Original Demo Beat]
'What Does Your Soul Look Like (Peshay Remix)'
'DJ Shadow Live In Oxford, England, Oct 30, 1997'
CD/LP3: Endtroducing….. Re-Emagined
'Best Foot Forward (Teeko Remix)'
'Building Steam With A Grain Of Salt (Salva Remix)'
'The Number Song (Lee Bannon Remix)'
'Transmissions (Kuedo Remix)'
'Changeling II (Adrian Younge Remix)'
'What Does Your Soul Look Like (Part 4) (Teklife Remix)'
'Stem/Long Stem' (Clams Casino Remix)'
'Mutual Slump (Daedelus Remix)'
'Organ Donor (UZ Remix)'
'Midnight In A Perfect World (Hudson Mohawke Remix)'
'What Does Your Soul Look Like (Part 1) (Prince Paul Remix)'
'Building Steam With A Grain Of Salt (Bondax & Karma Kid Remix)'
Format:
UK English