Folk-Rock Pioneers Fairport Convention Announce 'Come All Ye – The First 10 Years' Box Set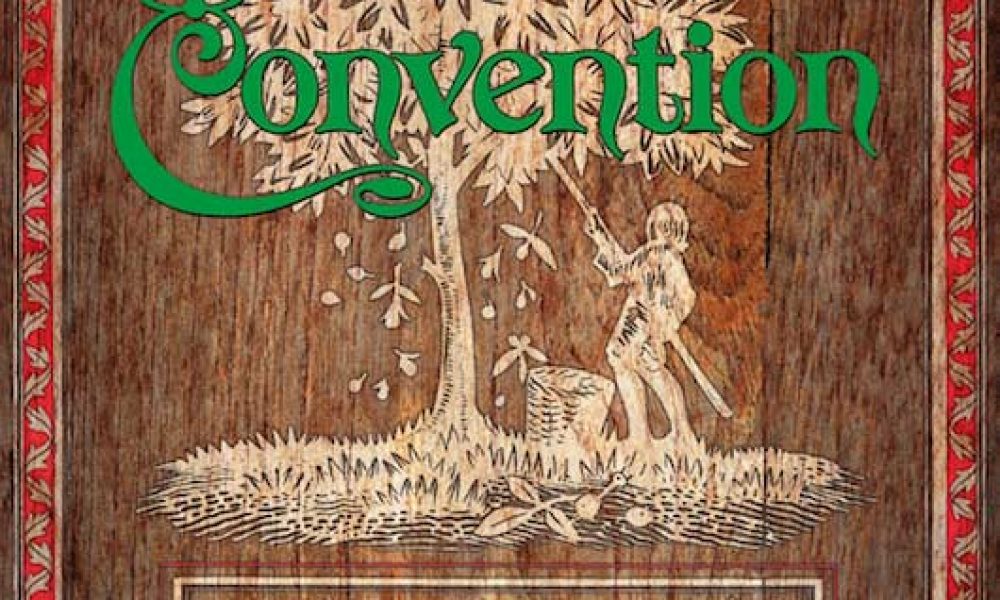 While some artists are credited with starting a music scene, Fairport Convention is responsible for forging an entire new genre. As the progenitors of British folk rock, they took traditional music and electrified it, paving the way for bands like The Pogues, Flogging Molly and U2.
Since first coming onto the scene during 1967's Summer of Love, the group has one of the most impressive catalogues in rock even with their changing personnel, with over 30 studio albums and 20 live albums. As this year marks the 50th anniversary of their first live performance, the group has announced an extensive 7 CD box set titled, Come All Ye – The First 10 Years, set for release on 28 July.
Compiled by Andrew Batt, the curator behind the musical stage show, 'The Lady – A Tribute To Sandy Denny', the collection captures Fairport's first 10 years, beginning with their debut for Polydor in 1968, through all of their classic albums for Island Records and finishing with tracks from their two albums for Vertigo, The Bonny Bunch of Roses and Tippers Tales that spans 121 tracks in total. Of those, 55 are previously unreleased, culling from single B-sides, BBC Radio Sessions, TV performances, and the audio for an entire concert at The Fairfield Halls.
To say they were prolific is an understatement. Just as The Byrds help shape folk-rock stateside by amplifying Bob Dylan's 'Mr. Tambourine Man', Fairport plumbed the tales of Celtic lore to create a new kind of psychedelic folk rock. In 2006, they won a BBC Lifetime Achievement Award and their groundbreaking album, Liege & Lief, was voted The Most Influential Folk Album of All Time by the listeners of BBC Radio 2.
With almost 50 years under their belt, the group continues to perform and record, much to the delight of their devoted fans. Since 1976, the band have hosted the Cropedy Festival, an annual event that includes the current incarnation of Fairport plus past members and guests that draws up to 20,000 people a year. This year's 37th anniversary of the festival will take place from Thursday 10th to Saturday 12th August 2017 and includes special guests Petula Clark, Show of Hands, Feast of Fiddles, Pierce Brothers, Dougie MacLean, Marillion, Cats In Space, Gigspanner, and The Gerry Colvin Band.
Fairport Convention's Come All Ye – The First 10 Years will be available on 28 July. Scroll down to read the full tracklisting and explore our dedicated Fairport Convention Artist Page.
Come All Ye – The First 10 Years
DISC ONE
01: Time Will Show The Wiser ( 3:05 ) from Fairport Convention
02: Decameron ( 3:42 ) from Fairport Convention
03: Jack O' Diamonds ( 3:30 ) from Fairport Convention
04: One Sure Thing ( 2:53 ) from Fairport Convention
05: I Don't Know Where I Stand ( 3:38 ) from John Peel's Top Gear programme 2/6/1968
06: You Never Wanted Me ( 3:15 ) from John Peel's Top Gear programme 2/6/1968
07: Fotheringay ( 3:04 ) from What We Did On Our Holidays
08: I'll Keep It With Mine ( 5:53 ) from What We Did On Our Holidays
09: Mr Lacey ( Sandy on Vocals ) ( 2:55 ) from the Sandy Denny box set
10: Eastern Rain ( Sandy on Vocals ) ( 3:48 ) – Previously Unreleased
11: Nottamun Town – A Capella version ( 1:48 ) – Previously Unreleased
12: Meet On The Ledge ( 2:50 ) from What We Did On Our Holidays
13: Throwaway Street Puzzle ( 3:27 ) – B Side on What We Did On Our Holidays remastered
14: Reno Nevada ( 2:23 ) from the David Symonds radio show 6/1/1969
15: Suzanne ( 5:25 ) from John Peel's Top Gear programme 1/9/1968
16: A Sailors Wife ( without Swarb ) ( 11:23 ) from the Sandy Denny box set
17: Genesis Hall ( 3:35 ) from Unhalfbricking
18: Autopsy – Alt Take ( 4:33 ) – Previously Unreleased
19: Who Knows Where The Time Goes ? – Alt Take ( 5:19 ) – Previously Unreleased
DISC TWO
01: Dear Landlord ( 4:08 ) from Unhalfbricking
02: Si Tu Doir Partir ( 2:25 ) from John Peel's Top Gear programme 6/4/1969
03: Percy's Song ( 5:28 ) from John Peel's Top Gear programme 1/9/1968
04: Ballad of Easy Rider ( 4:54 ) – Guitar Vocal
05: The Deserter – Rehearsal version ( 4:40 ) – Previously Unreleased
06: Come All Ye – Alt Take ( 5:27 ) from the Sandy Denny box set
07: Reynardine ( 4:31 ) from Liege and Lief
08: Matty Groves – Alt Take ( 7:43 ) from the Sandy Denny box set
09: Farewell Farewell ( 2:38 ) from Liege and Lief
10: Quiet Joys Of Brotherhood – Take 1 edit ( 6:42 ) from Liege & Lief Deluxe Edition
11: Tam Lin ( 7:46 ) from John Peel's Top Gear programme 27/9/1969
12: Sir Patrick Spens ( 3:44 ) from John Peel's Top Gear programme 27/9/1969
13: The Lark In The Morning medley ( 4:12 ) from John Peel's Top Gear 27/9/1969
14: Bonny Bunch Of Roses ( 10:48 ) – Full House Out-Take
DISC THREE
01: Walk Awhile ( 3:51 ) – Live in Concert on Pop2 – 5/12/1970 – Previously Unreleased
02: Dirty Linen ( 3:55) – Live in Concert on Pop2 – 5/12/1970 – Previously Unreleased
03: Sloth ( 12:17 ) – Live in Concert on Pop2 – 5/12/1970 – Previously Unreleased
04: Journeyman's Grace ( 4:47 ) – Live on Pop2 – 5/12/1970 – Previously Unreleased
05: Sir B.McKenzie ( 4:29) – Live in Concert on Pop2 – 5/12/1970 – Previously Unreleased
06: Flatback Caper – Live 1970 ( 5:57 ) – Previously Unreleased
07: Doctor of Physick – Live 1970 ( 3:52 ) – Previously Unreleased
08: Poor Will and The Jolly Hangman (5:34 ) from Guitar, Vocal
09: Bonnie Black Hare – Alt Take ( 3:04 ) – Previously Unreleased
10: Lord Marlborough ( 3:24 ) from Angel Delight
11: Banks of the Sweet Primroses ( 4:11 ) from Angel Delight
12: Breakfast In Mayfair ( 3:07 ) from Babbacombe Lee
13: Little Did I Think ( 1:52 ) from The Man They Could Not Hang – Previously Unreleased
14: John Lee ( 1:48 ) from The Man They Could Not Hang – Previously Unreleased
15: Cell Song ( 4:27 ) from The Man They Could Not Hang – Previously Unreleased
16: Time Is Near ( 2:49 ) from The Man They Could Not Hang – Previously Unreleased
17: Dream Song ( 4:14 ) from The Man They Could Not Hang – Previously Unreleased
18: Farewell To A Poor Man's Son ( 5:16 ) from The Man They Could Not Hang
DISC FOUR
01: Sweet Little Rock 'n' Roller – Live at the LA Troubadour ( 3:55 ) from Guitar Vocal
02: That'll Be The Day ( 2:02 ) from The Bunch
03: Think It Over – Sandy Denny rehearsal version ( 2:31 ) – Previously Unreleased
04: Maverick Child ( 4:03 ) Previously Unreleased
05: Sad Song aka As Long As It Is Mine ( 5:06 ) Previously Unreleased
06: Matthew, Mark, Luke & John ( 3:05 ) Previously Unreleased
07: Rattle Trap ( 2:05 ) Previously Unreleased
08: Sheep In The Meadow ( 4:10 ) Previously Unreleased
09: Rosie ( 3:34 ) Previously Unreleased
10: Country Judy Jane ( 2:36 ) Previously Unreleased
11: Me With You ( 3:23 ) Previously Unreleased
12: My Girl ( 4:05 ) Previously Unreleased
13: To Althea from Prison ( 2:25 ) Previously Unreleased
14: Knights Of The Road ( 3:52 ) from Rosie
15: The Plainsman ( 3:19 ) from Rosie
16: Matthew, Mark, Luke & John from the Old Grey Whistle Test ( 3:44 ) Previously Unreleased
17: Brilliancy medley from the Old Grey Whistle Test ( 3:55 ) Previously Unreleased
18: Polly On The Shore ( 4:53 ) from Nine
19: Fiddlestix (The Devil In The Kitchen) without orchestra ( 2:49 ) Previously Unreleased
20: Possibly Parsons Green ( 3:41 ) – OZ 7" single mix Previously Unreleased
21: Bring Em Down ( 5:55 ) from Nine
DISC FIVE
01: Sloth – Live in Sydney ( 11:31 ) from Live Convention
02: John The Gun ( 5:05 ) – John Peel session 6/8/1974
03: Down In The Flood ( 3:27 ) – John Peel session 6/8/1974
04: Rising For The Moon ( 4:18 ) – John Peel session 6/8/1974
05: After Halloween ( 2:54 ) Byfield Demo – Alt Take Previously Unreleased
06: Restless ( 3:59 ) from Rising For The Moon
07: White Dress ( 3:24 ) Live on LWT (on Rising for the Moon deluxe edition)
08: Stranger To Himself ( 2:52 ) from Rising For The Moon
09: Dawn – Alt version ( 4:09 ) from the Sandy Denny box set
10: One More Chance – Alt Take ( 7:52 ) Previously Unreleased
11: All Along The Watchtower – Live in Oslo in 1975 ( 4:22 )
12: When First Into This Country ( 2:28 ) from Gottle O' Geer
13: Sandy's Song aka Take Away The Load ( 3:34 ) from Gottle O'Geer
14: Royal Seleccion No 13 ( 4:24 ) from A World of Music: Anne Lorne Gillies 26/11/1976 Previously Unreleased
15: Adieu Adieu ( 2:35 ) from A World of Music: Anne Lorne Gillies 26/11/1976 Previously Unreleased
16: Reynard The Fox ( 2:59 ) from Tipplers Tales
17: Poor Ditching Boy ( 3:46 ) from In Concert – STV 1976 Previously Unreleased
18: Flowers Of The Forest ( 3:50 ) from In Concert – STV 1976 Previously Unreleased
DISC SIX – Live at Fairfield Hall 16/12/1973
01: Polly On The Shore ( 5:12 ) Previously Unreleased
02: Furs and Feathers ( 5:11 ) Previously Unreleased
03: Tokyo ( 3:09 ) Previously Unreleased
04: Cell Song ( 5:05 ) Previously Unreleased
05: The Claw ( 3:01 ) Previously Unreleased
06: Far From Me ( Old Broken Bottle ) ( 3:47 ) Previously Unreleased
07: Brilliancy medley / Cherokee Shuffle ( 4:14 ) Previously Unreleased
08: Days of 49 ( 6:20 ) Previously Unreleased
09: Fiddlestix (The Devil In The Kitchen) ( 3:07 ) Previously Unreleased
10: Dirty Linen ( 4:33 ) Previously Unreleased
11: Matthew, Mark, Luke & John ( 6:34 ) Previously Unreleased
12: Possibly Parsons Green ( 3:39 ) Previously Unreleased
13: Sir B. McKenzie ( 6:21 ) Previously Unreleased
14: Down In The Flood – Full version ( 3:45 ) Previously Unreleased
15: Something You've Got- Full version ( 3:00 ) Previously Unreleased
DISC SEVEN – Live at the LA Troubadour 1/2/1974
01: Down In The Flood ( 3:13 )
02: The Ballad Of Ned Kelly ( 3:59 )
03: Solo ( 5:34 )
04: It'll Take A Long Time ( 5:35 )
05: She Moves Through The Fair ( 4:15 )
06: The Hens March Through The Midden & The Four Poster Bed ( 3:17 )
07: The Hexamshire Lass ( 2:44 )
08: Knockin' On Heaven's Door ( 4:33 )
09: Six Days On The Road ( 3:44 )
10: Like An Old Fashioned Waltz ( 4:20 )
11: John The Gun ( 5:10 )
12: Down Where The Drunkards Roll – Alt Take ( 4:30 ) Previously Unreleased
13: Crazy Lady Blues ( 4:02 )
14: Who Knows Where The Time Goes ( 6:54 )
15: Matty Groves ( 7:05 )
16: That'll Be The Day ( 3:23 )
Format:
UK English