Neil Diamond Celebrates 50th Anniversary With New Box Set & Tour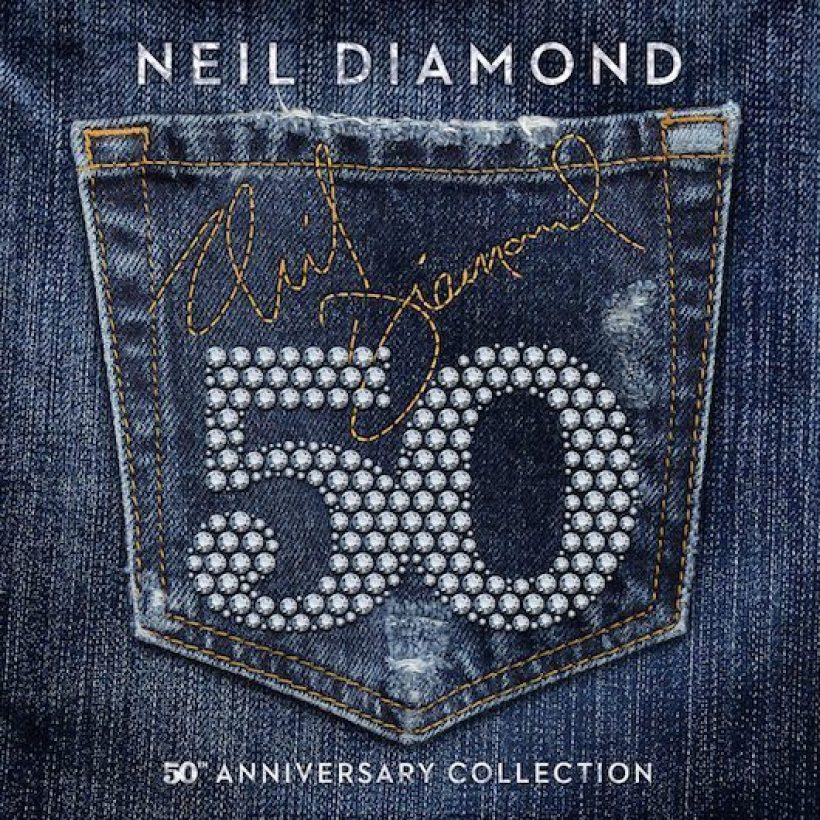 Hard to believe it's been 50 years since Neil Diamond released his first hit 'Solitary Man' – beginning a music career that would span over five decades and counting.
While he'd written scores of countless hits for other artists, this iconic song was his debut single as a recording artist. In celebration of his remarkable achievements over the years, he's releasing the career-spanning box set, Neil Diamond 50 – The 50th Anniversary Collection, that includes 50 handpicked songs that represent the best of his wide-ranging musical output and is due out on 31 March 2017.
The exclusive 3 CD package also includes a carefully curated booklet with new liner notes along with 49 other international hits that include 'Cherry Cherry,' 'Girl, You'll Be A Woman Soon,' 'Holly Holy,' 'Thank The Lord For The Night Time,' 'Sweet Caroline,' 'Kentucky Woman,' 'Brother Love's Travelling Salvation Show,' 'Cracklin' Rosie,' 'I Am…I Said,' 'Song Sung Blue,' 'You Don't Bring Me Flowers,' (with Barbra Streisand,) 'September Morn,' and 'Heartlight' amongst many others that have become a part of the great American songbook.
As a Grammy Award winner and member of the Rock and Roll Hall of Fame (among many other accolades) Neil Diamond continues to inspire us with his music and entertain audiences across the world. To support the anniversary release, he's also hitting the road with a 50 date US tour that begins this April and continues through Europe and the UK.
Neil Diamond 50 – The 50th Anniversary Collection is out on 31 March 2017. Tickets and tour dates are available at LiveNation.com. Scroll down to read the full tracklisting and pre-order the album here.
Disco One
'Solitary Man'
'Cherry, Cherry'
'I've Got The Feeling (Oh No No)'
'You Got To Me'
'Girl, You'll Be A Woman Soon'
'I'm A Believer'
'Thank The Lord For The Night Time'
'Red, Red Wine'
'Sunday Sun'
'Shilo'
'Kentucky Woman'
'Brooklyn Roads'
'Glory Road'
'Holly Holy'
'And The Grass Won't Pay No Mind'
Sweet Caroline
'Brother Love's Traveling Salvation Show'
Disc Two
'Done Too Soon'
'Soolaimon'
'Cracklin' Rosie'
'Crunchy Granola Suite'
'I Am…I Said'
'Stones'
'Morningside'
'Song Sung Blue'
'Play Me'
'Be – Recapitulation And Farewell To Fletcher'
'Skybird'
'Lonely Looking Sky'
'I've Been This Way Before'
'Longfellow Serenade'
'Beautiful Noise'
'Street Life'
'If You Know What I Mean'
Disc Three
'Desirée – Single Version'
'You Don't Bring Me Flowers'
'Forever In Blue Jeans'
'September Morn'
'The Story Of My Life'
'Yesterday's Songs'
'I Believe In Happy Endings'
'Hello Again'
'Love On The Rocks (From "The Jazz Singer" Soundtrack)'
'Heartlight'
'Lady-Oh'
'Pretty Amazing Grace'
'Hell Yeah'
'We'
'The Art Of Love'
'America (From 'The Jazz Singer' Soundtrack)'
Format:
UK English