Rare Trane Surfaces On Verve Christmas Collection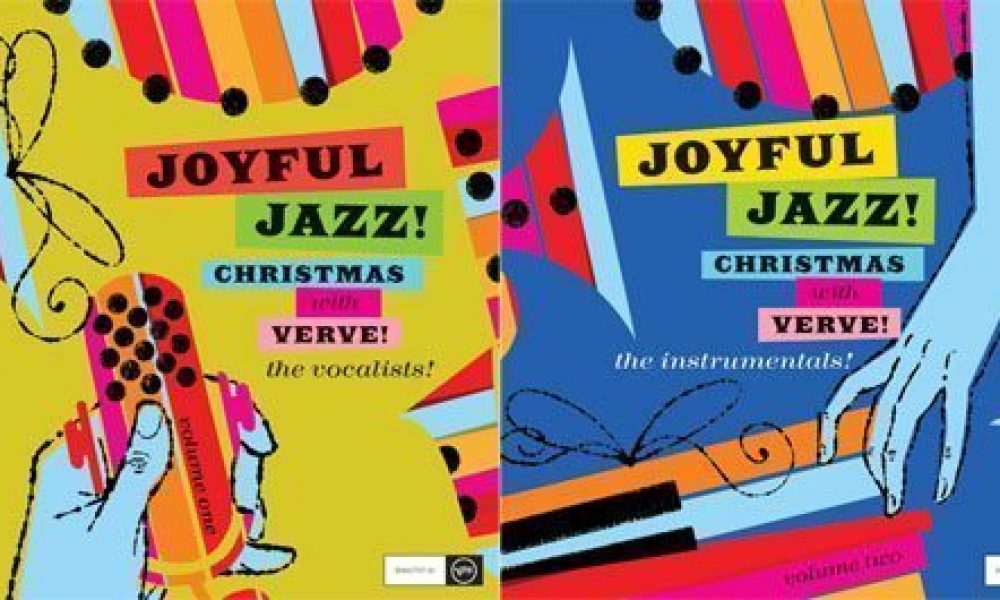 Down in the depths of the Verve vaults there remains a wealth of jazz to be heard. Surprise presents this year are the forthcoming Joyful Jazz! Christmas With Verve collections, due for release on 21 October. Among the many gems scattered across both volumes, they feature a previously unreleased Oscar Peterson recording. Recorded in 1957 with Buddy Bregman and his orchestra, 'I've Got My Love To Keep Me Warm' appears on Joyful Jazz! Christmas With Verve, Vol 2: The Instrumentals!, alongside a rarely heard alternate version of John Coltrane's 'Greensleeves', which has previously only been made available on the deluxe edition reissue of his 1963 album Ballads.
Kenny Burrell's version of 'The Little Drummer Boy' and Ramsey Lewis Trio's take on 'Here Comes Santa Claus' are other high points from The Instrumentals, while Vol 1: The Vocalists! features a sack-full of seasonal delights, including Willie Nelson and Norah Jones duetting on 'Baby, It's Cold Outside', Ella Fitzgerald's timeless version of 'White Christmas', and Louis Armstrong And The Commanders asking, ''Zat You, Santa Claus?'
Capping Verve's 60th birthday celebrations in heart-warming style, Joyful Jazz Vols 1 and 2 are the perfect soundtracks to cold evenings by the fire.
Scroll down to read the full Joyful Jazz! tracklists, and click here to follow the Christmas playlist, which features jazz classics, including Nat King Cole's 'The Christmas Song (Merry Christmas To You)', Dean Martin's 'Let It Snow! Let It Snow! Let It Snow!' and Bing Crosby's immortal 'It's Beginning To Look A Lot Like Christmas'
The full Joyful Jazz! tracklistings are:
Joyful Jazz! Christmas With Verve, Vol 1: The Vocalists!
'The Christmas Song (Chestnuts Roasting on an Open Fire)' – Mel Tormé
'Baby, It's Cold Outside' – Willie Nelson (featuring Norah Jones)
'Christmas Time Is Here' – Patti Austin
'Santa Claus Is Coming To Town' – Diana Krall With The Clayton-Hamilton Jazz Orchestra
'It Must Be Christmas' – Judy Holliday With The Gerry Mulligan Orchestra
'Peace On Earth' – Peggy Lee
'(There Is No Place Like) Home For The Holidays' – Betty Carter
'I've Got My Love To Keep Me Warm' – Billie Holiday
'I'll Be Home For Christmas' – Diane Schuur
'Peace' – Norah Jones
'White Christmas' – Ella Fitzgerald
''Zat You, Santa Claus?' – Louis Armstrong And The Commanders
'Winter Wonderland' – Shirley Horn
'Silent Night' – Dinah Washington
Joyful Jazz! Christmas With Verve, Vol 2: The Instrumentals!
'Here Comes Santa Claus' – Ramsey Lewis Trio
'Those Soulful Jingle Bells' – Mark Whitfield
'Have Yourself A Merry Little Christmas' – Tom Scott
'The Little Drummer Boy' – Kenny Burrell
'I've Got My Love To Keep Me Warm' – Oscar Peterson Quartet With Buddy Bregman And His Orchestra [previously unreleased]
'Silver Bells' – Kevin Eubanks
'Let It Snow! Let It Snow! Let It Snow!' – Nelson Rangell
'God Rest Ye Merry Gentlemen' – Jimmy Smith
'Santa Claus Is Coming To Town' – The Bill Evans Trio
'Frosty The Snowman' – Roy Hargrove And Christian McBride
'Swingle Jingle' – Lionel Hampton Sextet
'Silent Night' – Stanley Jordan
'I'll Be Home For Christmas'/'Sleigh Ride' – Eliane Elias
'Greensleeves' – The John Coltrane Quartet
Format:
UK English