Rush's Timeless '2112' Given Anniversary Box Set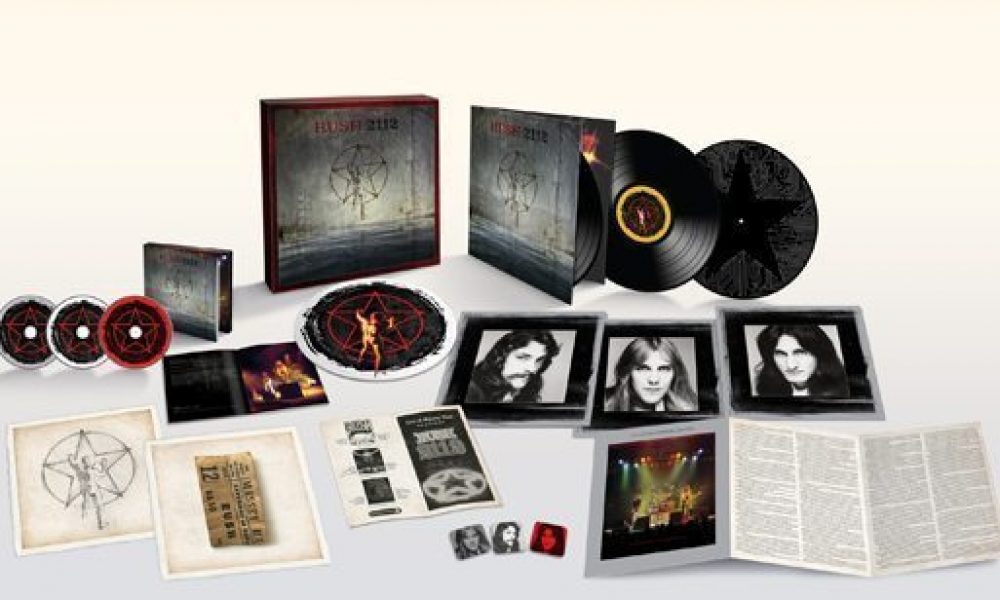 A true epic and a landmark release in Rush's long history, the prog power trio's 1976 album, 2112, is due to receive a suitably epic and landmark super deluxe edition anniversary release on 6 January 2017. In a stunning 200g 3LP pressing, with two CDs replicating the audio, plus a DVD capturing Rush at their finest on stage at the Capitol Theatre in Passaic, New Jersey, 2112 – 40th is an anniversary celebration like no other. Joining in the celebration is the Rush | Time Stand Still DVD, which, due for release on 18 November, captures the band up close and personal on their acclaimed 40th-anniversary tour of 2015.
With 2112 itself remastered at Abbey Road Studios, the super deluxe box set is also bolstered by rare live recordings (including the seldom-performed 'The Twilight Zone', plus outtakes from the group's three-night stand at Toronto's Massey Hall, 'Something For Nothing' and a 15-plus-minute performance of the title track), a studio outtakes in the shape of a version of 'Solar Federation', which features Neil Peart's isolated vocals that close the 2112 suite in 'Grand Finale', plus specially recorded album tracks by long-term Rush fans Steven Wilson (who takes on 'The Twilight Zone') and Foo Fighters' Dave Grohl and Taylor Hawkins ('Overture').
An embarrassment of riches, the super deluxe edition also features a laser-etched side of vinyl (of the hologram which featured on the 2015 vinyl reissue of the album), a turntable mat featuring Hugh Syme's iconic Starman design, plus a number of exclusive bonus items, among them two 12" x 12" lithograph prints (one of which features Syme's original sketch for the Starman character, the other a 1976 Massey Hall show ticket stub), a reprint of the 1976 Massey Hall flyer, plus three badges, each one featuring a band member.
Though the reissue will be made available on standard 2CD+DVD and 3LP formats as well, the super deluxe box set is the final word on what's hailed as one of the finest prog rock albums of all time. Available exclusively though udiscovermusic.com, us.udiscovermusic.com and rush.com, the first 1,000 pre-orders will also come with a limited edition 7" of the album's lead single, 'The Twilight Zone'/'Lessons', and Hugh Syme's newly designed red star jukebox adaptor.
The 2112 – 40th super deluxe edition is due for release on 6 January 2017. Scroll down to read the full tracklisting, and pre-order the limited-edition box set here:
2112: Overture / The Temples Of Syrinx / Discovery / Presentation / Oracle: The Dream /...
The 2112 – 40th super deluxe edition tracklisting is:
CD1: Original album newly remastered at Abbey Road Studios
2112
I 'Overture'
II 'The Temples Of Syrinx'
III 'Discovery'
IV 'Presentation'
V 'Oracle: The Dream'
VI 'Soliloquy'
VII 'Grand Finale'
'A Passage To Bangkok'
'The Twilight Zone'
'Lessons'
'Tears'
'Something For Nothing'
CD2: Rarities, live and previously unreleased material
'Solar Federation'
'Overture' (by Dave Grohl, Taylor Hawkins and Nick Raskulinecz)
'A Passage To Bangkok' (by Billy Talent)
'The Twilight Zone' (by Steven Wilson)
'Tears' (by Alice In Chains)
'Something For Nothing' (by Jacob Moon)
'2112' (live at Massey Hall 1976 outtake)
'Something For Nothing' (live at Massey Hall 1976 outtake)
'The Twilight Zone' (live 1977 contraband)
'2112 1976 radio ad'
DVD
Live At Capitol Theatre 1976
'Bastille Day'
'Anthem'
'Lakeside Park'
'2112'
'Fly By Night'
'In The Mood'
Bonus Videos
'Overture' (by Dave Grohl, Taylor Hawkins and Nick Raskulinecz)
'A Passage To Bangkok: Behind The Scenes with Billy Talent'
'2112 – 40 Years Closer: A Q&A With Alex Lifeson And Terry Brown'
200g 3LP Hologram Edition Vinyl With Custom Starman Turntable Mat
Side One
2112
I 'Overture'
II 'The Temples Of Syrinx'
III 'Discovery'
IV 'Presentation'
V 'Oracle: The Dream'
VI 'Soliloquy'
VII 'Grand Finale'
Side Two
'A Passage To Bangkok'
'The Twilight Zone'
'Lessons'
'Tears'
'Something For Nothing'
Side Three
'Solar Federation'
'Overture' (by Dave Grohl, Taylor Hawkins and Nick Raskulinecz)
'A Passage To Bangkok' (by Billy Talent)
'The Twilight Zone' (by Steven Wilson)
'Tears' (by Alice In Chains)
'Something For Nothing' (by Jacob Moon)
Side Four
'2112' (live at Massey Hall 1976 outtake)
Side Five
'Something For Nothing' (live at Massey Hall 1976 outtake)
'The Twilight Zone' (live 1977 contraband)
'2112 1976 radio ad'
Side Six
Custom vinyl etching by Hugh Syme
Exclusive Super Deluxe Bonus Items
Original Hugh Syme Starman pencil sketch lithograph
Massey Hall June 1976 ticket stub lithograph
Massey Hall June 1976 flyer
Three collector buttons
Format:
UK English