Zappa Family Trust Releases Fresh 'Meat'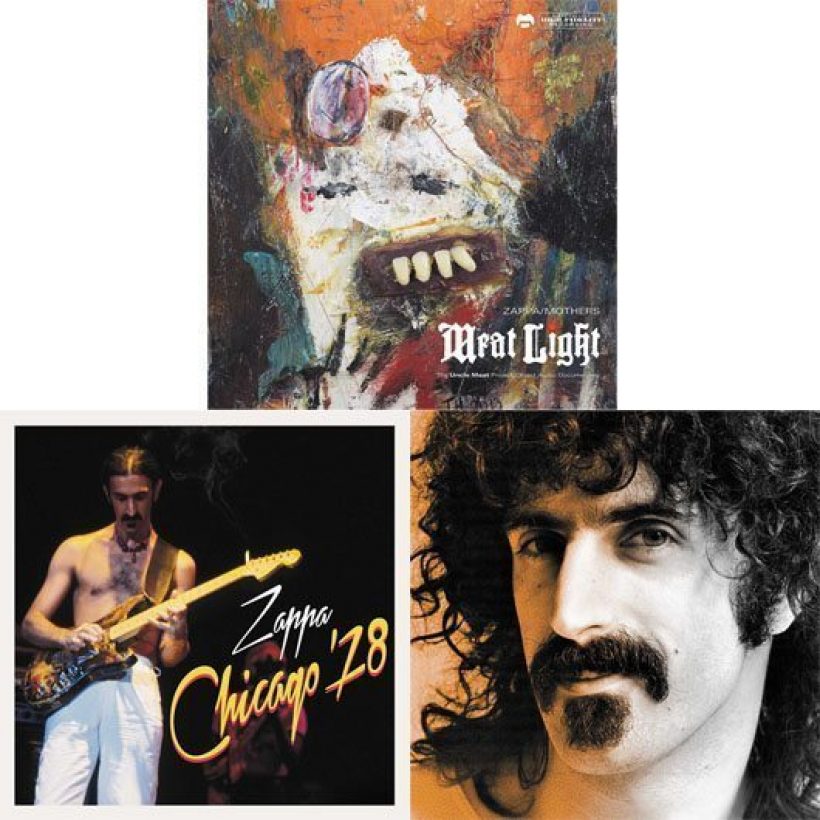 Hot on the heels of the Frank Zappa anthology ZAPPAtite: Frank Zappa's Tastiest Tracks, on 4 November the Zappa Family Trust are releasing further sumptuous cuts from the Zappa archives, notably Meat Light, a 3CD reissue of the Zappa/Mothers classic 1969 album Uncle Meat, as part of the celebrated Project/Object Audio Documentary deluxe reissue series. Containing remastered audio of the original album's 1969 vinyl release (never before issued on CD), along with Zappa's own previously unreleased original configuration of the album, plus a host outtakes, alternate mixes and live performances, it's an in-depth look at one of the most fertile periods in Zappa's career, tracing how the Uncle Meat project grew to become one of Zappa's most audaciously avant-garde projects – and the eventual soundtrack to a film that wasn't released until almost two decades after the album was completed.
Dropping in on two key years in the 70s, archival live releases  Chicago '78 and Little Dots catch Zappa on stage, in 1978 and '72, respectively, with two very different line-ups. Presenting the second of two shows performed at Chicago's Uptown Theatre on 29 September 1978, Chicago '78 sees Zappa unleash the likes of 'Don't Eat The Yellow Snow' and 'Honey, Don't You Want A Man Like Me?' alongside live improvisations that contain the seeds for what would the following year became a Joe's Garage highlight, 'Crew Slut', plus 'I'm A Beautiful Guy', which was released on 1981's You Are What You Is. With rare live performances of 'Yo Mama' and 'Strictly Genteel' in the mix, Chicago '78 proves that, at the height of punk, Frank Zappa was no less an anarchic force in music.
Tracing things back to 1972, Little Dots drops in on Zappa's short-lived "Petit Wazoo" period, October to December '72, during which he toured with a 10-piece band focused largely on arrangements for brass and woodwind. A follow-up to the 2006 collection Imaginary Diseases, Little Dots boasts the first ever official release of the three-part Rollo suite, along with an early version of 'Cosmik Debris', a fan favourite later re-recorded for 1974's Apostrophe ('), and a 25-minute improv jam that catches Zappa at his finest on stage.
Meat Light, Chicago '78 and Little Dots are due for release on 4 November. Scroll down to listen to Uncle Meat and read the full tracklistings.
Meat Light
CD1: Original 1969 Vinyl Mix
'Uncle Meat: Main Title Theme'
'The Voice Of Cheese'
'Nine Types Of Industrial Pollution'
'Zolar Czackl'
'Dog Breath, In The Year Of The Plague'
'The Legend Of The Golden Arches'
'Louie Louie' [live at the Royal Albert Hall in London]
'The Dog Breath Variations'
'Sleeping In A Jar'
'Our Bizarre Relationship'
'The Uncle Meat Variations'
'Electric Aunt Jemima'
'Prelude To King Kong'
'God Bless America' [live at the Whisky A Go Go]
'A Pound For A Brown On The Bus'
'Ian Underwood Whips It Out' [live on stage in Copenhagen]
'Mr Green Genes'
'We Can Shoot You'
'If We'd All Been Living In California…'
'The Air'
'Project X'
'Cruising For Burgers'
'King Kong (As Played By The Mothers In A Studio)'
'King Kong (Its Magnificence As Interpreted By Dom DeWild)'
'King Kong (As Motorhead Explains It)'
'King Kong (The Gardner Varieties)'
'King Kong (As Played By 3 Deranged Good Humor Trucks)'
'King Kong (Live On A Flatbed Diesel In The Middle Of A Race Track At A Miami Pop Festival… The Underwood Ramifications)'
CD2: Original Sequence
Part One
'Dog Breath, In The Year Of The Plague'
'The Legend Of The Golden Arches'
'The Voice Of Cheese'
'Whiskey Wah'
'Nine Types Of Industrial Pollution'
'Louie Louie' [live at the Royal Albert Hall in London]
'The Dog Breath Variations'
'Shoot You Percussion Item'
Part Two
'The Whip'
'The Uncle Meat Variations'
'King Kong'
Part Three
'Project X Minus .5'
'A Pound For A Brown On The Bus'
'Electric Aunt Jemima'
'Prelude To King Kong'
'God Bless America' [live at the Whiskey A Go Go]
'Sleeping In A Jar'
'Cops & Buns'
'Zolar Czakl'
CD3: Original Sequence (Continued)
Part Four
'We Can Not Shoot You'
'Mr Green Genes'
'PooYeahrg'
'Uncle Meat: Main Title Theme'
'Our Bizarre Relationship'
'Later We Can Shoot You'
'If We'd All Been Living In California…'
''Ere Ian Whips It/JCB Spits It/Motorhead Rips It'
'The Air'
'Project X .5'
'Cruising For Burgers'
From The Vault
'"A Bunch Of Stuff"'
'Dog Breath' [single version – stereo]
'Tango'
'The String Quartet' [mono]
'Electric Aunt Jemima' [mix outtake]
'Exercise 4 Variant'
'Zolar Czackl' [mix outtake]
'"More Beer!"'
'Green Genes Snoop'
'Mr Green Genes' [mix outtake]
'Echo Pie'
'1/4 Tone Unit'
'Sakuji's March'
'No.4' [Mono]
'Prelude To King Kong (Extended Version)' [mono]
'Blood Unit' [mono]
'My Guitar (Proto I – Excerpt)' [mono]
'Nine Types Of Industrial Pollution' [guitar track, normal speed]
'Uncle Meat' [live at Columbia University 1969]
'Dog Breath (Instrumental)' [mono]
'The Dog Breath Variations' [mix outtake]
Little Dots
'Cosmik Debris'
'Little Dots (Part 1, Part 2)'
'Rollo Includes: Rollo/The Rollo Interior Area/Rollo Goes Out'
'Kansas City Shuffle'
'"Columbia, SC" (Part 1, Part 2)'
Chicago '78
CD1
'Chicago Walk-On'
'Twenty-One'
'Dancin' Fool'
'Easy Meat'
'Honey, Don't You Want A Man Like Me?'
'Keep It Greasy'
'Village Of The Sun'
'The Meek Shall Inherit Nothing'
'Bamboozled By Love'
'Sy Borg'
CD2
'Little House I Used To Live In'
'Paroxysmal Splendor'
'Yo Mama'
'Magic Fingers'
'Don't Eat The Yellow Snow'
'Strictly Genteel'
'Black Napkins'
Format:
UK English