Nicki Minaj, Ariana Grande Among The Winners At 2018 MTV Video Music Awards
Broadcast live from NYC's Radio City Music Hall, the event also featured live performances from Ariana Grande and Aerosmith with Post Malone.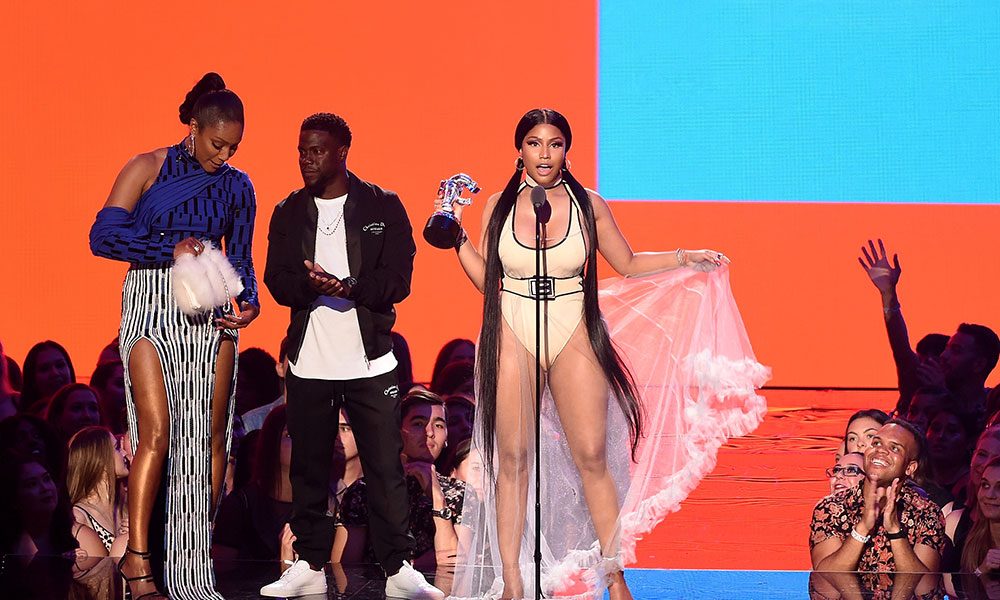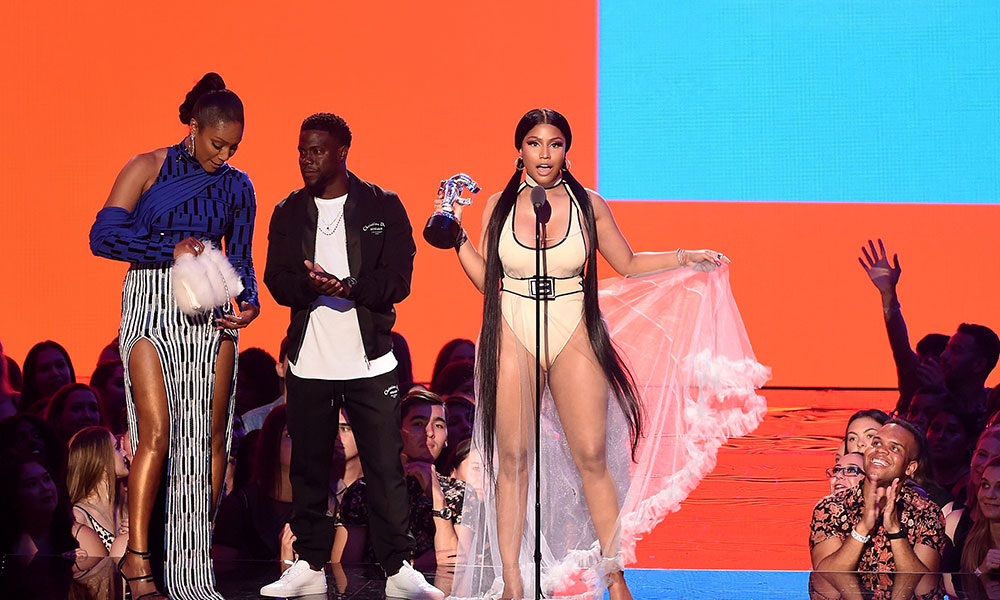 The 2018 MTV Video Music Awards were broadcast live last night, 20 August, from New York's prestigious Radio City Music Hall, with Nicki Minaj, Ariana Grande, Imagine Dragons, Post Malone and Childish Gambino among the winning artists. You can check out a list of all of the award winners below.
The show started with a pre-show performance by newcomer Bazzi who performed atop of the Radio City Music Hall marquis before Cardi B introduced the show holding a Baby Moonman that she was swaddling.
As promised, Nicki Minaj gave a spectacular off-site performance downtown at New York's Oculus transportation hub, with a medley of songs from her new album Queen including 'Majesty', 'Barbie Dreams' and 'Ganja Burns' with regal costuming to match.
Nicki Minaj tore up the #VMAs stage with a killer performance #BillboardNews pic.twitter.com/PMrduZcwLO

— billboard (@billboard) August 21, 2018
The closing set was a surprising rock-rap hybrid for a new generation, after 21 Savage and Post Malone performed their chart-conquering single 'Rockstar', they lived out their rock star fantasies, backing for Aerosmith as the band launched into their iconic anthem 'Dream On' and followed by the title track 'Toys In The Attic'
But the real defining performance of the 2018 MTV Video Music Awards was by Ariana Grande who recreated an all-female version of The Last Supper with tightly choreographed backing dancers and sang her devotional single 'God Is A Woman', closing out her performance by bringing her mother, aunt and grandmother on stage with her.
Ariana Grande - God is a woman (Live on The MTV VMAs/2018)
The much anticipated event of the evening was Jennifer Lopez who was there to receive the Video Vanguard Award. JLO performed a medley of all her top hits over the past two decades with nearly a costume change for each one, and backing dancers decked in Timbs, to remind us all she's still Jenny from the block.
Madonna was on hand to present the award for Video of the Year at the end of the ceremony and ended up paying tribute to Aretha Franklin while onstage. The iconic artist told an anecdote about her early days as a struggling musician and how singing 'Natural Woman' helped put her on a path to success.
"None of this would have happened, could have happened without our Lady of Soul. She led me to where I am today," she said. "And I know she influenced so many people in this house tonight. I want to thank you, Aretha, for empowering all of us. R-E-S-P-E-C-T."
The full list of winners at the 2018 MTV Video Music Awards was as follows:
Video of the Year: Camila Cabello – 'Havana' [ft. Young Thug]
Best Pop Video: Ariana Grande – 'No Tears Left to Cry'
Best Hip Hop Video: Nicki Minaj – 'Chun-Li'
Best Dance Video: Avicii – 'Lonely Together' [ft. Rita Ora]
Best Latin Video: J Balvin – 'Mi Gente' [ft. Willy William]
Best Rock Video: Imagine Dragons – 'Whatever It Takes
Best Visual Effects: Kendrick Lamar & SZA – 'All The Stars' (from Black Panther soundtrack)
Best Collaboration: Jennifer Lopez – 'Dinero' [ft. DJ Khaled & Cardi B]
Best New Artist: Cardi B
Artist of the Year: Camila Cabello
Song of the Year: Post Malone – 'Rockstar' [ft. 21 Savage]
Push Artist of the Year: Hayley Kiyoko
Song of Summer: Cardi B / Bad Bunny / J Balvin: 'I Like It'
Michael Jackson Video Vanguard Award: Jennifer Lopez
Video With A Message: Childish Gambino – 'This Is America'
Best Cinematography: The Carters – 'APES**T'
Best Direction: Childish Gambino – 'This Is America'
Best Art Direction: The Carters – 'APES**T'
Best Choreography: Childish Gambino – 'This Is America'
Best Editing: N.E.R.D – 'Lemon' [ft. Rihanna]
Format:
UK English