Aerosmith Announce Return Of 'Deuces Are Wild' Las Vegas Residency
The new run of shows begins on Friday, June 17 at the Nevadan city's Dolby Live at Park MGM.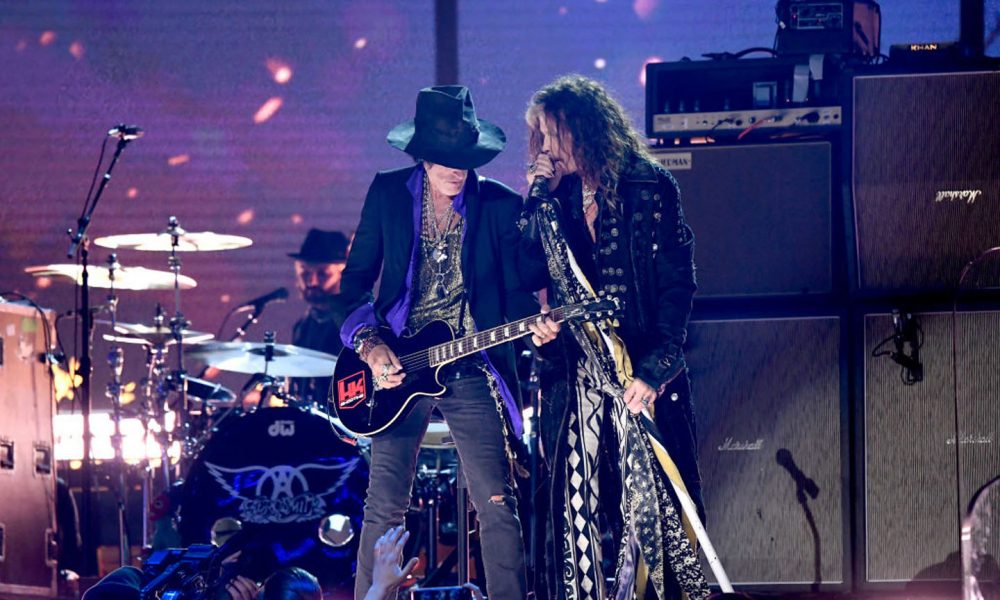 As part of the continued celebration around their 50th anniversary, four-time Grammy-winning and diamond-certified rock legends Aerosmith have announced the return of their Las Vegas residency, 'Aerosmith: Deuces Are Wild', at Dolby Live at Park MGM, beginning Friday, June 17, 2022.
The incredible show will be the first live concert experience presented in Dolby Atmos at Dolby Live. Dolby Live is one of the world's most technologically advanced performance venues for enjoying live music in Dolby Atmos.
"The only rust at Dolby Live is going to be on our van in the lobby! We are locked, cocked and loaded!" said singer Steven Tyler.
Since opening in April 2019 at Park MGM, "Aerosmith: Deuces Are Wild" has received rave reviews from fans and critics alike. Variety called the show a "multi-sensory spectacular" while People described it as "an audible history of the group's five decades." The Wrap wrote "Aerosmith still rocks, hard, not in spite of their five decades but because of them," with the Atlanta Journal-Constitution saying that the show "offers fiery spectacle, deep cuts and hits," and that they "are rock pioneers triumphing in a new environment."
Members of Aerosmith's Aero Force One fan club will receive access to an exclusive pre-sale beginning Thursday, March 24 at 9 a.m. PT. Citi is the official card of the band's residency at Park MGM. Citi card members will have access to presale tickets beginning Friday, March 25 at 10 a.m. PT through the Citi Entertainment program.
Members of MGM Rewards, MGM Resorts International's loyalty rewards program, as well as Live Nation and Ticketmaster customers, will receive access to a pre-sale beginning Monday, March 28 at 10 a.m. PT. All pre-sales end Wednesday, March 30 at 10 p.m. PT. Tickets starting at $75 go on sale Thursday, March 31 at 10 a.m. PT. Visit the band's official website for more information.
The centerpiece of "Aerosmith: Deuces Are Wild" is the electrifying 90-minute live performance from the band who continue to deliver one of the most innovative and thrilling performances in music. The band goes beyond the average concert, taking fans on a deep dive of their ground-breaking career with exclusive, unreleased audio and never-before-seen visuals from Aerosmith's archives featured through a 12-screen media presentation (including a 140 ft x 40 ft high-def screen) produced by Oscar- and Emmy-winning global visual effects studio Pixomondo. Using cutting-edge technology, Pixomondo also brings to life Aerosmith's infamous logo — the wings — which magically unfold to herald the band's arrival on stage.
Aerosmith's new 'Deuces Are Wild' dates in Las Vegas are as follows:
June 2022: 17, 20, 23, 26, 29
July 2022: 2, 5, 8
September 2022: 14, 17, 20, 23, 26, 29
October 2022: 2, 5
November 2022: 19, 23, 26, 29
December 2022: 2, 5, 8, 11.
Listen to the best of Aerosmith on Apple Music and Spotify.