Listen To An Exciting Alternate Version Of Frank Zappa's 'Magic Fingers'
The track features on the upcoming, super deluxe 50th anniversary edition of '200 Motels'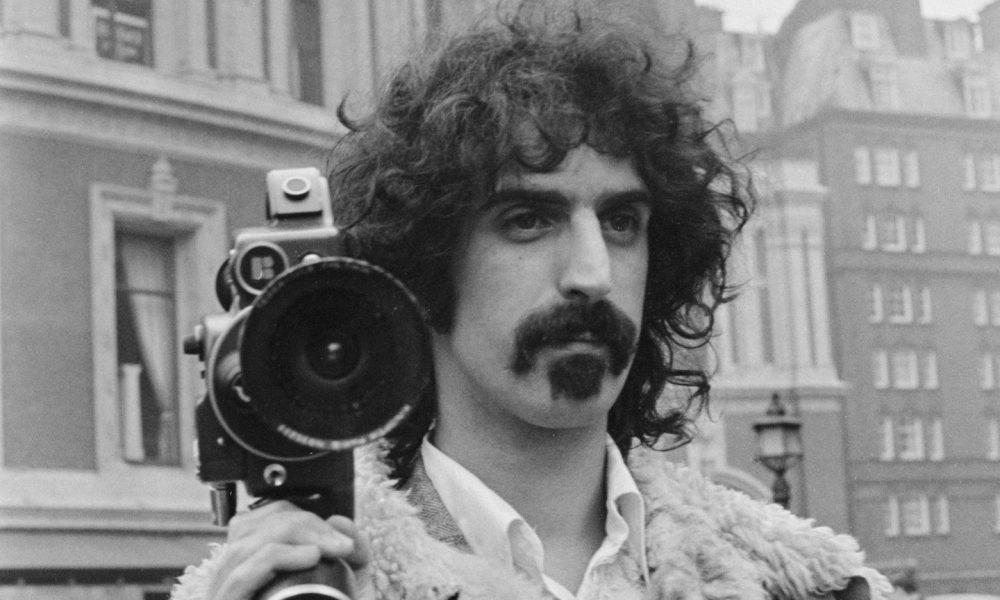 The Zappa Trust and UMe have shared an exciting, previously unreleased alternate version of "Magic Fingers" from the forthcoming 50th anniversary edition of Frank Zappa's 200 Motels, set for release on December 17.
The new version of "Magic Fingers" is subtitled 'Version B, Mix outtake.' It comes from the demo sessions, recorded in August 1970 at Whitney Studios, and features on the new collection's second disc alongside a handful of outtakes and alternate takes of other soundtrack standouts like "Tell Me You Love Me," "Road Ladies," "What Will This Morning Bring Me This Evening," and "What Will This Evening Bring Me This Morning."
"Magic Fingers (Version B, Mix Outtake)" starts off like the original but then takes a wild detour halfway through, trading Zappa's extended guitar workout for a rollicking mix of rock and roll motifs crammed into an exhilarating three minutes.
Magic Fingers (Demo (Version B - Mix Outtake))
Fully authorized by the Zappa Trust and produced by Ahmet Zappa and Zappa Vaultmeister Joe Travers, the new, super deluxe six-disc edition of Frank Zappa's 200 Motels 50th Anniversary Edition, boasts a new remaster of the original soundtrack, demos, studio outtakes, work mixes, interviews and movie ads, along with newly discovered dialog reels, revealing an early audio edit of the film. Also included in the collection is a wealth of never-before-heard audio documentary material surrounding the project.
Discs 1 and 2 feature the remastered soundtrack with the second half of the second disc consisting of demos and demo outtakes; two of the many highlights from these sessions include unreleased alt mixes and alt takes of the Chunga's Revenge tunes, "Road Ladies" and "Tell Me You Love Me." Discs 3 and 4 contain the "Dialog Protection Reels," which reveal an early version of the movie, while Disc 5 and 6 present unreleased outtakes, alternates and historical nuggets sequenced in the order of the original shooting script, the way Zappa originally envisioned before he ran into time and budget constraints. These illuminating discs reveal Zappa's original intent for the film for the first time.
The remastered 200 Motels soundtrack, by Bernie Grundman at Bernie Grundman Mastering, will also be reissued on vinyl as a 2LP pressed on 180-gram black vinyl and also as a limited edition red vinyl pressing on 180-gram vinyl, which will only be available exclusively through Zappa.com, uDiscoverMusic.com or SoundofVinyl.com.
Both will be pressed by Optimal Media in Germany and be the first time the album has been available on vinyl in decades. The soundtrack will also be released on 2CD and all formats will include a smaller version of the movie poster. Additionally, the entire Super Deluxe Edition box set will be available digitally for streaming and download, marking the soundtrack's digital debut, in both standard and hi-res audio. Pre-order for all configurations is available now.
Released in October 1971, Frank Zappa's 200 Motels was a miraculous feat, a cinematic collision of the venerated musician and composer's kaleidoscopic musical and visual worlds that brought together Zappa and his band, The Mothers, Ringo Starr as Zappa – as "a large dwarf" – Keith Moon as a perverted nun, Pamela Des Barres in her acting debut, noted thespian Theodore Bikel, the Royal Philharmonic Orchestra, and an incredible assortment of characters (both on-screen and off) for a "surrealistic documentary" about the bizarre life of a touring musician.
A heady, psychedelic stew of low and high brow art forms, the film, written by Zappa and co-directed by him and Tony Palmer, mixed together irreverent comedic skits, madcap satire, eye-popping animation, and virtuosic on-screen musical performances from both The Mothers and the RPO for a fascinating and free-wheeling multimedia extravaganza.
The music, and its corresponding soundtrack, was equally diverse, a wild pastiche of avant garde rock and orchestral compositions interspersed with dialog from the film. Up until that time, compositions like the finale piece, "Strictly Genteel," were some of the most ambitious material ever written and recorded by Zappa.
The band in the film and on the soundtrack consisted of Frank Zappa (guitar & bass), Mark Volman (vocals & special material), Howard Kaylan (vocals & special material), Ian Underwood (keyboards & winds), Aynsley Dunbar (drums), George Duke (keyboards & trombone), Martin Lickert (bass), Jimmy Carl Black (vocals), and Ruth Underwood (orchestra drum set), not to mention the aforementioned Royal Philharmonic Orchestra.
Frank Zappa 200 Motels is out on December 17 and available for pre-order.