Andrew Lloyd Webber Celebrates 70th Birthday With 'Unmasked: The Platinum Collection'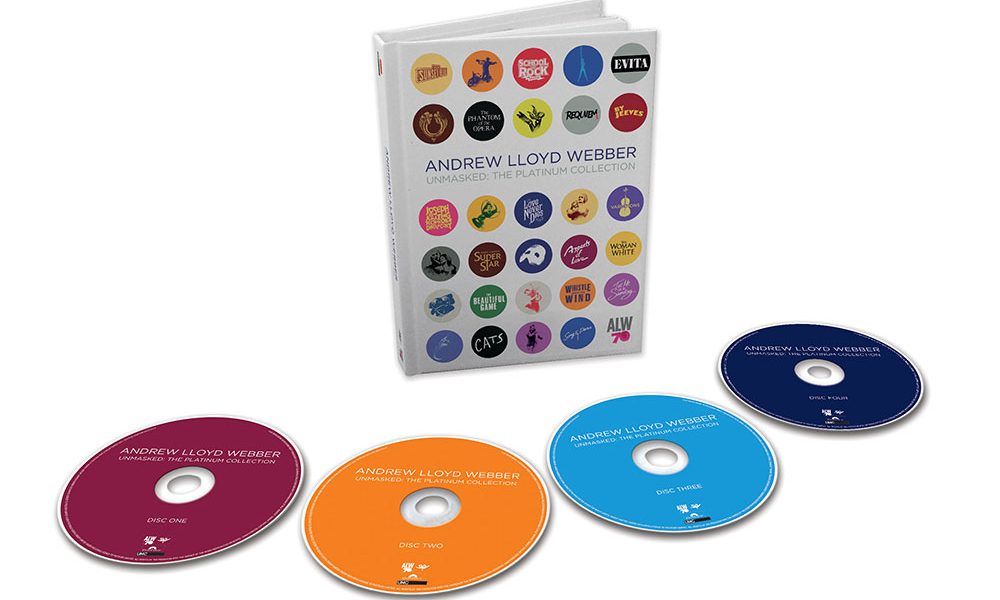 In celebration of his 70th birthday, Andrew Lloyd Webber releases Unmasked: The Platinum Collection on 16 March through UMC/Polydor. The collection is personally curated and overseen by Lloyd Webber to include classics from his earliest work starting with 1968's Joseph And The Amazing Technicolor Dreamcoat through his most recent School of Rock.
The new collection will be available in 2 CD and 4 CD editions. The deluxe 4-disc version contains an exclusive 40-page book with a personally penned introduction from Lloyd Webber and more in-depth notes on each track, written by respected theatre critic and Lloyd Webber biographer Michael Coveney, together with personally written tributes from Barbara Streisand and Glenn Close among others.
Of the new album, Lloyd Webber says: "I owe everyone involved in putting this compilation together a huge thank you. A vast amount of thought has evidently gone into selecting tracks from my almost fifty year old career.  This compilation brings back a heap of memories – it has made this ancient composer very happy. I particularly love the new tracks and of course I love the orchestral suites. There's nothing a composer likes more than hearing their melodies played by a cracking orchestra."
As one of the most successful composers of the modern era, Andrew Lloyd Webber's repertoire includes some of the world's most celebrated musicals; Sunset Boulevard, Cats, Aspects Of Love, Joseph and the Amazing Technicolor Dreamcoat, Jesus Christ Superstar, Evita, Starlight Express, The Phantom of The Opera, School of Rock and Love Never Dies – to name but a few.
Newly recorded songs from superstar artists Nicole Scherzinger ('Memory', Cats), Gregory Porter ('Light at the End of the Tunnel', Starlight Express) and Lana Del Rey ('You Must Be Love', Evita) add to the collection of his cherished works from the past five decades.
The Cats classic 'Memory' by Nicole Scherzinger is available now as an instant grat track. Scherzinger says, "Andrew's music absolutely influenced me as an artist. I grew up listening to his music. I grew up listening to Jesus Chris Superstar, Joseph and the Technicolor Dreamcoat, Evita, you just know it's his music when you hear the arrangements, when you hear the strings, the orchestra, the synths."
The set also contains recordings by world-class performers such as Barbra Streisand, Madonna, Michael Crawford, Sarah Brightman, Michael Ball, and released for the first time, Beyonce singing 'Learn To Be Lonely' from the 2005 Academy Awards with Lloyd Webber accompanying on piano.
The fourth disc encompasses a mix of overtures and showstoppers from Lloyd Webber's key works, as well as newly created orchestral suites. The five new orchestral suites have been specially prepared from existing recordings to give a précis to Lloyd Webber's dearest shows, emphasising the grand orchestral aspects of his work. All CDs were mastered at Abbey Road Studios.
As the most successful composer of musicals in history, Lloyd Webber's productions have sold more than 330 million tickets worldwide. The Phantom of the Opera is the second longest-running show in West End history. Cats and The Phantom of the Opera are two of Broadway's four highest grossing shows. In addition to his worldwide sales and audiences, Lloyd Webber has been recognised by critics and peers with numerous accolades and awards including seven Oliviers, seven Tonys, three Grammys, one Golden Globe and an Oscar.
Also in celebration of his 70th birthday, Lloyd Webber's new autobiography Unmasked, will be released on March 6th by Harper Collins. Written entirely in his own words, Lloyd Webber recounts his fascinating life and remarkable career.
The 4CD deluxe edition of Unmasked: The Platinum Collection will be released on 16 March. Scroll down to read the full tracklisting and pre-order it here.
Andrew Lloyd Webber: Unmasked: The Platinum Collection
CD1:
'Superstar' – Murray Head & The Trinidad Singers
'The Phantom Of The Opera' – Sarah Brightman & Michael Crawford
'Oh What A Circus' – Antonio Banderas & Madonna
'Love Changes Everything' – Michael Ball
'Stick It To The Man' – Alex Brightman & The Broadway Cast Of School Of Rock
'Memory' – Nicole Scherzinger
'No Matter What' – Boyzone
'With One Look' – Barbra Streisand
'Buenos Aires' – Glee Cast
'Don't Cry For Me Argentina' – Julie Covington
'Take That Look Off Your Face' – Marti Webb
'I'm Hopeless When It Comes To You' – Joanna Riding
'Light At The End Of The Tunnel' – Gregory Porter
'The Music Of The Night' – Michael Crawford
'Gethsemane (I Only Want To Say)' – Ian Gillan
'Any Dream Will Do' – Donny Osmond
'Amigos Para Siempre' – Sarah Brightman & José Carreras
'I Don't Know How To Love Him' – Yvonne Elliman
CD2:
'As If We Never Said Goodbye' – Glenn Close
'Theme And Variations 1-4' – Andrew Lloyd Webber
'Unexpected Song' – Sarah Brightman
'You Must Love Me' – Lana Del Rey
'Everything's Alright' – Yvonne Elliman, Ian Gillan & Murray Head
'The Vaults Of Heaven' – Tom Jones & The Sounds Of Blackness
'Another Suitcase In Another Hall' – Madonna
'You're In The Band' – Broadway Cast Of School Of Rock
'It's Easy For You' – Elvis Presley
'Cold' – The Everly Brothers
'Come Back With The Same Look' – Denise Van Outen
'I Am The Starlight' – Mica Paris & George Ure
'Mr. Mistoffelees' – Paul Nicholas
'Tell Me On A Sunday' – Michael Crawford
'Think Of Me' – Emmy Rossum & Patrick Wilson
'Rainbow High' – Elaine Paige
'All I Ask Of You' – Cliff Richard & Sarah Brightman
'Wishing You Were Somehow Here Again (Live At The Royal Albert Hall)' – Sierra Boggess
'Learn To Be Lonely' (Live At The Oscars)' – Beyoncé & Andrew Lloyd Webber
CD3:
'Jacob & Sons/Coat Of Many Colours' – Janet Metz, Donny Osmond, Michael Fletcher & The Canadian Cast
'Close Every Door' – Donny Osmond
'Heaven On Their Minds' (Live – Arena Tour) – Tim Minchin
'King Herod's Song' – Alice Cooper
'Skimbleshanks' – Ken Wells & The Original London Cast Of Cats
'Macavity: The Mystery Cat' – Wendy Edmead & Donna King
'You've Never Had It So Good' – Stephen Ward Original London Cast
'I'd Be Surprisingly Good For You' – Elena Roger & Philip Quast
'Evermore Without You' – Martin Crewes
'I Believe My Heart' – Duncan James & Keedie
'If Only You Would Listen' – The Broadway Cast Of School Of Rock
'Sing' – Military Wives
'Hosanna' – Jesus Christ Superstar London Cast
'Hosanna' – Plácido Domingo, Sarah Brightman & The Choir Of Winchester Cathedral
'Pie Jesu' – Sarah Brightman & Paul Miles-Kingston
'By Jeeves' – Steven Pacey, Simon Day & Nicholas Haverson
'Where Did The Rock Go?' – Florence Andrews
CD4:
'Phantom Phantasy' • Original London Orchestra
'Masquerade' – Original Motion Picture Cast
'Til I Hear You Sing' – Ramin Karimloo
'Love Never Dies Orchestral Suite' – Original London Orchestra
'Love Never Dies' – Sierra Boggess
'The Beauty Underneath' – Ben Lewis & Casey Lyons
'Variations On Variations' – Andrew Lloyd Webber
'Jesus Christ Superstar Overture' – Original Jesus Christ Superstar Orchestra
'Overture And The Beautiful Game' – Original Cast And Orchestra From The Beautiful Game
'If This Is What We're Fighting For' – Josie Walker
'Cats Overture' – The Original London Orchestra
'The Jellicle Ball' – Cats Motion Picture Orchestra
'Sunset Suite' – Original Broadway Orchestra
'Sunset Boulevard' – Kevin Anderson
'Aspects Of Aspects' – Orchester Der Vereinigten Buehnen Wien
'Seeing Is Believing' – Michael Ball & Sarah Brightman
'Anything But Lonely' – Sarah Brightman
Format:
UK English