'Sleeping Beauty': Disney's Enchanting Classic
The animated feature was one of Walt Disney's most spectacular movies at the time. Its soundtrack was equally as ambitious.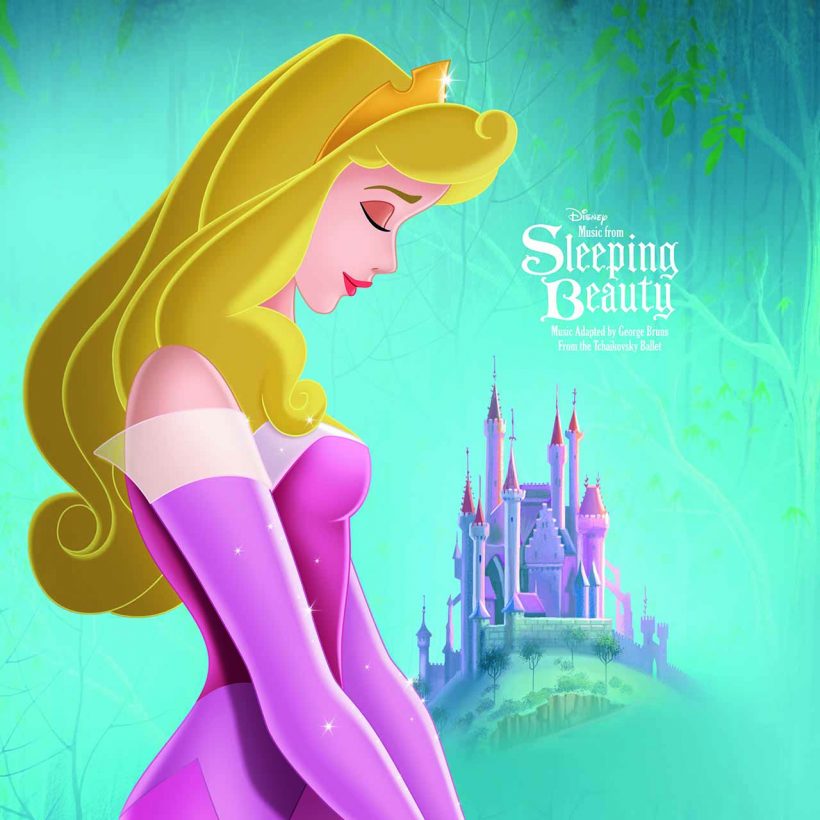 Sleeping Beauty was one of Walt Disney's most spectacular movies at the time of its release in January 1959. With costs running to $6 million, it was the most expensive animated feature film there had ever been. It was the first Disney animated feature to be photographed in widescreen (using the then-cutting edge Super Technirama 70 process) and also the first to have a true stereo soundtrack. Most importantly though, thanks to its timeless storyline, fantastic animation, and beautiful soundtrack, Sleeping Beauty has cast successive generations of movie lovers under its spell.
Walt Disney first discussed making an animated feature film of French author Charles Perrault's 1697 fairytale – in which the beautiful Princess Aurora was magically awakened by a dashing prince – as far back as 1938. Planning for the movie began in 1950 and a completed storyboard presentation was given in July 1952 by studio staff. But Walt was concerned that these early sketches risked a repetition of former glories and asked staff to go back to the drawing board. He later said, "It had many of the elements we had already used in Snow White and Cinderella. You've got to give the creators new things to work with, so they'll be able to keep their enthusiasm up. You're in trouble if they start saying, 'Haven't we done this before?'"
Listen to the Sleeping Beauty soundtrack on Spotify or Apple Music now.
Work on Sleeping Beauty also took a back seat in the mid-50s because Disney was pouring many of its resources into opening Disneyland. The film only began in earnest when Disney – who wanted the movie to look like a "moving illustration" – appointed one of the studio's star artists, Eyvind Earle, as color stylist and artistic director. Earle's meticulous attention to detail and interest in pre-Renaissance, Gothic, and Medieval art created a new kind of heavily-stylized aesthetic for a Disney picture, as he recalled in the 1997 documentary Once Upon A Dream: The Making Of Sleeping Beauty, "[there was] a great amount of research into Medieval painting and architecture before we arrived at the right styling for this picture."
Another pivotal point came with the appointment of George Bruns as the film's composer. Walt later revealed, "Our inspiration for Sleeping Beauty was the wonderful score by Pyotr Tchaikovsky for his ballet version of the fairy tale." Bruns was a musical all-rounder, a multi-instrumentalist, arranger, and musical director who had played with jazz bands and worked in broadcasting, as well as scoring short films and cartoons. Bruns spent three years studying and experimenting with Tchaikovsky's music, working closely with the filmmakers to emulate the film's visual style in its music.
An Unusual Prince/Once Upon a Dream (From "Sleeping Beauty")
The study paid off. As Mary Costa – the actress and singer who voiced Princess Aurora, Sleeping Beauty herself – told Animated Views in 2008: "George Bruns had a great feeling for orchestration and arrangements," Costa reflected. "Walt was so fascinated with the Tchaikovsky Sleeping Beauty ballet. When he would talk to me about it, he would say how the sweeping, romantic melodies would so fit the story of Sleeping Beauty. And George Bruns knew that, too. He was very sensitive and innately musical. So, he was able to really, really work with Walt beautifully. I don't think they ever had any run-ins in any way because I think they were so very in tune."
Sleeping Beauty | I Wonder | Disney Sing-Along
Costa was the perfect choice for the role of Princess Aurora – the young actress' operatic range meant that she could do the songs justice. "Once Upon A Dream" was the romantic centerpiece of the movie, a swooning waltz that is reprised when Prince Phillip (played by Bill Shirley) breaks the spell cast upon the princess. Costa's remarkable vocal talents were also to the fore on "I Wonder," in which the nature-loving Princess Aurora duets with friendly woodland birds before launching into a bewitching melody based on the third strain of "The Garland Waltz." Elsewhere, the stirring "Hail to the Princess Aurora," sung by the heroine's adoring subjects, was based on the march from the ballet's prologue. And when Bruns struggled to find a melody in the original ballet to fit a scene – as with "Skumps," sung by King Stefan and King Hubert to toast the children's upcoming wedding – he simply wrote a melody in the style of Tchaikovsky.
As with the animation, Disney spared no expense when it came to the recording of the soundtrack. There was a musicians' strike in the United States, so Bruns was sent to a state-of-the-art recording studio in Berlin to record with the prestigious Graunke Symphony Orchestra. The result was extraordinary, and Bruns was eventually nominated for an Academy Award for Best Scoring Of A Musical Picture for Sleeping Beauty.
Sleeping Beauty was another hugely ambitious project for Walt Disney and, initially, the public were not quite on his wavelength. The movie struggled to break even. Over the years, however, it has become a much-loved Disney classic, with each cinema run and home video release adding to its allure and enchanting a whole new audience. It was a dream of Disney's to bring the Tchaikovsky ballet to the big screen and, with a little help from George Bruns and Mary Costa, it came true.
Listen to the Sleeping Beauty soundtrack on Spotify or Apple Music now.