Watch First Official Clip From Peter Jackson's 'The Beatles: Get Back'
In a new interview, Jackson describes his access to nearly 60 hours of archive film for the project as an 'impossible fan dream.'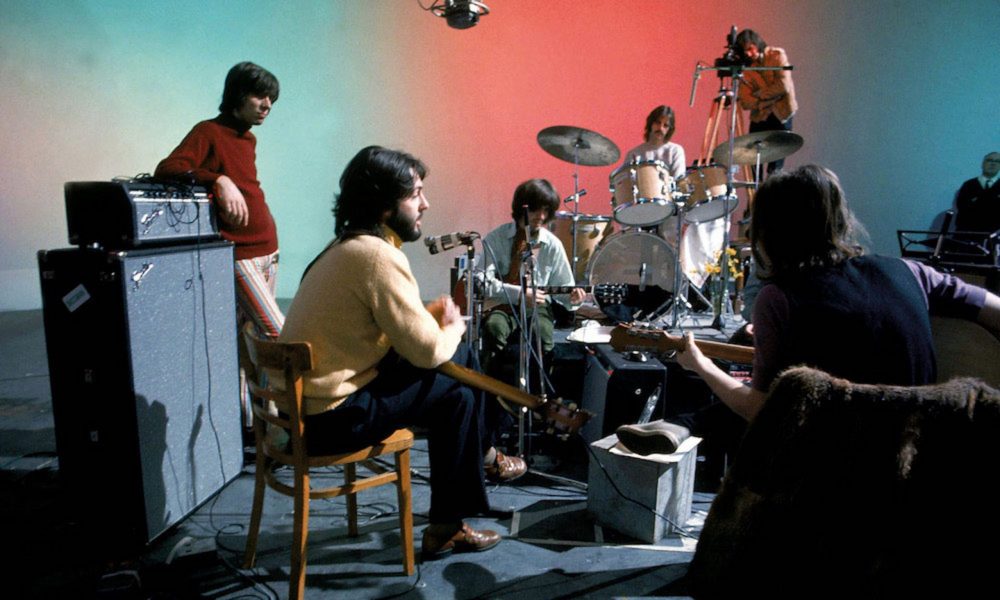 The first official clip has been shared from Peter Jackson's hugely-anticipated film The Beatles: Get Back, which premieres in three parts on Disney+ over the Thanksgiving weekend, from November 25.
The clip, which is available on The Beatles' official social media channels and their YouTube channel, can be seen below. The short excerpt features the band in the studio doing an early run-through of "I've Got A Feeling," sitting on wooden chairs on the Twickenham Studios soundstage.
The excerpt follows the appearance last month of the trailer for the documentary, as anticipation continues to grow for the three-part event, made by Jackson and his team from 57 hours of footage of the group at work in January 1969, and more than 150 hours of unheard audio. Some of the film footage was the basis of Michael Lindsay-Hogg's 1970 film Let It Be, but most of it has remained unseen for more than 50 years.
In a new interview with the New York Times, the Oscar-winning Jackson (The Lord of the Rings trilogy, They Shall Not Grow Old) has spoken of his almost incredulous delight at being granted the keys to this archive treasure. "It's sort of that one impossible fan dream," he says. "'I wish I could go in a time machine and sit in the corner of the stage while they were working. Just for one day, just watch them, and I'll be really quiet and sit there.'" Then he adds: "Well, guess what? The time machine's here now."
Jackson says that he was given no brief except to restore the film and to tell the whole story of those Beatles sessions at Twickenham Studios. Because The Beatles and Apple Corps have authorized the film, says the director in the new interview, "Everyone sort of thinks it's a whitewash…but actually it's almost the exact opposite. It shows everything that Michael Lindsay-Hogg could not show in 1970. It's a very unflinching look at what goes on." He adds: "You see these four great friends, great musicians, who just lock in and develop these songs, and you see it all onscreen."
Listen to the best of The Beatles on Apple Music and Spotify.