Billie Eilish To Perform 'Therefore I Am' And The Beatles' 'Something' On SiriusXM
Joined by her brother Finneas, Eilish will also be performing 'Everything I Wanted' and 'Ocean Eyes.'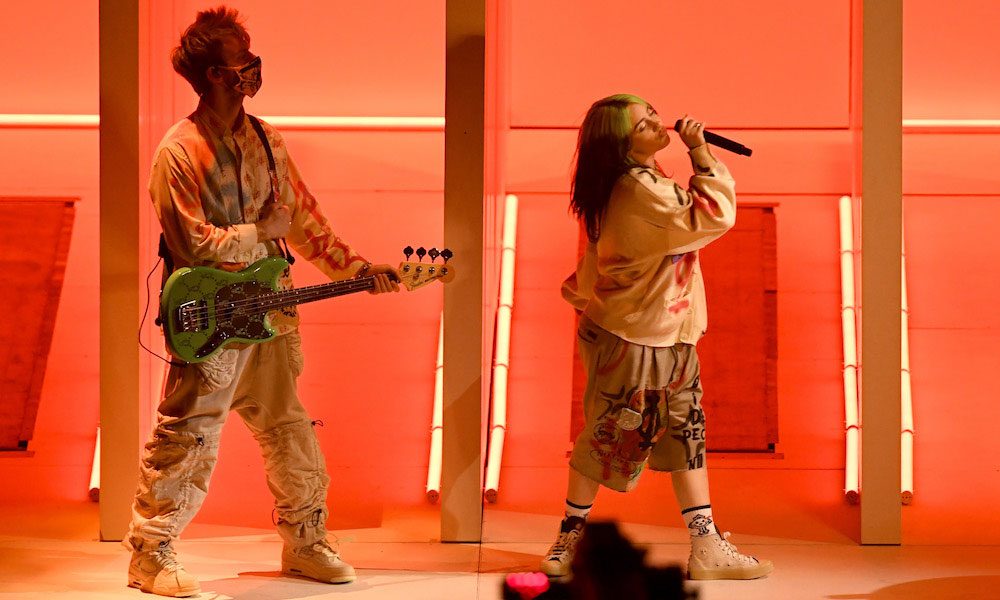 In an exclusive live session with SiriusXM's Alt Nation to air at 8 pm on December 3, Billie Eilish will be performing her latest single "Therefore I Am" along with a number of past hits and a cover of The Beatles' "Something."
Joined by her brother and collaborator Finneas, Eilish's setlist includes her breakthrough single "Ocean Eyes" and last year's "Everything I Wanted."
Last week, Eilish received four nominations for the 2021 Grammy Awards ceremony, three of which are for "Everything I Wanted." The track is nominated for Song of the Year, Record of the Year, and Best Pop Solo Performance. Eilish received an additional nomination for her James Bond theme song "No Time To Die" in the Song Written for Visual Media category.
.@billieeilish and @finneas gave us an update on what to expect from the next album. 👀 Hear their interview and an exclusive performance featuring a cover of @thebeatles airing today, 12/3 at 8pm ET on @altnation: https://t.co/EursrWPL44 pic.twitter.com/LmoJjPuqIM

— SiriusXM (@SIRIUSXM) December 3, 2020
In addition to her live performance on Alt Nation, Eilish will be speaking with host Jeff Regan about her year in quarantine, the music she's created in the interim, and her experience with fame beginning at a young age.
"Everything about every song is very different but somehow cohesive, and I think that was the same with the last album," Eilish said. "We really wanted a project to be cohesive and make sense, but not just be a repeat and a clone of every other song."
"Therefore I Am" follows the release of both "No Time To Die" and the self-assured "My Future." Eilish self-directed the track's music video which shows the singer in her most unbothered state, exploring a Glendale mall after hours and snagging snacks from the closed concession stands.
When Eilish took the stage at the 2020 American Music Awards with Finneas for the premiere performance of the single, she was just as laid back. Singing into the camera and moving through a maze-like stage set, she rattled off the song's slick lyrics with nonchalance. She was nominated for Favorite Social Artist and Favorite Alternative Rock Artist at the ceremony.
Eilish' SiriusXM live session will air on Alt Nation and on the SiriusXM app in addition to being aired again and on-demand over the upcoming weekend.
Listen to "Therefore I Am" here.