101-Disc Box Set Marks Tenth Anniversary Of Opera Legend Luciano Pavarotti's Passing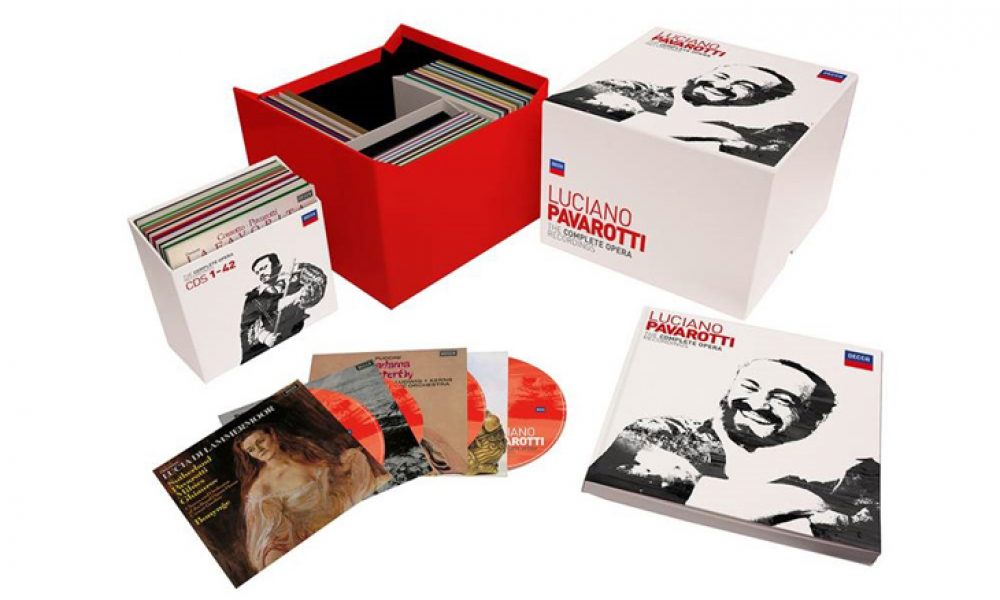 On 1 December, in observance of the tenth anniversary of opera legend Luciano Pavarotti's passing, Decca/UMe will release Luciano Pavarotti: The Complete Opera Recordings, encompassing 95 CDs and 6 Blu-ray Audio discs. The voluminous 101-disc limited edition collection offers an exhaustive survey of Pavarotti's Decca, Deutsche Grammophon and Philips recordings plus two recordings made for EMI/Warner Classics: L'amico Fritz and Don Carlo.
Prior to his passing in 2007, the legendary tenor Luciano Pavarotti conquered the mainstream like no opera performer ever had, winning a devoted worldwide audience that embraced his charismatic personality and commanding talent. Pavarotti spent most of his five-and-a-half-decade career recording for the venerable Decca label, building a powerful body of recordings that showcased the singular magnificence of his one-of-a-kind voice. Together they created a legacy of one of the longest exclusive relationships between artist and record label.
Consequently, The Complete Opera Recordings spans the entire career of "The People's Tenor," presenting every role he ever performed, beginning with his debut recording of La Bohème in 1961, allowing critics, collectors and fans to fully appreciate Pavarotti's exceptional achievements. In all, it features 34 complete operas plus a number of operas he recorded more than once: Verdi's Un Ballo in Maschera, Rigoletto, Il Trovatore and La Traviata; Donizetti's L'Elisir d'amore; and Leoncavallo's I Pagliacci. Also included are Pavarotti's stellar recordings of Verdi's Requiem and Rossini's Stabat Mater.
Every opera, each of which is packaged in its original jacket, is presented in the best possible audio quality, with many fully remastered at Abbey Road Studios under the supervision of former Decca engineers. 21 analogue recordings are now available as definitive 24-bit 96 KHZ transfers. Six of Pavarotti's most iconic recordings – Donizetti: L'Elisir d'amore, Verdi: Rigoletto, Donizetti: Lucia di Lammermoor, Puccini: Turandot, Puccini: La Bohème and Puccini: Madama Butterfly – are presented in true 24-bit, studio quality masters on high fidelity Blu-ray discs.
Luciano Pavarotti: The Complete Opera Recordings' lavish packaging also includes a high-gloss laminated outer box and a 250-page hardback book with a new retrospective by James Jolly (Editor-in-chief, Grammophon), numerous photographs from Pavarotti's career including recording session stills from the Decca archives, full recording information, vintage press clippings and reminiscences from collaborators such as Zubin Mehta and Mirella Freni. Libretti in original language and English translations, as well as synopses in English and German, will be available here prior to the box set's release.
The 101-disc vinyl box set of Luciano Pavarotti: The Complete Opera Recordings will be released on 1 December. Pre-order it here.
Format:
UK English