Brittany Howard's '13th Century Metal' Gets Soulful Remix By Michael Kiwanuka
'She sounds so victorious when she sings…so the music I made was governed by that,' noted the Mercury Prize winner.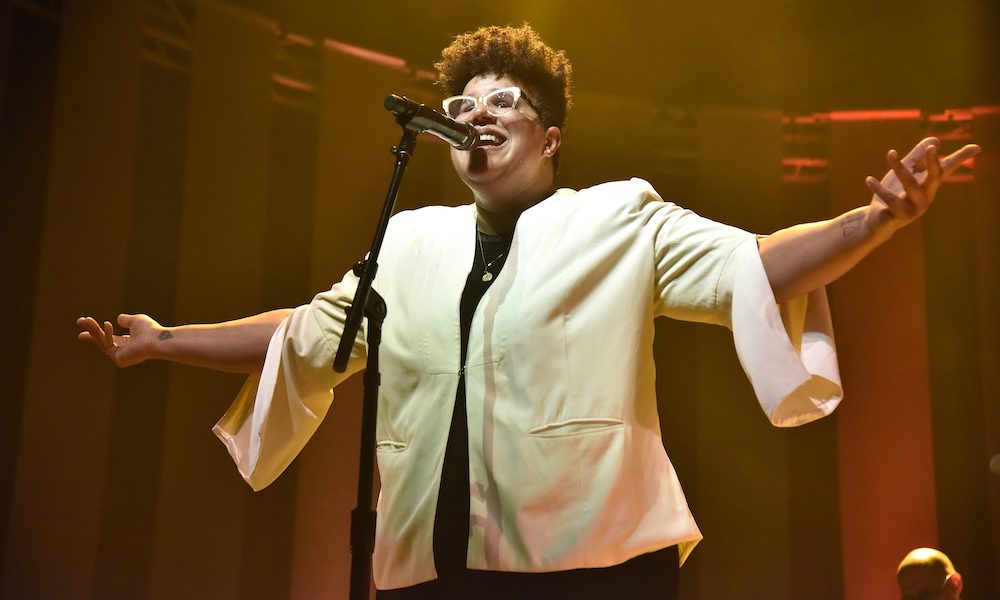 2020 Mercury Prize winner Michael Kiwanuka put his own touch on Brittany Howard's "13th Century Metal" – a song off of the Alabama Shakes frontwoman's Grammy-nominated solo debut, Jamie. The release follows several other remixes of Jamie tracks by Howard's peers, including EarthGang's take on "Goat Heat" and Bon Iver's mix of "Short and Sweet."
Kiwanuka, who is also up for a 2021 Grammy for his latest album, KIWANUKA, stripped down the song's frenetic beats, shining a spotlight on Howard's powerful spoken-word manifesto. The addition of warm keyboard lines adds a soulful groove to the song.
"I was so excited to get to work on this project as I've always been a big fan of Brittany's music," Kiwanuka said in a statement. "Knowing this particular track and being such a fan of her voice, I wanted to not meddle with her voice, and then to make it front and center. She sounds so victorious when she sings and speaks, so the music I made was governed by that."
Brittany Howard - 13th Century Metal (Michael Kiwanuka Mix)
Released in 2019, the genre-defying Jamie garnered Howard two Grammy nods earlier this year (for lead single "History Repeats"). The acclaimed artist is now up for five awards at the 2021 Grammys, including Best Alternative Rock Album, Best Rock Performance and Best Rock Song ("Stay High"), Best R&B Performance ("Goat Head"), and Best American Roots Performance ("Short and Sweet"). Jamie is also nominated for Best Engineered Album, Non-Classical, for the work of Shawn Everett.
Two weeks ago, hours after her nominations were announced, Howard appeared on The Late Show with Stephen Colbert, where she offered a commanding performance of Nina Simone's "Revolution."
Coming up, fans can catch Howard on Cyndi Lauper's star-studded "Home for the Holidays" benefit concert, airing live on December 11 via Lauper's TikTok channel. The packed line-up also includes performances and appearances by Taylor Swift, Billie Eilish, Cher, Adam Lambert, Dolly Parton, Phoebe Bridgers, LL Cool J, Henry Rolins, and Boy George, among many others. The concert, which will also be available on YouTube and Facebook on December 13, will benefit Lauper's True Colors United foundation, which aims to prevent and end homelessness among LGBTQ+ youth.
Jaime is out now and can be bought here.