Carrie Underwood Appears In Season 4 Of 'Cobra Kai'
The singer appears as herself in a special performance during the 51st annual All-Valley Karate Championship.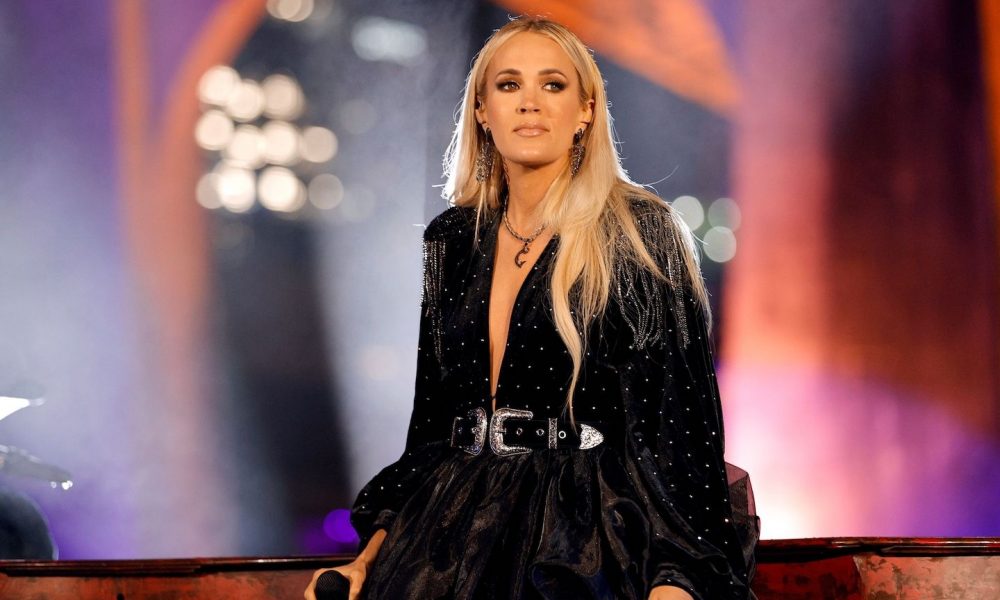 Country superstar Carrie Underwood has appeared in Cobra Kai on Netflix in a cameo, according to multiple reports. Season 4 of the series — which dropped in its entirety on December 31 — includes a fun twist in which Underwood pops up in Episode 9.
The singer appears as herself in a special performance during the 51st annual All-Valley Karate Championship. She opens the event addressing the crowd, saying, "Everyone gets their moment. This one's yours," before she sings a song from the original Karate Kid soundtrack, "The Moment of Truth."
Last month, Carrie Underwood opened her REFLECTION: The Las Vegas Residency at the city's new, 5,000-capacity Resorts World Theater. The spectacular debut evening, December 1, was an audio-visual feast at the country superstar's first-ever Las Vegas residency, and as the first artist to play the new venue.
"It's such a special honor to be the first artist to perform on this incredible stage in a brand new, beautiful, state-of-the-art theatre at such an exciting new destination as Resorts World Las Vegas," says Underwood. "I'm so proud of this show and so happy to finally get to share it with the amazing audiences here in Las Vegas."
Underwood conceived the new show to revisit some of the highlights of her remarkable recording and touring career. It celebrates more than 15 years of hits and acclaim, bringing her catalog to life in new way by utilizing spectacular special effects and state-of-the-art technology.
Her opening night also featured her band, dancers, aerialists, a virtual orchestra, a glittering array of unique costumes, and a finale that centered on a never-before-seen water wall feature. The show is directed by Barry Lather, with creative production and show design by Nick Whitehouse & Fireplay, and costume design and wardrobe styling by Emma Trask.
Resorts World Theater is programmed and operated by Concerts West/AEG Presents and designed by the award-winning Scéno Plus. Even at 5,000 capacity, the furthest seat is only 150 feet from the stage, offering unobstructed sightlines and an immersive audio experience through more than 200 L-Acoustics speakers, powered by L-ISA hyperreal technology.