Chris Stapleton Delivers Powerhouse Conclusion To C2C 2019
Lyle Lovett, Drake White and Ashley McBryde were among his fellow attractions on C2C's closing London bill.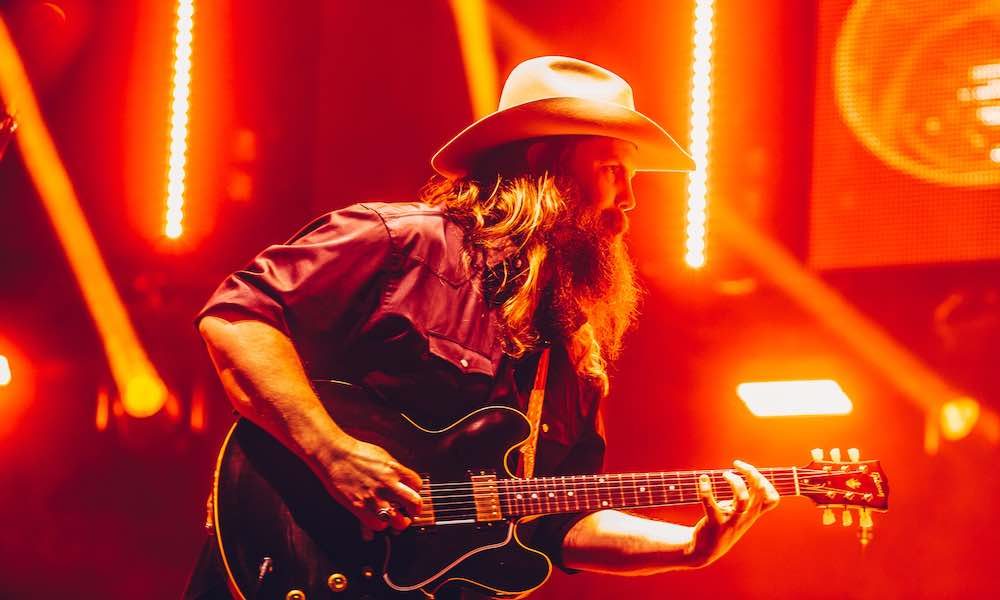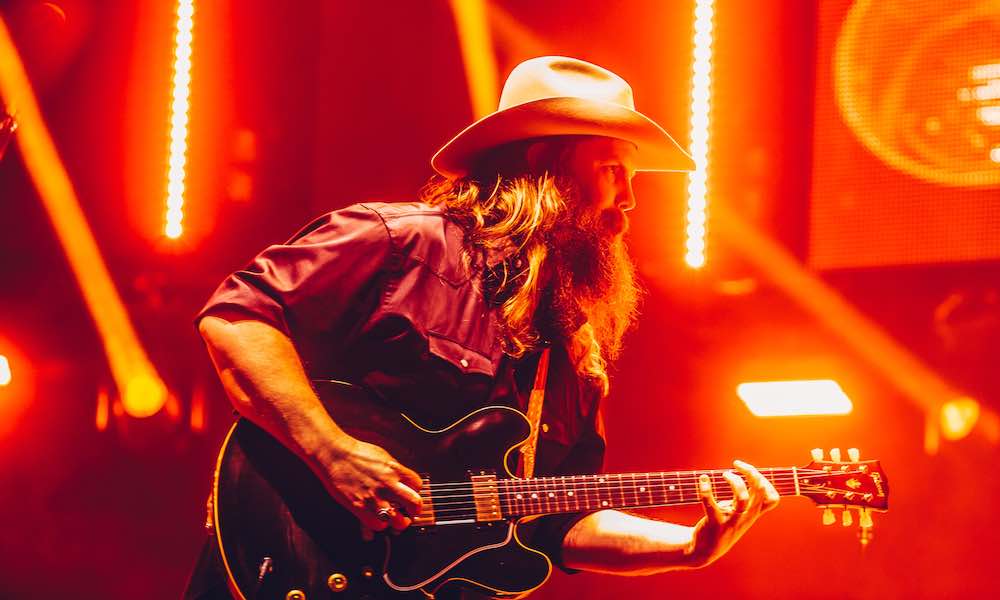 London's The O2 reverberated to the robust and authentic country rock of Chris Stapleton last night (10), as the Kentucky-born hero brought the arena action at the 2019 Country to Country Festival to a powerful conclusion. Even then, after three full days of roots music, here and at simultaneous events in Glasgow and Dublin, country fans were ready for more, in the shape of official aftershow parties with RaeLynn and DJ HISH.
Daytime proceedings around the free stages were their usual hive of activity, with  many follow-up performances by artists who'd already won new followers with earlier sets. These included Sam Lewis, with tracks from his current, infectiously soul-flavoured Loversity album, and two English female country-pop trios: the Adelaides, continuing their busy live schedule, and Remember Monday, whose debut single 'Drive' is produced by Tim Prottey-Jones. The former Wandering Hearts member was a busy man himself over the weekend, playing alongside other attractions such as Sarah Darling and Jake Morrell.
There were further Sunday sets on the larger Radio 2 Stage at the Indigo by acts including Logan Mize, Lauren Jenkins and Twinnie, whose EP Better When I'm Drunk precedes a London headline show at the Lexington on 17 April. New York-born Caroline Jones had a slot on the arena's Spotlight Stage and another in the late evening at the Saloon, highlighting her Bare Feet album debut for Jimmy Buffett's Mailboat label.
Outside, in a bustling, if chilly Town Square, fans bought merchandise, consumed cocktails and enjoyed such names as Spotify favourite Noah Schnacky and Florida native Michael Ray, whose 'Think A Little Less' seemed an appropriately good-time theme song for the ever-enthusiastic C2C faithful.
As audiences moved from daytime to evening mode and entered The O2 arena itself, the newly three-piece Wandering Hearts made their ascension to the Spotlight Stage, with highlights of their Wild Silence album such as 'Devil.' There was also one more short set from the much-seen Jimmie Allen, whose major hit 'Best Shot' became the soundtrack of his visit.
On the Arena Stage, Drake White underlined how far he has come with his band the Big Fire since he was one of the talking points of the 2017 event. The same is true, in an even shorter time, of Ashley McBryde, similarly upgraded from the Spotlight space last year after the huge acclaim for her Grammy-nominated Girl Going Nowhere album. Its closing track 'Home Sweet Highway' captured the nomadic life of a troubadour who has proved yet again that perseverance can still pay dividends in Nashville.
The appearance of Lyle Lovett, a prestigious addition to the main stage, cast him in what has become C2C's unofficial "heritage" role, filled in recent years by Emmylou Harris, Marty Stuart and Dwight Yoakam. Even if many younger fans in the room didn't know him, they certainly did by the end of a brilliantly stylish and characteristically off-centre, often drily hilarious set of career highlights.
These included the frisky 'Pants Is Overrated,' 'My Baby Don't Tolerate' and 'That's Right (You're Not From Texas),' as well as the quietly intense 'I Will Rise Up' and feature spots for his band's gospel-blues vocalist Francine Reed. She took her place in a truly stellar line-up also featuring longtime session royalty Dean Parks, Russ Kunkel, Jim Cox and Victor (brother of Alison) Krauss.
So to Stapleton's much-anticipated return, three years after he announced his arrival, following many years of dues-paying, with one of the most talked-about performances in C2C's history. Then as now, his less-is-more demeanour, in a three-piece line-up plus his wife Morgane on vocals and tambourine, and subdued communication won the day. "This is my second gig in London, so, not too bad," he reflected with a chuckle.
Midnight Train To Memphis
The band came rocking out of the traps with 'Midnight Train To Memphis,' Stapleton's face often invisible behind that all-enveloping beard and cowboy hat. But the exciting part about his elevation to country's A-list is that it's all substance and no dressing, as he restated with such persuasive tracks from his now multi-platinum catalogue such as 'Nobody To Blame,' 'Millionaire' and 'Whiskey and You.' As he neared the end of the set, 'Tennessee Whiskey' had thousands of new backing vocalists that made London and Nashville into twin cities once again.
Follow the official C2C Festival Headliners playlist.
Explore our Chris Stapleton Artist Page.
Format:
UK English