Dead Poet Society Set To Release Debut Album
Available in February, '-!-' includes singles '.CoDA.,' '.intoodeep.,' and 'American Blood.'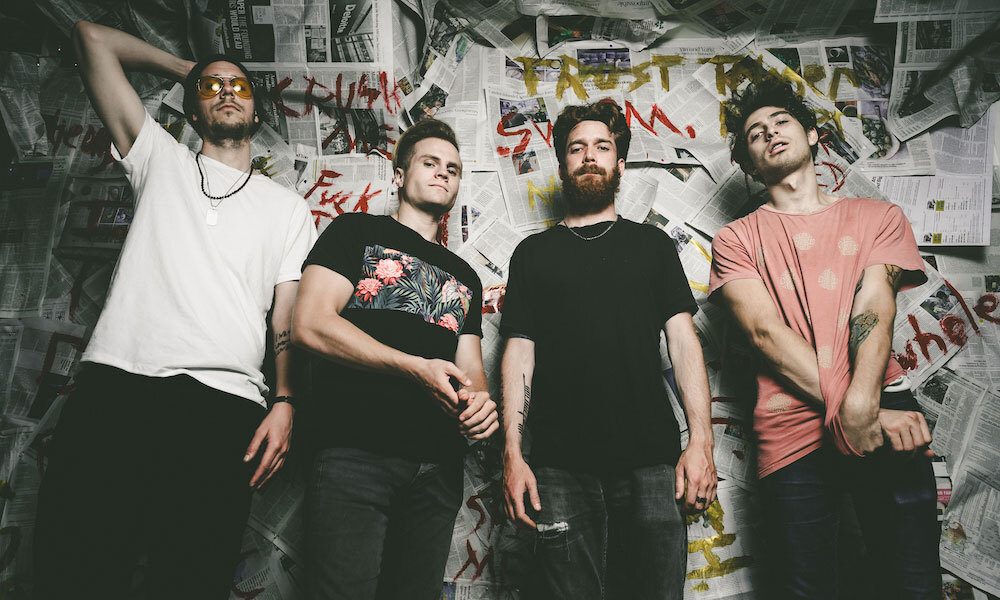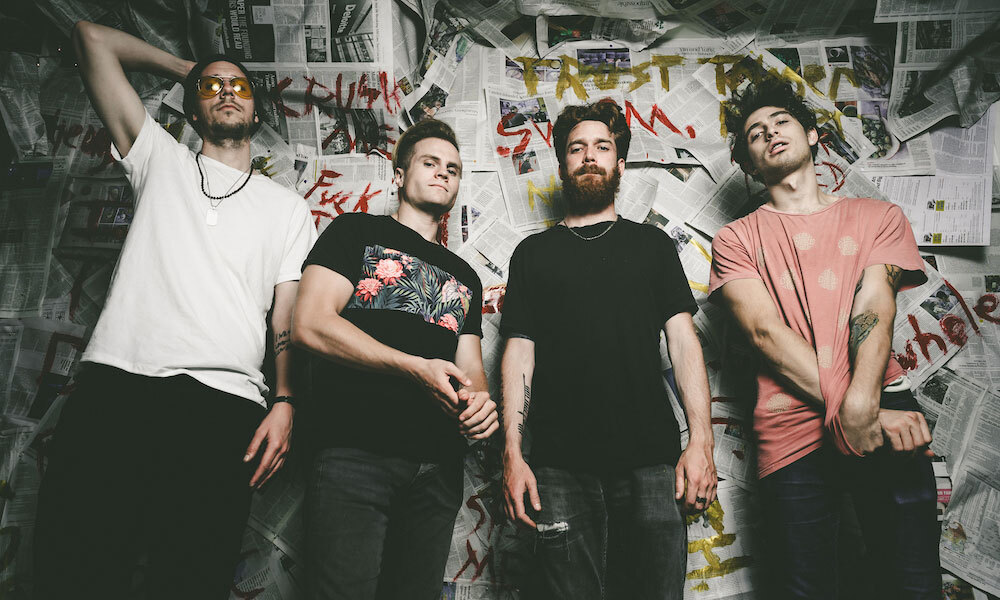 Los Angeles rock band Dead Poet Society has announced the release of their debut album, -!-. Ahead of the LP, which hits stores February 12 via Spinefarm Records, the group shared a dramatic visual for their electrifying single, ".CoDA.," directed by filmmaker and photographer Jordan Wolfbauer.
Featuring the talents of singer/guitarist Jack Underkofler, guitarist Jack Collins, drummer Will Goodroad, and bassist Dylan Brenner, Dead Poet Society formed while all four members were attending college in Boston.
Following the release of their first two EPs, AXIOM and Dempsey, the alternative rockers first gained traction in Mexico, after a write-up by the popular blog PepeProblemas and a subsequent tour of the country. Since then, the band has amassed a dedicated, international following, thanks to their unique, genre-defying sound that spans heavy, riff-driven songs to beautiful balladry. The four-piece is also known for their use of fretless instruments, which gives their songs a particularly original flavor.
Ahead of ".CoDA.," Dead Poet Society shared their album's lead single, ".intoodeep.," which Soundigest praised as "a fast-paced, yet emotionally-charged track that keeps the energy for both new and old fans…It's a crisp combo of raw and produced; a piece of art, if you will."
In 2018, as the band first entered the studio, they were quoted by Pittsburgh Music Magazine, as they shared their long and storied path: "It's time. After five years of writing, touring, four EP's, living in three different cities, two different coasts, one eviction, one homeless month, close calls with the police, multiple fights, car break-ins, stolen gear, and six terrifying and beautiful international tours, we're ready to do the one thing we've always dreamed of: recording our debut album!"
Looking ahead, fans can catch the band at the UK's Download Festival, taking place June 4-6, 2021. Dead Poet Society will join an all-star line-up, including Kiss, Megadeth, Biffy Clyro, and System of a Down.
-!- is available February 12, 2021. Scroll down to view the tracklist and preorder it here.
-!- tracklist:
1. -!-
2. futureofwar
3. burymewhole
4. getawayfortheweeked
5. American Blood
6. intoodeep
7. georgia
8. -JU-
9. I Never Loved Myself Like I Loved You
10. SALT
11. CoDA
12. loveyoulikethat
13. -gopi-
14. lovemelikeyoudo
15. beenherebefore
16. haunted