Watch Ella Fitzgerald Brought To Vivid Life In New Animated 'Cheek To Cheek' Video
The track is from the forthcoming release, 'Ella At The Hollywood Bowl: The Irving Berlin Songbook', which will be released June 24 via Verve/UMe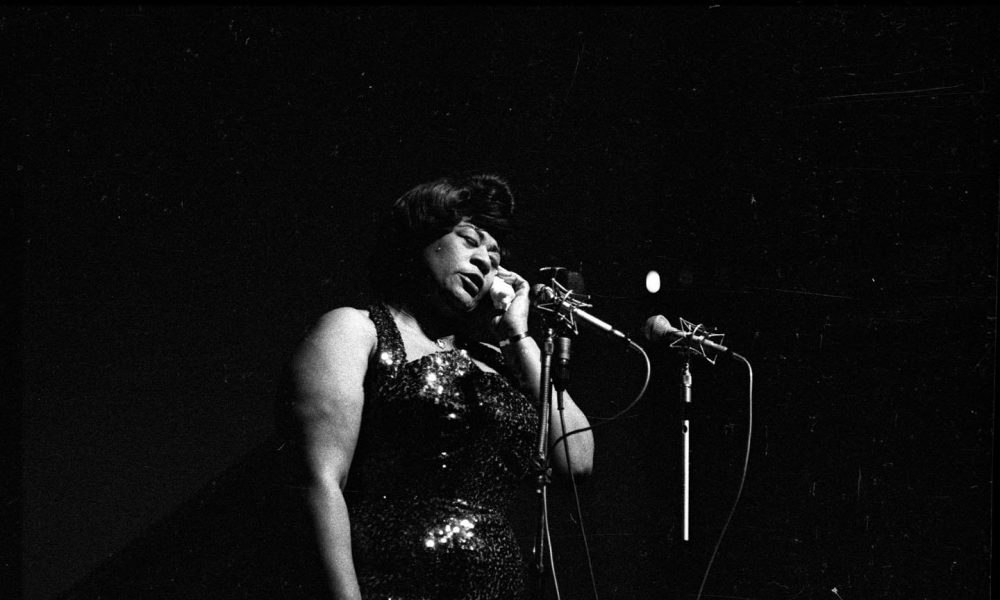 The majesty and magic of Ella Fitzgerald performing live is brought to vivid life in the new animated video for the incredible, one-of-a-kind performance of her beloved tune, "Cheek To Cheek," recorded live at the Hollywood Bowl on August 16, 1958 with a full orchestra, conducted and arranged by Paul Weston.
Directed and animated by London-based artist Sharon Liu, the whimsical, beautifully hand drawn and painted "Cheek To Cheek" video pays homage to the world-famous venue which played such a pivotal part in Ella's story and celebrates The First Lady of Song through a dazzling array of gorgeous, ever-changing gowns as she struts and twirls across colorful scenes while masterfully singing the timeless tune.
"Ella's music has always been a favorite in my household, so I feel incredibly honored to create this music video for the legendary Ella Fitzgerald's special live recording," Sharon Liu said. "Every single frame of the "Cheek To Cheek" video is hand drawn and artworked, each color is hand painted on a separate layer for each frame. I feel that hand drawn animation is the perfect visual accompaniment for jazz!"
Ella Fitzgerald - Cheek To Cheek
"Cheek To Cheek" is from the forthcoming release, Ella At The Hollywood Bowl: The Irving Berlin Songbook, which will be released June 24 via Verve/UMe, and is the second track previewing the album, following the live rendition of "Puttin' On The Ritz," which is accompanied by an animated video, directed by Alberto Baroni, that cleverly brings the song and Giulia Pelizzaro's dynamic album art to life.
The album, which will be available on CD, vinyl, limited edition yellow splatter vinyl, and digitally, includes 15 never-before-released songs of Ella performing selections of her now-classic album, Ella Fitzgerald Sings The Irving Berlin Songbook, to an adoring sold-out crowd at the Hollywood Bowl in August of '58. Conducted and arranged by Paul Weston, who also arranged and conducted the studio sessions, this concert marked the only time that Ella performed these iconic arrangements live with a full orchestra.
Discovered in the private collection of producer and Verve Records founder Norman Granz, this landmark record marks the first time a live Songbook has been released from Ella. It is also significant in that it captures the only time Ella worked in concert with arranger-conductor Paul Weston. And, although she performed regularly at the Hollywood Bowl, this is the first full-length concert by Ella from this iconic venue to be released (notably, Ella was featured prominently on Verve's Jazz At The Hollywood Bowl album, recorded and released in 1956, the year Granz formed the label).
The Hollywood Bowl, which is celebrating its centennial this year, loomed large in Ella's life. She made her Bowl debut alongside Louis Armstrong in 1956 at a star-studded program, which was released as the double LP, Jazz At The Hollywood Bowl. Ella holds the rare distinction of having sold out the Hollywood Bowl in each of five decades, from the 1950s through the 1990s. Aside from headlining numerous times, Ella, who lived in LA for much of her career, also performed as part of the annual Playboy Jazz Festival; her last appearance was a couple years before her passing in 1996.
Pre-order Ella At The Hollywood Bowl: The Irving Berlin Songbook.