Exclusive: Ali Campbell Talks To uDiscover
Ali Campbell talks to uDiscover in an exclusive interview about the Unplugged album, by UB40 Featuring Ali, Astro & Mickey.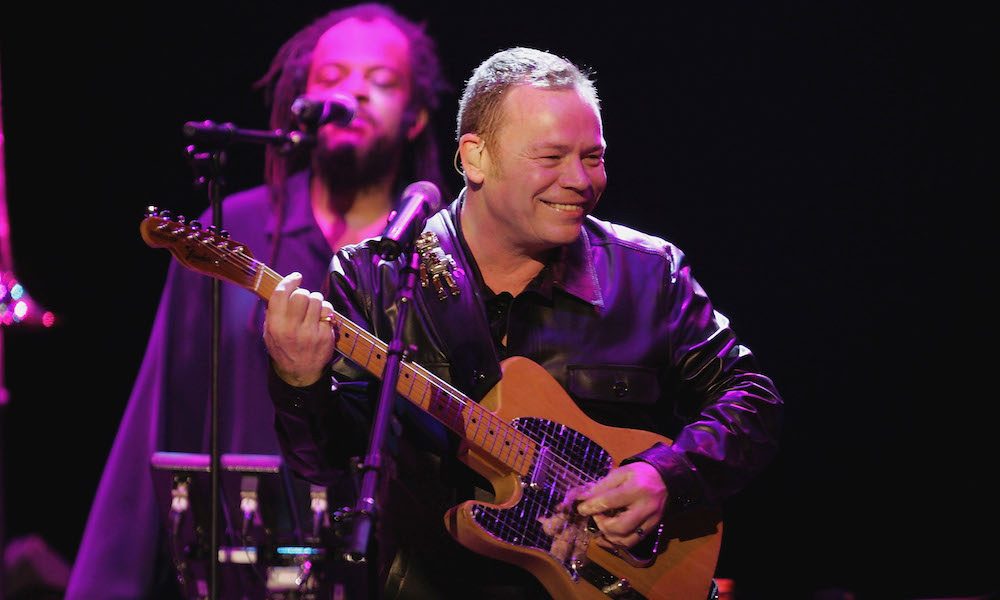 Ali Campbell has been talking to uDiscover about the new Unplugged album, by UB40 Featuring Ali, Astro & Mickey — and his delight at the success of a reggae record without bass on it. The frontman has also been discussing the group's recent and upcoming worldwide touring, and how partial he is to the Bordeaux Supérieur they've launched, inspired by one of their biggest hits, as their own "red red wine."
The recent history of the longrunning British reggae band, formed in 1978, has been enmeshed in a legal dispute over the use of the UB40 name. Campbell left the original group in 2008, followed by keyboard player Mickey Virtue the following year. Astro continued with the remaining members, including Ali's brother Robin, until 2013, since when he has reunited with Ali and Mickey.
"Since Astro rejoined my band, it's been a renaissance for us," says Campbell. "it's the getting back together again that everybody wanted. It's not a complete reunion with 'the dark side' [as he calls the group members he split from],  but I'd never do that. Me and Astro is enough to make the fans happy, they're voting with their feet."
The Unplugged album, released by UMC in November and featuring pared-down versions of 'Red, Red Wine,' 'Kingston Town,' 'Rat In Mi Kitchen' and many others, is twinned with an album of UB40's greatest hits. It went straight to No. 17 on the UK chart, and Campbell's been enjoying its success, even if he wasn't always certain of it.
Kingston Town (Unplugged)
"The record's gone down great," he says. "That was a bit of a risk. Who knew we could sell a reggae record with no bass on it? Unprecedented. But because the configuration is different [in the songs], you start listening to different things. More to the vocal obviously, but there's other little hooks and earworms that you weren't aware of."
Campbell, Astro and Virtue have been touring exhaustively, and will again in 2017. "We were in Lusaka, In Zambia, did two great shows out there, then we went to Clearwater Jazz Festival in Florida because Daryl Hall dropped out. Then we went to South Africa and did shows in Capetown and Duran and Johannesburg."
Immediately after Christmas, they leave for more dates in Australia, New Zealand, Hawaii and Puerto Rico. "We're not really pioneers," jokes Campbell. "We just do it to get the airmiles."
He continues: "In the last couple of years we've been to Papua, New Guinea and the Solomon Islands and all sorts of places, so we do get about quite a lot. I just came back from Moscow, did a TV show out there [to an audience of 10 million]. Next year, we're completely booked, we've got two tours of North America with 14 shows in England [in May and June] in cricket grounds and stuff." Their special guests on the UK dates will be Level 42.
The idea for Unplugged was somewhat forced on the group, he says, when they were asked to strip the band down to basics for radio sessions promoting the Silhouette album in 2014. The new album features Campbell duetting with his daughter Kaya, in the role filled on UB40's hit cover by Chrissie Hynde, on 'I Got You Babe.'
UB40 Featuring Chrissie Hynde - I Got You Babe
"It was lovely," he says. "I've done quite a lot with her. Kaya's quite a serious musician, she's got a fantastic voice and she writes her own stuff, she's a self-taught pianist and guitar player. Back in '94 I did 'Something Stupid' with my daughter Kibibi, and my other daughter Indica has got her own band, she supported me. They're a talented bunch of girls."
The trio recently launched their own red wine, "after 30 years of studious research," laughs Campbell, "and it's beautiful. I can't believe we never did it before. It's a Bordeaux. I'm into New World wines so I was a bit worried about it, but it's a Cabernet Franc Merlot mix and it's really fruity." He adds that they've had no reaction as yet from Neil Diamond, the writer of 'Red, Red Wine,' but says: "I think I might send him a bottle."
Campbell is happy to be focusing on music and the legacy of the UB40 songs that have been such a huge part of his life. "At the end of the day, the only thing that matters is the record that you produce and the gigs that you play," he says. "All the other stuff is dirty washing that I never wanted to wash in public anyway.
"We get lots of youngsters coming to our gigs, and they've grown up listening to our songs because their parents had them. That's what happens when you're tenacious and you refuse to go away," he jokes. "The other secret is, we play reggae music and it's the youngest and most exciting music in the world, and it's universally loved. That's why we're still here."
Listen to the best of UB40 featuring Ali, Astro and Mickey on Apple Music and Spotify.
Format:
UK English