Glen Campbell 'Sings For The King' On Rare Recordings For Elvis Presley
The new album features 18 recently unearthed and unreleased tracks from the recordings that Campbell made for Elvis between 1964 and 1968.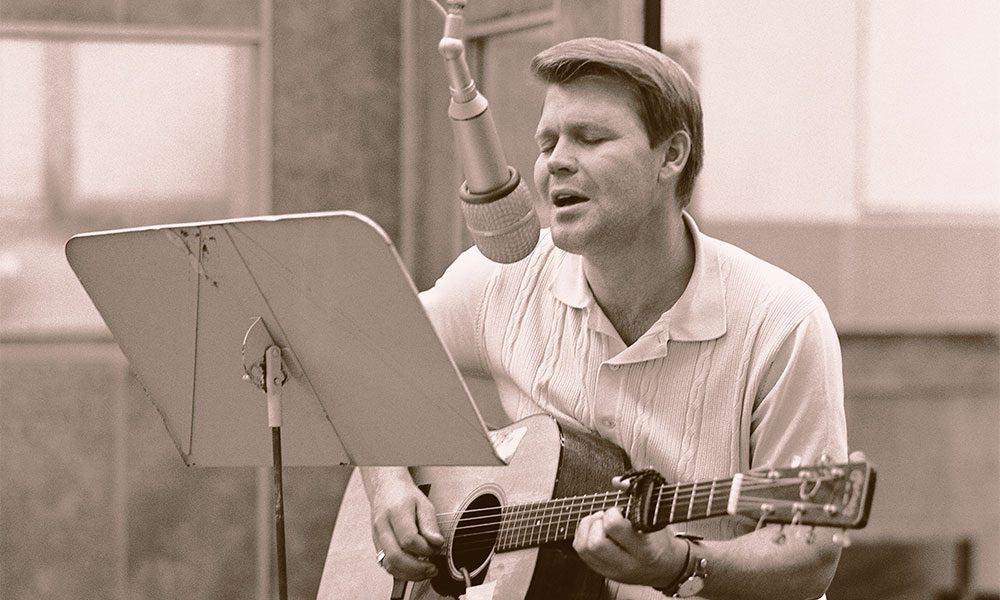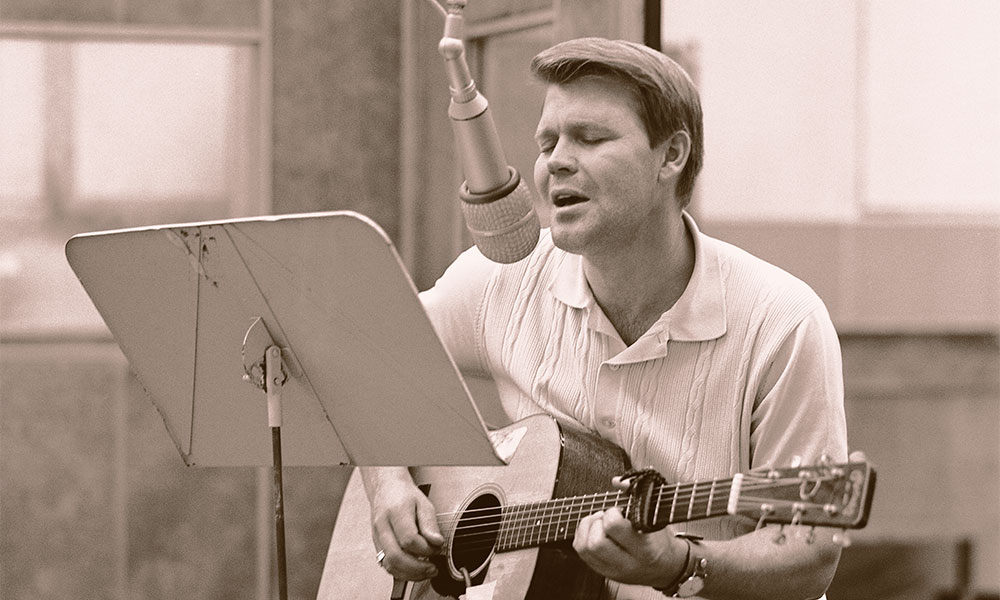 Capitol/UMe has delighted the countless millions of fans of two global superstars with the release of the "lost album" Glen Campbell Sings For The King.
It features 18 recently unearthed and unreleased tracks from the recordings that Campbell made between 1964 and 1968 for Elvis Presley. The pair's friendship stretched across three decades, from their first meeting during Elvis' rise to fame to the days when both were adored worldwide.
Initially intended for Elvis' ears only, these recordings were fully fleshed out studio versions of songs written by the team of Ben Weisman and Sid Wayne; Weisman is noted as the composer with more songs recorded by Presley than any other, with a total of 57. They also included notable sides such as 'Got A Lot Of Livin' To Do' and 'Rock-A-Hula Baby.' 
Glen Campbell was asked to bring his perfect pitch and ability to match Presley's vocal pitch and style, so that the songs could be presented to 'The King' for his recording consideration. Glen also brings his unrivalled guitar virtuosity to the material.
Twelve of the 18 tracks on the album were indeed subsequently recorded by Elvis, including the title songs from his movie vehicles such as 'Spinout,' 'Clambake' and 'Easy Come, Easy Go,' the latter of which is available now on all streaming services and as an instant grat download with digital pre-orders of the album. 
Campbell undertook the sessions in between others during his time with the famed studio ensemble the Wrecking Crew, as a touring member of the Beach Boys and on his own recordings. His versions of the songs will be appearing together on CD, LP and digitally for the first time, and as a limited edition, 180-gram clear vinyl edition exclusively at Campbell's website.
The album opens with a digital duet between Presley and Campbell, the gospel song 'We Call On Him,' and features a variety of styles ranging from the country-tinged 'Any Old Time' via ballads like 'I'll Never Know' to the rockier 'I'll Be Back.' Campbell begins 'I Got Love' in his own style but subtly changes the delivery to Presley's tone. 
Campbell and Presley first met as early as 1956 when Elvis performed in Albuquerque, where Glen had recently moved to join his uncle's band, Dick Bills and the Sandia Mountain Boys. Music journalist and author Alan Light writes in the album's liner notes: "With their genre-bending musical exploration and rural Southern roots, it's no surprise that Glen Campbell and Elvis Presley formed something of a mutual admiration society."
Campbell later recalled: "Elvis and I were brought up the same humble way, picking cotton and looking at the north end of a south-bound mule. I saw him in the rough," he said of the 1956 performance. "He was so electrifying." In 1960, Campbell moved to Los Angeles to find work as a session musician and landed a regular gig at the Crossbow Club, where Presley and his friends would sometimes visit to watch the entertainment from a small private room upstairs.
Long before his own stardom, Campbell was unrivalled as a session guitarist, playing on nearly 600 sessions in 1963 alone. His one appearance on a Presley recording was the memorable guitar on 'Viva Las Vegas.' Even after his own breakthrough in 1967, Campbell continued to record songs for Weisman and Wayne in his increasingly limited spare time.
The Presley-Campbell relationship could even have taken another turn in 1969, when Elvis chose him as one of two contenders for lead guitarist in his TCB band. But Glen's huge success by then rendered him unavailable, whereas James Burton, who famously took the role, was free after the disbandment of Ricky Nelson's group.
Glen Campbell Sings For The King is out now. Scroll down for the tracklisting and buy it here.
1. We Call On Him (A Duet With Elvis Presley) *
2. Easy Come, Easy Go *
3. Any Old Time
4. Anyone Can Play
5. I Got Love
6. I'll Never Know *
7. All I Needed Was The Rain *
8. How Can You Lose What You Never Had *
9. Spinout *
10. Magic Fire
11. I'll Be Back *
12. Love On The Rocks
13. Stay Away, Joe *
14. Cross My Heart And Hope To Die *
15. Clambake *
16. There Is So Much World To See *
17. Do The Clam *
18. Restless
* Recorded by Elvis Presley
Explore our Glen Campbell Artist Page.
Format:
UK English