Guns N' Roses Announce New 'Hard Skool' Collection
'Hard Skool' will be available exclusively to the official band store on February 25.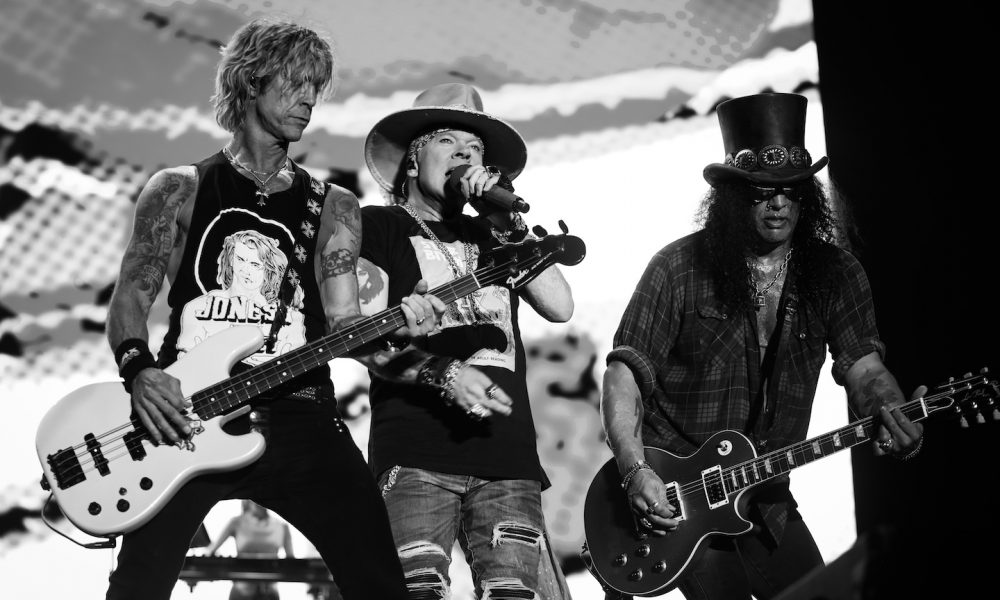 Guns N' Roses have announced a new four-song collection, Hard Skool, which will arrive on February 25, 2022, exclusively to the Guns N' Roses official store.
The collection will consist of the new single, "Hard Skool," which was released last week (September 24), live recordings of 1991's "Don't Cry" and 1987's "You're Crazy", plus "Absurd," a surprise single that dropped in August 2021 and marked the band's first new song in over a decade.
The four-track record will be the first non-single release to feature three members of the band's classic line-up – Axl Rose, Duff McKagan, and Slash – playing together in the studio for the first time in 28 years.
Guitarist Slash and bassist McKagan left Guns N' Roses after the release of the 1993 album The Spaghetti Incident?, while Rose has remained ever-present as the band's frontman. The two former members permanently reunited with the group in 2016.
Hard Skool will also feature guitarist Richard Fortus, drummer Frank Ferrer and keyboardists Dizzy Reed and Melissa Reese.
Both "Hard Skool" and "Absurd" were written during sessions for the band's 2008 album Chinese Democracy. "Hard Skool" was originally known as "Jackie Chan", while "Absurd" is a reworking of an unreleased song called "Silkworms". The latter track was given its live debut at Guns N' Roses' show at Boston's Fenway Park a few days before it was officially released.
The band are currently finishing up their latest North American tour with shows in North Carolina and Florida to conclude the run. Next year, they will take the tour to Australia, New Zealand, Europe, and the UK.
Meanwhile, Guns N' Roses' classic single "Sweet Child O' Mine" recently surpassed a billion streams on Spotify. The 1987 single was previously the first music video from the 80s to surpass one billion YouTube views back in 2019.
Hard Skool will be released on February 25, 2022 and is available for pre-order.
Hard Skool tracklist:
1. Hard Skool
2. Absurd
3. Don't Cry (Live)
4. You're Crazy (Live)