Guns N' Roses Unleash Lavish New Box Set: 'Appetite For Destruction: Locked N' Loaded Edition'
Guns N' Roses celebrate their legendary 'Appetite For Destruction' album with the lavish new 'Locked N' Loaded' box set featuring a cornucopia of extras.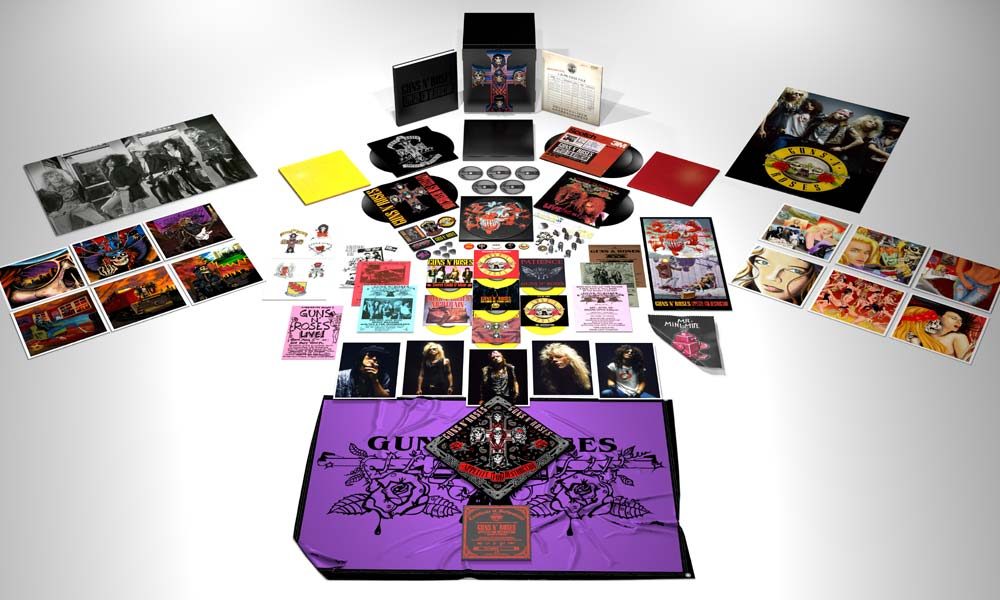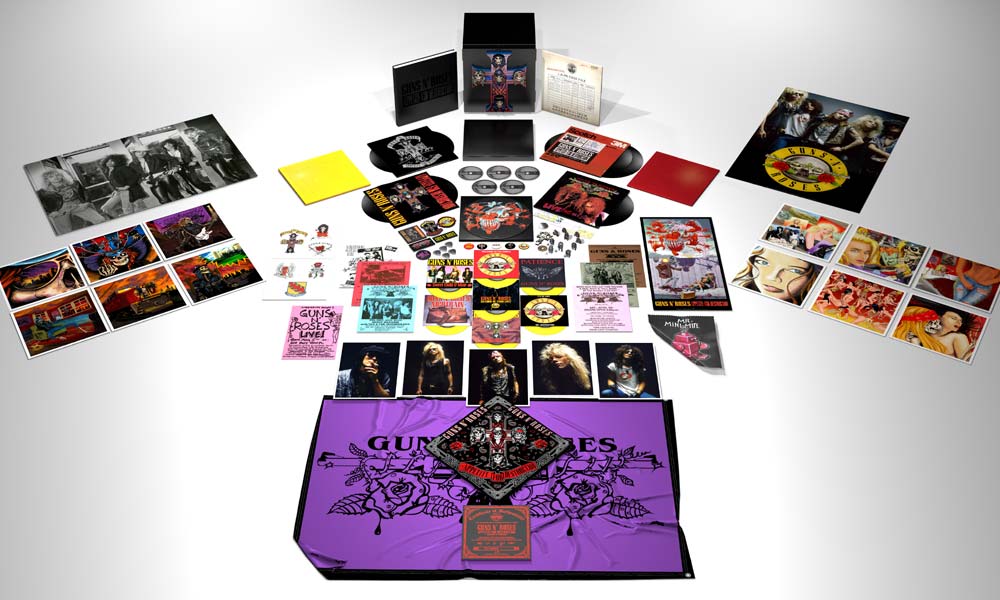 Geffen/UMe celebrates one of rock's most important bands, Guns N' Roses, with the release of the massive Appetite For Destruction: Locked N' Loaded Edition box set on 29 June. Commemorating the band's highly influential album debut Appetite For Destruction, this lavish box set is the ultimate GnFnR fan's dream fulfilled.
Guns N' Roses - Locked N' Loaded (Unboxing Video)
Appetite will also be released in concurrent multiple configurations, a 4CD/1Blu-ray Audio Super Deluxe Edition with a 96-page book featuring unreleased photos from Axl Rose's personal archive, a 2CD Deluxe Edition, 2LP 180g heavyweight vinyl edition, a single CD remaster, and digital download/streaming equivalents.
Following the group's 1985 formation, Guns N' Roses injected unbridled attitude into the burgeoning Los Angeles rock scene. They went on to captivate the entire world with the 21 July, 1987 release of Appetite For Destruction, which remains the best-selling U.S. debut album ever, moving over 30 million copies globally. Appetite features such indelible tracks such as the No. 1 single 'Sweet Child O' Mine,' 'Welcome To The Jungle,' 'Nightrain,' and 'Paradise City.'
Housed in a custom 12" x 12" x 12" solid-wood box that's wrapped in faux-leather and sports embossed, instantly identifiable artwork with a hand-sculpted and hand-painted 3D cross on its front doors, the Appetite For Destruction: Locked N' Loaded Edition is clearly the one true GN'R Holy Grail.
The Locked N' Loaded box encapsulates all content being offered to fans, and more, including the Super Deluxe Edition, as well as first-time benchmarks of the album itself being newly remastered from the original stereo analog tapes, 12 remastered tracks compiled from of-era EPs and B-sides, 25 unreleased demos from a 1986 Sound City recording session, and a pair of unreleased tracks from recording sessions by Appetite's producer Mike Clink: 'Shadow Of Your Love' recorded December 1986, one month before the album sessions, as a trial recording session which resulted in Clink getting the producer gig; and 'Move To The City (1988 Acoustic Version)' which was from the GN'R Lies sessions.
Additional highlights of the unreleased audio in the Locked N' Loaded box include the first two work-in-progress recording attempts of the 1991 epic masterpiece 'November Rain' which was originally penned as the ballad for Appetite, covers of songs like Elvis Presley's 'Heartbreak Hotel', Aerosmith's 'Mama Kin', two distinctly different recordings of The Rolling Stones' 'Jumpin' Jack Flash' (one electric, one acoustic) and two never finished tracks/jams 'The Plague' and 'New Work Tune'.
On the vinyl front, the original Appetite For Destruction album has been broadened to 2LPs for the first time, including expanded gatefold jacket art and a limited-edition foil printed plastic slipcase. The music itself is being presented on three sides only for maximum audio fidelity, with the fourth side featuring a vinyl Hologroove Hologram of the band's iconic logo. Seven 7" singles are also included: the five original singles from the album, plus one for 'Patience' and a new song, the aforementioned 'Shadow Of Your Love'. All of the bonus tracks appearing on 12" vinyl will only be available in the Locked N' Loaded Edition box, including a reissue of the band's first EP, Live ?!*@ Like A Suicide.
The Locked N' Loaded Blu-ray Audio disc contains the 12 tracks from the original album as newly mixed in glorious 96kHz 24-bit 5.1 surround sound from the original multi-tracks by legendary producer Elliot Scheiner (Steely Dan, Eagles), plus 5 bonus tracks mixed in 5.1 surround sound by both Scheiner and Frank Filipetti (Billy Joel, Elton John). Additionally, the Blu-ray includes four iconic GN'R music videos that have been newly sync'd to both remastered stereo audio and new 5.1 surround sound mixes, plus a brand-new video for 'It's So Easy' that was shot in 1989 by the band but was never completely finished — until now in 4K HD from 16mm film transfers.
Guns N' Roses - Sweet Child O' Mine (Official Music Video)
Exclusive collectables inside the Locked N' Loaded box include a dozen 12" x 12" lithos of new illustrations visualising each Appetite track, five custom buttons with various band logos, five custom hand-sculpted metal-cast band skull face rings, 5 custom hand-sculpted metal-cast band skull face lapel pins, a replica of the band's first stage banner from the '85/'86 club days, a bandana, a 2-inch collector's coin with unique imagery stamped on both sides, two 24" x 36" wall posters, a 12" x 24" Robert Williams painting litho, five never-before-seen band lithos, six replica gig flyers, three replicas of classic show ticket stubs, two temporary tattoo sheets featuring life-size tattoos of the band members' tats, six iron-on stitched patches, five metal-stamped guitar picks of the band skull faces with stamped signatures on the back, a turntable mat, a microfiber vinyl cleaning cloth, a 7" large-hole custom adapter.
Finally, Locked N' Loaded also offers a 32gb metal-cast USB stick with 192kHz/24-bit, 96kHz/24-bit, and 44.1kHz/16-bit uncompressed audio files of all of the tracks included on the 4 CDs.
The band's ongoing success of the Not In This Lifetime… worldwide tour has now snagged the fourth spot on the list of the most successful tours in music history on its first two years, with no sign of slowing down. The next leg of the highly successful and anticipated world tour continues in Europe in June and July 2018 and, from what we hear, on into the fall.
Guns N' Roses Appetite For Destruction: Locked N' Loaded Edition box set is released on 29 June. Scroll down to read the full tracklisting and pre-order here.
Guns N' Roses – Appetite For Destruction: Locked N' Loaded Edition Box Set
[4CD, Blu-ray, seven 12" LPs, seven 7"s, Hardbound Book, Ephemera box set]
CD1: Appetite For Destruction: Remastered
'Welcome To The Jungle'
'It's So Easy'
'Nightrain'
'Out Ta Get Me'
'Mr. Brownstone'
'Paradise City
'My Michelle'
'Think About You'
'Sweet Child O' Mine'
'You're Crazy'
'Anything Goes'
'Rocket Queen'
CD2: B-Sides N' EPs: Remastered
'Reckless Life'
'Nice Boys'
'Move To The City' (Live)
'Mama Kin'
'Shadow Of Your Love' (Live)
'You're Crazy' (Acoustic Version)
'Patience'
'Used To Love Her'
'You're Crazy'
'It's So Easy' (Live)
'Knockin' On Heaven's Door' (Live)
'Whole Lotta Rosie' (Live)
CD3: 1986 Sound City Session
Previously unreleased
'Welcome To The Jungle'
'Nightrain'
'Out Ta Get Me'
'Paradise City'
'My Michelle'
'Think About You'
'You're Crazy'
'Anything Goes'
'Rocket Queen'
'Shadow Of Your Love'
'Heartbreak Hotel'
'Jumpin' Jack Flash'
CD4: 1986 Sound City Session N' More
Previously unreleased
'Shadow Of Your Love'
'Move To The City'
'Ain't Goin' Down No More' (Instrumental Version)
'The Plague'
'Nice Boys'
'Back Off Bitch'
'Reckless Life'
'Mama Kin'
'New Work Tune'
'November Rain' (Piano Version)
'Move To The City' (Acoustic Version)
'You're Crazy' (Acoustic Version)
'November Rain' (Acoustic Version)
'Jumpin' Jack Flash' (Acoustic Version)
'Move To The City' (1988 Acoustic Version)
Blu-ray Audio
96kHz 24-bit 5.1 Surround Sound & Remastered Stereo
5.1 Surround Sound mixed by Elliot Scheiner and Frank Filipetti (Previously unreleased)
Appetite For Destruction
'Welcome To The Jungle'
'It's So Easy'
'Nightrain'
'Out Ta Get Me'
'Mr. Brownstone'
'Paradise City'
'My Michelle'
'Think About You'
'Sweet Child O' Mine'
'You're Crazy'
'Anything Goes'
'Rocket Queen'
Bonus Tracks
'Shadow Of Your Love'
'Patience'
'Used To Love Her'
'You're Crazy'
'Move To The City' (1988 Acoustic Version)
Music Videos:
'Welcome To The Jungle'
'Sweet Child O' Mine'
'Paradise City'
'Patience'
'It's So Easy' (Brand New Film from 1989)
Format:
UK English