Watch Halsey's Mesmerizing Performance Video For 'Lilith'
Halsey also recently released a performance video of 'You Asked For This.'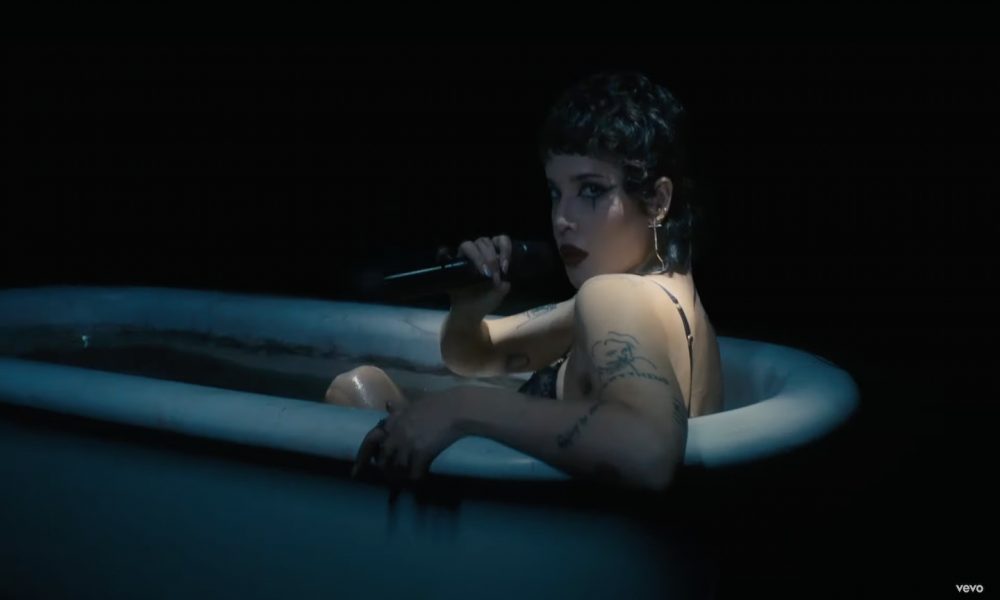 Halsey has shared a performance video for "Lilith" one of the songs that featured on their acclaimed fourth album If I Can't Have Love, I Want Power.
Directed by Dani Vitale, the video sees the New Jersey-born singer delivering an impassioned live version of the track while submerged in a bathtub.
Back in October, Halsey premiered a visual accompaniment to the album with HBO Max. The movie, which shares the same name as the record, was previously shown in IMAX theaters around the world in August. Its theatrical run broke nearly $1million at the box office and it is now set to be widely available for streaming for the first time.
Written by Halsey, the film was directed by Colin Tilley, who also directed the video for "I Am Not A Woman, I'm A God" as well as videos for SZA, Justin Bieber, Megan Thee Stallion, and more. It is set to the music from the No.1 album, which was produced by Nine Inch Nails' Trent Reznor and Atticus Ross.
If I Can't Have Love, I Want Power stars the two-time Grammy-nominated singer as the pregnant Queen Lila who unlocks a paranormal power after experiencing a traumatic event. Now able to create – and end – life, the film plunges them into their own horror-tinged fairytale.
The album debuted at the top of Billboard's Top Current Albums chart – Halsey's third time at the chart's summit – as well as the Alternative Albums, Vinyl Albums, and Tastemaker Albums charts. The record also took the No.1 spot on the Spotify Top 10 Global Album Debuts chart.
Upon its release, If I Can't Have Love, I Want Power received rave reviews, with NME calling it "an intricate and an endlessly compelling artistic statement that only Halsey could have made." Pitchfork added that it was "their best work yet," adding: "Halsey lets horror — of the body, of the mind, of mortality—radiate outward. The result is alluring and spectral."
On October 9, Halsey made their fourth appearance as the musical guest on Saturday Night Live, performing on an episode hosted by Kim Kardashian West.