Halsey Shares Transformative Fourth Studio Album 'If I Can't Have Love, I Want Power'
The album was produced by Nine Inch Nails members Trent Reznor and Atticus Ross.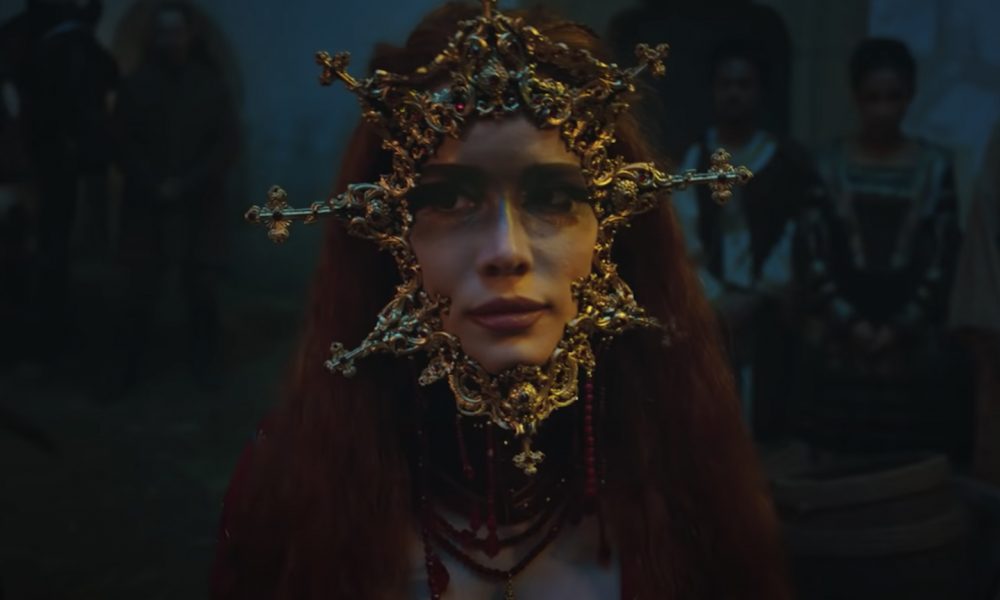 Multi-platinum-selling musician Halsey has shared their fourth studio album If I Can't Have Love, I Want Power, another chapter in their expansive discography that serves as a living document of how the singer has grown up in front of and with her audience.
After arriving as the Tumblr-aesthetic defining newcomer on their alternative pop debut album Badlands in 2015, Halsey tapped into hip-hop influences and themes of tumultuous love on the Shakespearean-themed Hopeless Fountain Kingdom (2017). On 2020's Manic, the singer bared her soul in order to formally introduce the world to Ashley Frangipane, the person behind the pop star persona she had donned for years.
Produced by Nine Inch Nails' Trent Reznor and Atticus Ross, If I Can't Have Love, I Want Power marks another transformative shift in Halsey's career both topically and sonically. The album finds the singer comfortably sitting in the pocket of grungy, guitar-heavy rock selected in favor of the shimmering pop of her last release. Even in the acoustic moments of the album, Halsey sounds like a natural, weaving through an array of arrangements with ease and expertise.
Halsey - 1121 (Lyric Video)
"This is a concept album about the joys and horrors of pregnancy and childbirth," Halsey explained in an Instagram post when the album was announced. The musician recently welcomed her first child to the world after years of intense yearning to be a mother while struggling with endometriosis. Even before they knew they were pregnant, Halsey had already intended to create an album that explored mortality and love that transcends struggle and tragedy, no matter what.
If I Can't Have Love, I Want Power is a cinematic and poetic look inside Halsey's creative mind packaged as a cohesive, bar-raising collection of songs. On the striking "Easier Than Lying," she gushes: "I lost all my faith and lost all hope / That everything means anything at all / One eye broken and one eye bruised / 'Cause I gave myself away for you / You liar, you don't love me too / It's easy for you after all."
Later, on "Darling," she crafts a message to her child –– similarly to the confessional she shared on Manic cut "More" –– that also tackles the strain of the life she lived largely on the road before settling down over the past year. "Never knew the feelin' of a stable home / Been a couple years of livin' on the road / Couldn't really tell you where they'd leave a stone / To visit me when I am dead and gone," they sing. "Darlin', don't you weep / There's a place for me / Somewhere we can sleep / I'll see you in your dreams."
Halsey - I am not a woman, I'm a god
If I Can't Have Love, I Want Power arrives with a film experience of the same name directed by Colin Tilley. Limited screenings of the film are available internationally starting August 28. The singer will also perform an exclusive Moment House concert in celebration of the album's release. With four albums under their belt, Halsey is still evolving.