Halsey Shares Gory Live Performance Video For 'I Am Not A Woman, I'm A God'
The song appears on the singer's recently released fourth studio album 'If I Can't Have Love, I Want Power.'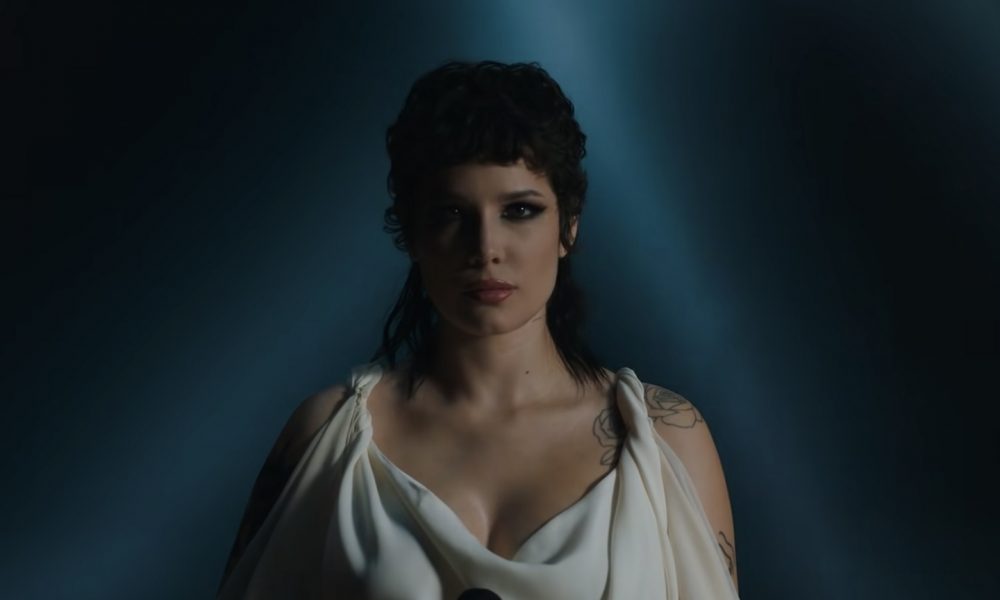 Multi-platinum selling musician Halsey has shared a new, gory live performance video of their latest single "I Am Not A Woman, I'm A God" which appears on their recently released fourth studio album If I Can't Have Love, I Want Power.
In the visual, directed by Dani Vitale, the camera holds tight on a frame of the singer's bust as they run through the scathing song while red lights flash around them. As the track progresses, more red enters the frame, this time in the form of blood splattered in increasing amounts across Halsey's face and upper body.
By the end of the live performance, Halsey is spitting the lyrics "I am not a woman, I'm a god / I am not a martyr, I'm a problem / I am not a legend, I'm a fraud / So keep your heart 'cause I already got one" out through a bloody mouth.
"I wanted cinematic, really unsettling production," Halsey said of "I Am Not A Woman, I'm A God" in an interview with Apple Music, mentioning that producers Atticus Ross and Trent Reznor of Nine Inch Nails "wanted to know if I was willing to take the risk—I was."
Halsey teamed up with Ross and Reznor for the entirety of If I Can't Have Love, I Want Power, wanting to introduce an album spanning vision with consistency rather than work on a few songs here and there among contributions from other producers and collaborators.
The effort produced stunning results and a career triumph for Halsey themselves. The cinematic production drummed up by Ross and Reznor –– who are both GRAMMY, Academy Award, and Golden Globe winners –– provided a scene-setting and emotion-evoking playground for Halsey's lyrics to explore.
If I Can't Have Love, I Want Power debuted at No.2 on the Billboard 200 following its release. It marks Halsey's fourth album to land in the top 2 of the chart.