John Lennon Sings His Truth At 'Imagine' Grammy Museum Event
The new expansive reissue of John Lennon's 1971 masterstroke Imagine was the subject of a revealing discussion as part of sold-out event at Los Angeles' Grammy Museum.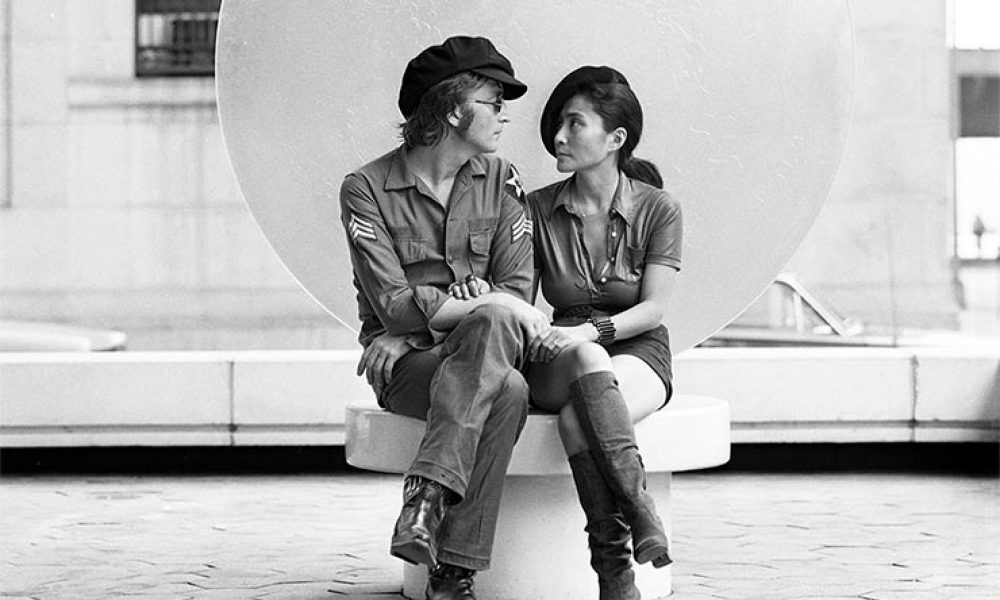 The new expansive reissue of John Lennon's 1971 masterstroke Imagine was the subject of a revealing discussion as part of sold-out event at Los Angeles' Grammy Museum, where the new Imagine – The Ultimate Collection was unveiled to the public.
Moderated by Grammy Museum artistic director Scott Goldman, the discussion was led by a panel of guests that included longtime family friend of John and Yoko's, Elliot Mintz, original Plastic Ono Band member and legendary session drummer, Jim Keltner; director/producer of the making-of Imagine documentary Gimme Some Truth, Andrew Solt; and Paul Hicks, the Grammy Award-winning engineer who worked on several mixes included in the new remixed and remastered 140-track collection.
The evening began appropriately enough with a clip of Lennon recording the searing track 'Gimme Some Truth' in Ascot Sound Studios at Tittenhurst Park from Solt's documentary.
Sensing the awe in the room, Goldman asked the audience "How appropriate was that clip?" before turning it over to Solt who spoke about the experience of "getting to know John" throughout his process of culling through over 200 hours of documentary footage. "Seeing John always gets me," remarked Solt. "John is so intense, he's so interesting to watch, thank god those cameras were rolling."
Solt has gained more insight into Lennon's creative process than most, overseeing the award-winning documentary Gimme Some Truth that chronicles the journey of how the Imagine album came to pass and editing footage directed by John and Yoko.
As someone who was a close confident of Lennon and Ono during the making of Imagine, Elliot Mintz also had a visceral reaction to the clip of Lennon on the big screen who noted "how clear and prophetic he [Lennon] was. His optimism was equal to his degree of suspicion and the words he gave us were a vision, but he also taught us how not to buy into false illusions."
Along with 'Gimme Some Truth', the audience was treated to Lennon's original piano demo of 'Imagine', which was unearthed by project engineer Rob Stevens in the Lennon's archives and is featured in the collection. Goldman spoke of the "immediacy of it [demo] that exists nowhere else," while Hicks talked about how he gets asked constantly how he achieved the sound.
"It's full of slap delay and everything," Hicks said, "that's literally what's on the tape". "Someone asked what did you do to that demo? Like, a little bit of EQ?" he joked.
Since starting the project back in 2016, Hicks explained that on any Beatles-related project, both he and Stevens try to avoiding making the remixes sound modern, especially on Imagine. Their approach to the album was to "take the blanket off," so to speak. With such a "honest and raw album," Hicks and company decided to bring Lennon's vocals out to the forefront because "it's John, we wanna hear John".
Mintz chimed in, "We knew he had the most intimate voice in song, we knew he had the most genuine voice in song. And I'm of the belief that he [Lennon] was as concerned about what was being expressed, as to how he was vocally expressing it." He then joked about how Lennon famously wore a pin on his jacket lapel that read "I preferred it in mono," much to the audience's delight.
Keltner, a rock veteran in own right who has played with the likes of Bob Dylan, Leon Russell, Joe Cocker and George Harrison, just to name a few, could recall in detail what it was like to play with Lennon when he was first starting out his career and talked about entering "a dream state" during their first recording session for 'Jealous Guy'.
"To hear his [Lennon's] voice in the headphones and look up and see him on the mike was astonishing to me," Keltner said. "I was always walking two feet off the ground."
In addition to bringing out Lennon's vocals on tracks like 'Jealous Guy', Hicks finessed other elements mixes to find their hidden bright spots, like the great bassline on 'I Don't Wanna Be A Soldier Mama'. On the ultimate mixes (which were done in stereo and surround) the goal was to create a "very immersive experience, so it sounds like you're right in the middle of the studio," Hicks explained.
As each guest reflected upon what Lennon and his music meant to him, it was clear that each individual had a unique perspective on his artistic development. As a longtime friend to both Lennon and Ono and the former host of the radio show 'The Lost Lennon Tapes', Mintz saw how the relationship between the two artists fuelled his creative evolution.
"What we were witnessing was him [Lennon] moving from The Beatles experience to the John-and-Yoko experience," Mintz said. "To an obvious degree, it was liberating for him in terms of his personal expression, but what you're hearing here is a man who is taking control of his own voice and his own vision."
Goldman then turned the discussion over to Imagine the film and posited Lennon as a kind of social media pioneer when it came to documenting his own life and sharing everything about "his art, his process, his personal life and who he was with his audience".
Imagine by John & Yoko - cinema trailer
In response, Mintz recalled a specific evening where he and Lennon discussed his impetus to document everything and that Lennon felt he would eventually be important. Mintz described Lennon as a truly authentic artist and "the first one to take the makeup off" and to do it on his terms with his antique wire-rimmed glasses.
"We didn't think that he was a showbizzy guy," Mintz noted. "That he would turn it on to go on camera and turn it off when he was not. And that's one of the things that I believe brings us all together, is the sense that we trusted him."
In the decades that have passed since its release, 'Imagine' has become an international anthem, but at the time Lennon referred to the album as a whole as "less introspective and a bit light" compared to his previous release John Lennon/Plastic Ono Band, and described it as "commercial with no compromise".
"Could he have possibly perceived the implications of those words [to 'Imagine'] at the time?" Mintz wondered. "I'm sure he recognized what he had, but I don't know if he would have made such a significant distinction between 'Imagine' and a few of the others that we're hearing this evening. But he planted the seed, we watered it and the tree grew."
Imagine: The Ultimate Collection is out now and can be bought here.
Format:
UK English