Kenny Rogers Announces Star-Studded Final Nashville Concert With Guests Dolly Parton, Alison Krauss
Kenny Rogers has announced a star-studded Nashville concert as part of his current farewell tour. Billed as the 'All In For The Gambler: Kenny Rogers' Farewell Concert Celebration', the show at Nashville's Bridgestone Arena on 25 October 2017 will feature Rogers' long-term duet partner, Dolly Parton, in addition to appearances from Alison Krauss, Little Big Town, Idina Menzel, The Flaming Lips, Jamey Johnson and Elle King, though further guests are likely to be added to the bill. The show will be taped for broadcast at a later date.
Rogers and Parton have worked together since 1983, when they collaborated on 'Islands in The Stream' which became a US No 1 hit.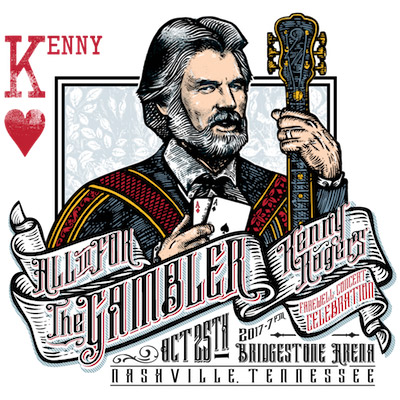 "We've enjoyed a special friendship for decades, and I'll forever look back fondly on the many collaborations, performances, and laughs we've shared as some of the most extraordinary moments of my career," 78-year-old Rogers said of Parton in a recent press statement. "I know it will be a moving experience for us standing on that stage together for one last time."
"This is all I've done for 60 years, but my mobility has gotten kind of strange, and I don't like to go on stage and have to apologize," Rogers told Rolling Stone. "It's one of those things — you make decisions based on what life gives you. I've had a great life, I can't complain, but it's time for me to hang it up, I think."
Parton said in a statement that since 1983, "everyone has had an expectation to see Kenny everywhere I go and me with him wherever he goes," even though, according to Rolling Stone, they've performed together only three times in the last 27 years.
"Well, I guess for many of those fans that wanted to see us together, this will be that night," she said.
Kenny Rogers' farewell tour, which started last year, takes him to California and Nevada between now and the end of this month, including a Temecula show on Sunday, 23 July and a Costa Mesa concert 30 July.
Tickets go on sale 21 July 2017 at 10 am CT online at Ticketmaster.com, by phone at 800-745-3000 and all Ticketmaster locations. A portion of the proceeds will benefit the TJ Martell Foundation and the Kenny Rogers Children's Center.
Format:
UK English